I'm a little embarrassed to show my BEFORE bathroom sink but I know this under the sink look is quite common. Being the beauty junky that I am, and having products on hand for both Peyton and Harper, my bathroom cabinet stay out of control. Weird thing is, I knew where everything was. We have plans to remodel our bathroom but until then I need to get my life together. I just got tired of looking at it in this state. Since I'm still on my #OrganizedonFleek roll, I decided to make my bathroom more organized and functional.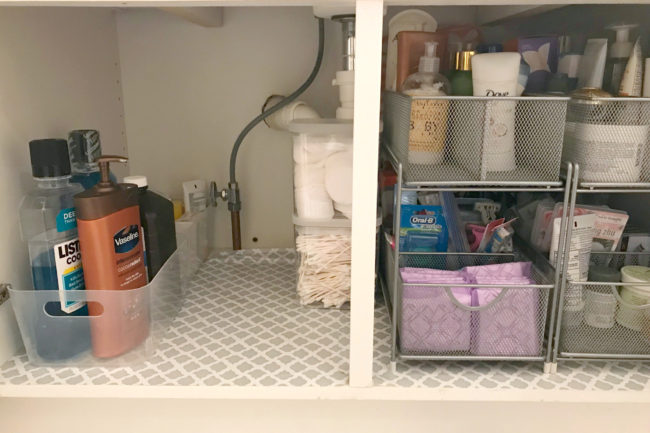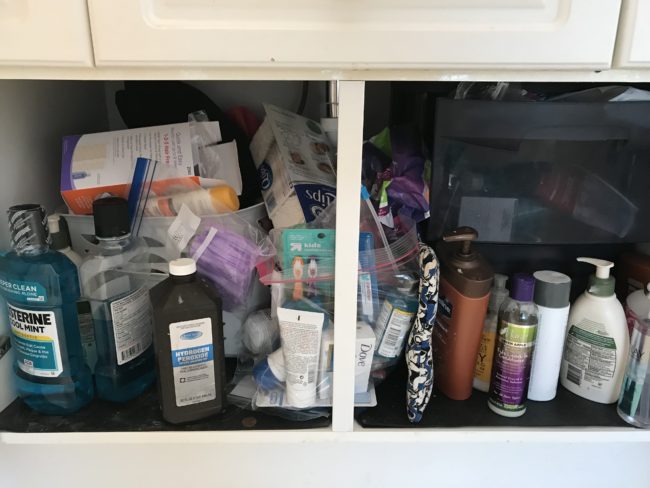 This is my before *Hangs head in shame*. Before you judge me, send me a pic of your bathroom right now LOL!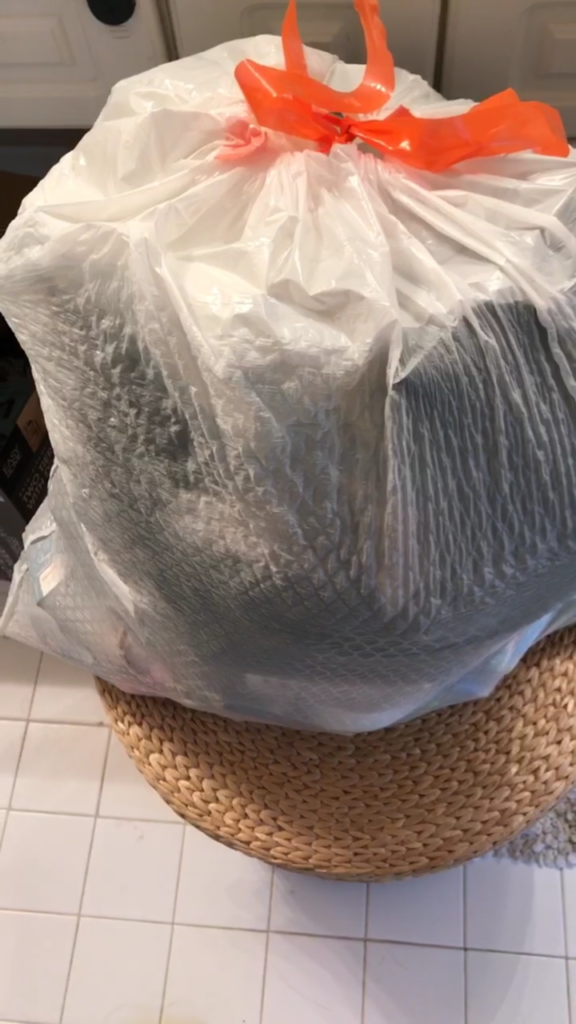 I started by clearing everything out. I had so many expired and empty bottles it was sad. Here is all the trash from my sink and drawers.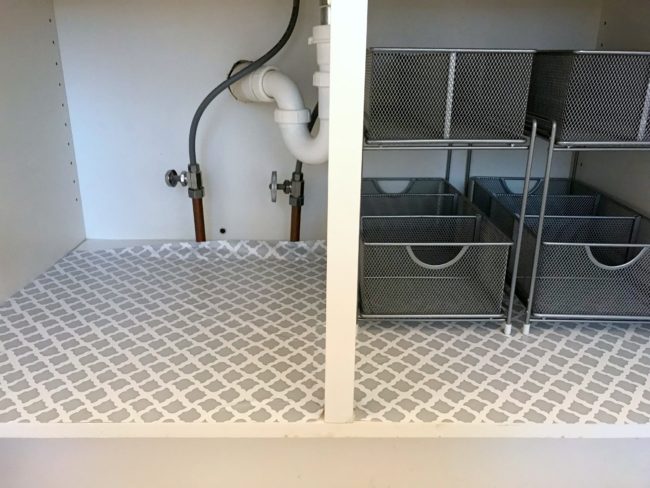 Once I cleared it out and wiped it down, I put down some contact paper from the Dollar Tree. Not sure how long the adhesive will stick, but it looks pretty and was only a dollar. So far so good.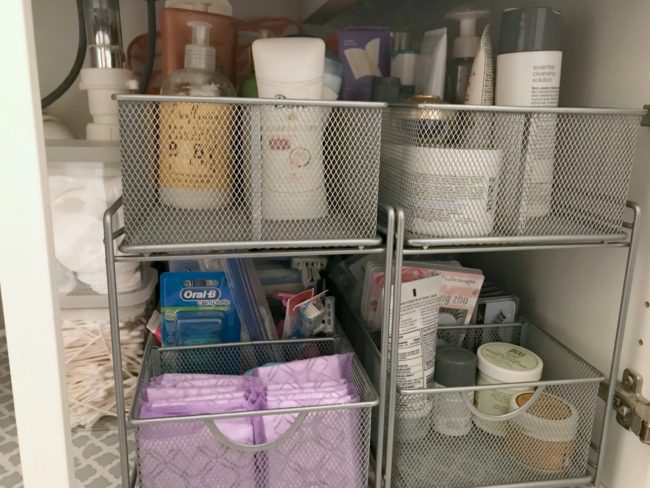 I picked up these metal mesh drawers from Aldi a while ago but you can find some similar HERE.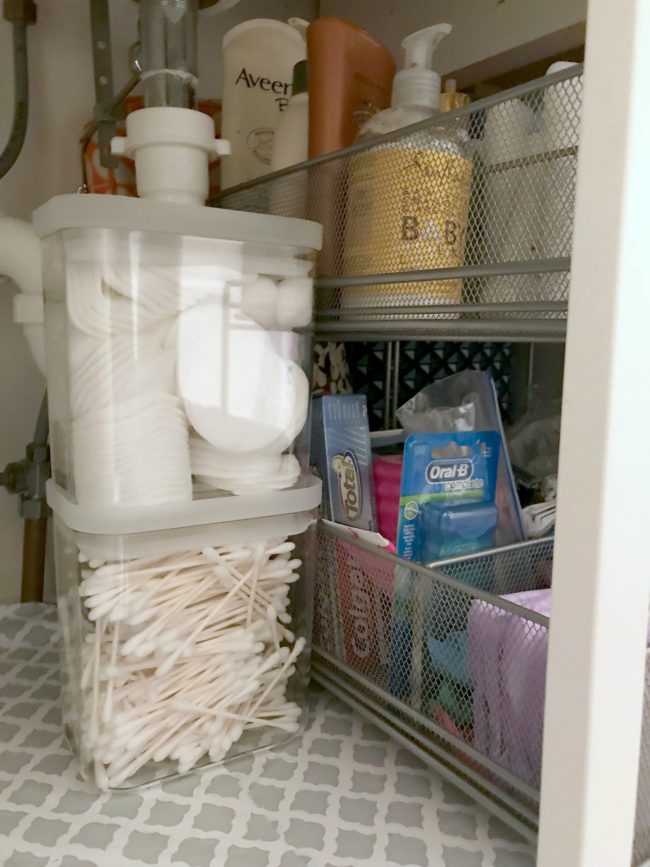 I picked these containers in the food section (so much cheaper than the acrylic ones) at the Container Store. The plastic bins with handles (in the first pic) are from The Container Store as well.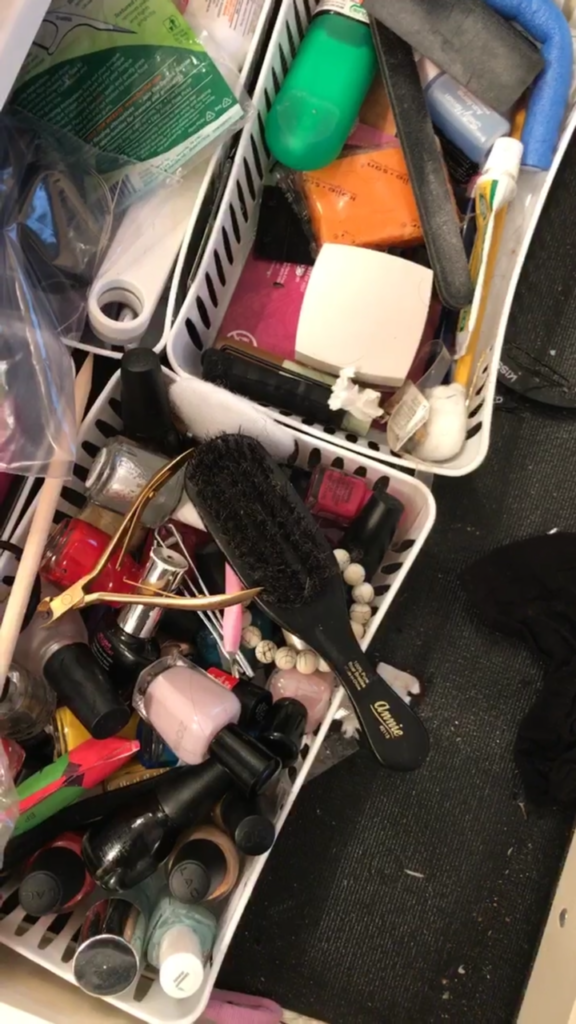 This is my vanity drawer before…. sigh…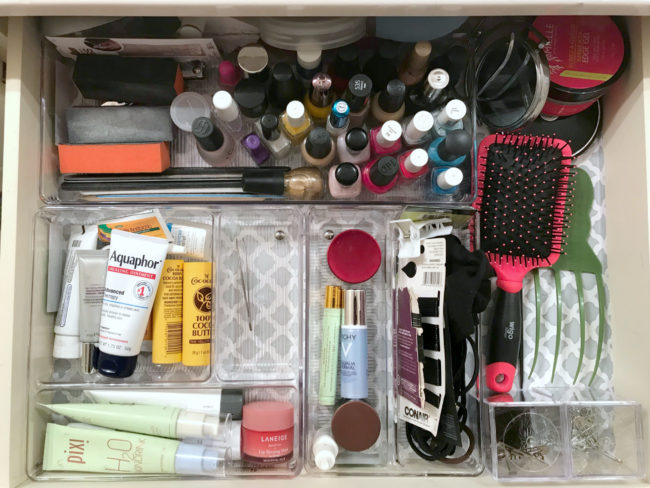 I even decided to tackle my vanity drawer. That thing was a hot mess as well. I was using some cheap dollar store dividers but they didn't work out too well. I pick up these dividers from the Container Store but similar HERE.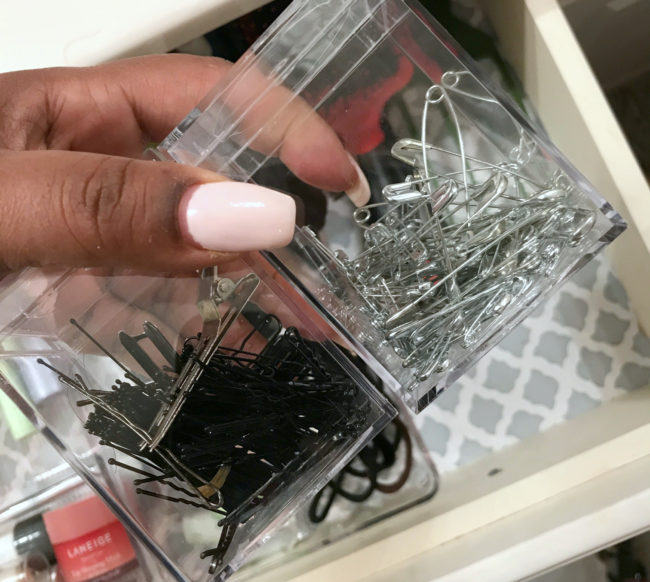 These little acrylic boxes are a life saver and only $1.50! You can find them HERE. I'll be storing all my hairpins and safety pins in them.
Have you guys been enjoying the organizational videos? This series has definitely motivated me to get my house all the way together. In case you missed them you can check out my pantry organization HERE, kitchen sink HERE and my laundry room HERE. We still have one more #OrganizedonFleek gift card left to give away in April. Here's how you can be eligible to win.
Join me and my partners, Danielle from The Style and Beauty Doctor and Mimi from Unlikely Martha (click on their names to see their first challenge). Danielle organized her drawers (HERE) and Mimi organized her freezer (HERE).
#OrganizedOnFleek Challenge Rules and Info:
Must follow @babyshopa @stylenbeautydoc @unlikelymartha on Instagram
Follow the hashtag #organizedonfleek (click on the hashtag then click the "follow" button at the top)
Post your organization projects on Instagram! Upload NEW pics and/or videos to your IG of how you get organized (could be before and after, a photo of your organized kitchen cabinets, your dorm, your office, your car, whatever you choose). Just make sure all post include #organizedonfleek. The more posts the merrier! You can even post the stages of your projects, too. While we love for you to share on your IG stories with #organizedonfleek, those posts won't be included for a giveaway entry. Private accounts can't be considered for the giveaway. Must be 18 or over and a US resident.
GIVEAWAY: We'll pick our favorite at the end of April. One person will win a $25 e-gift card to one of our favorite home stores. Good luck!