Have you ever heard (from your elders) that you should not enter the New Year with a dirty house?  Something about if you start that way, it will be that way all year.  I'm happy that I'm not superstitious because my house was a mess when the clock struck 12.  So to get my home together (and yours) I've partnered with my two favorite bloggers Danielle from The Style and Beauty Doctor and Mimi from Unlikely Martha for a home organization challenge!  Each of us will be tackling spaces and getting organized throughout our homes and sharing it on our blog and social media pages.  We also want you to join in on #OrganizedOnFleek challenge as well!  Keep reading to check out my first organization challenge, my pantry and learn how you can participate in the  #OrganizedonFleek challenge!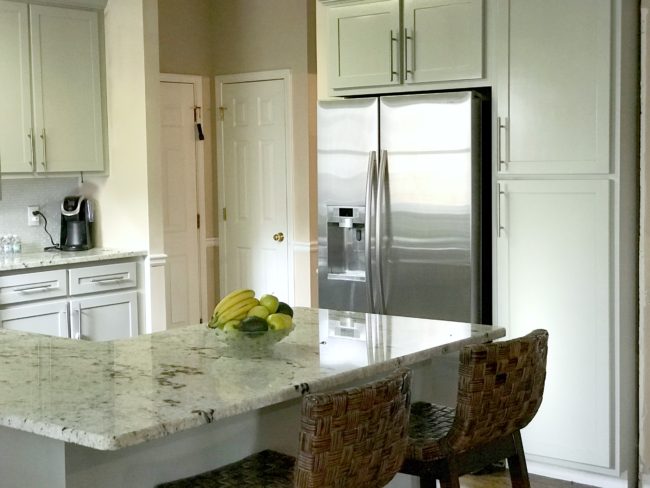 When we bought this house the kitchen was a disaster.  It was small and gross (see it HERE).  To add more counter space we knocked out the original closet pantry and moved the refrigerator into the space.  Now we have a cabinet pantry surrounding the fridge.  I thought I would miss having a huge pantry, I don't.  More space, more junk. My cabinet pantry became the catchall for everything. One day, we had zero space left.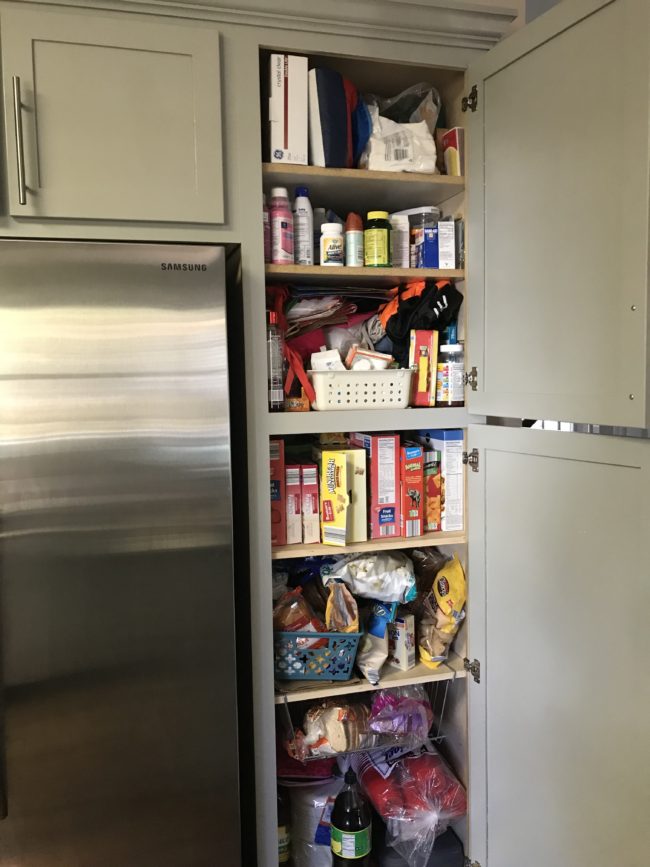 Do you see how jammed packed this is?  No room for anything.  It was taking me 5-10 just to find a snack.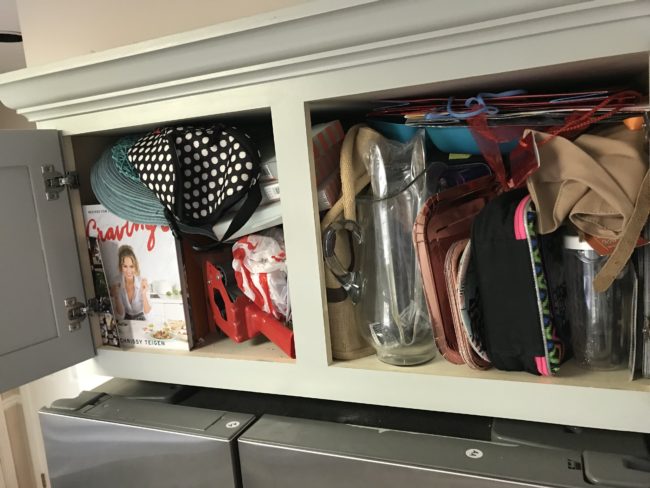 I almost forgot about the cabinet about the fridge.  How did we get here?  I pride myself on keeping a clean organized home.  Life (kids and husband) get in the way.  I decided I would take everything out and work on a new system.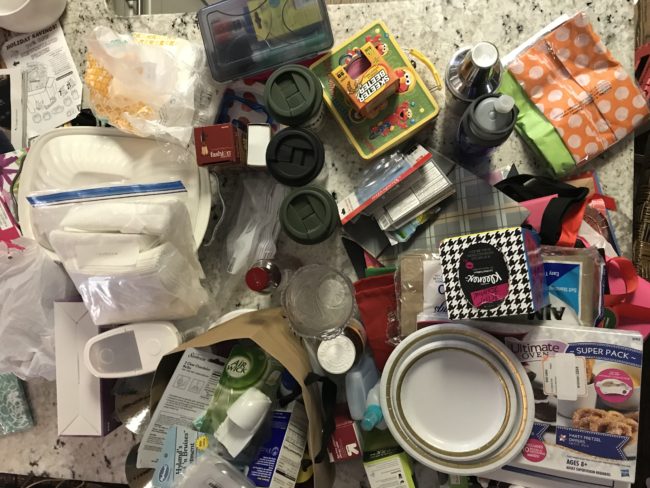 My pantry was looking like a swap meet.  The junk out cluttered the food.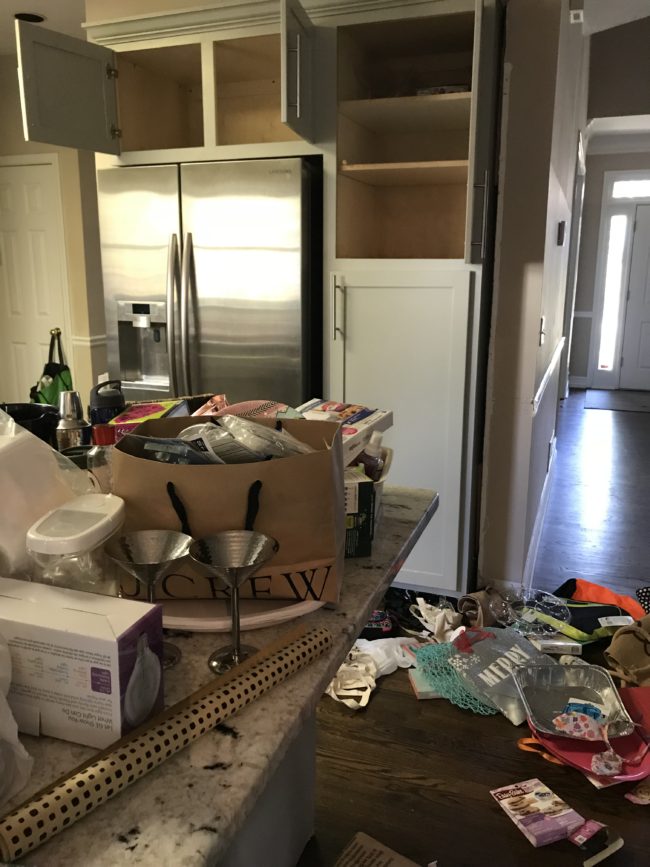 I tackled this project by first removing everything from the pantry. I checked all the expiration dates and tossed expired foods and snack out.  You don't even know how many bags of chips we had that were full of crumbs!  I told Mister if that happens again, I will put them all together in a lunch bag for him to take to work for a snack.
Once I was done with the food, it was time to sort through the rest of the items. Put away things that clearly did not belong in the kitchen. I grouped things into categories. I had a medicine area, hardware area, misc. paper products, and a school supply area.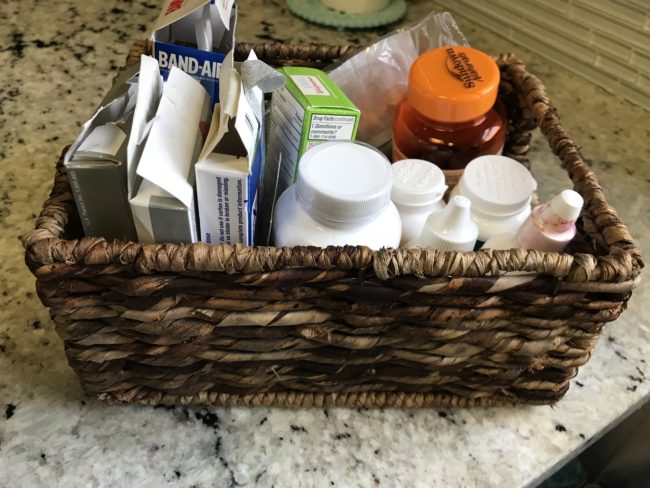 Once everything was clean, I need some storage.  I had a bunch of Dollar Tree bins and miscellaneous baskets around the house but I wanted everything to match and something that will last.  I  picked up 4 baskets from Michaels that were 50% off.  Two of the smaller ones I used for medicines and first aid supplies.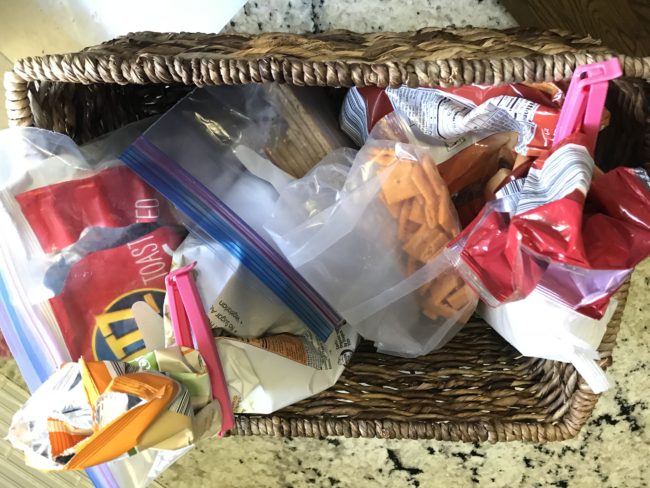 One of the bigger baskets was used for opened snacks.  I mentioned earlier about finding several crumb bags when I cleaned out the pantry.  Our new system is to place all opened chips in the basket and check there first before you open something new.  This new system has been working out pretty good.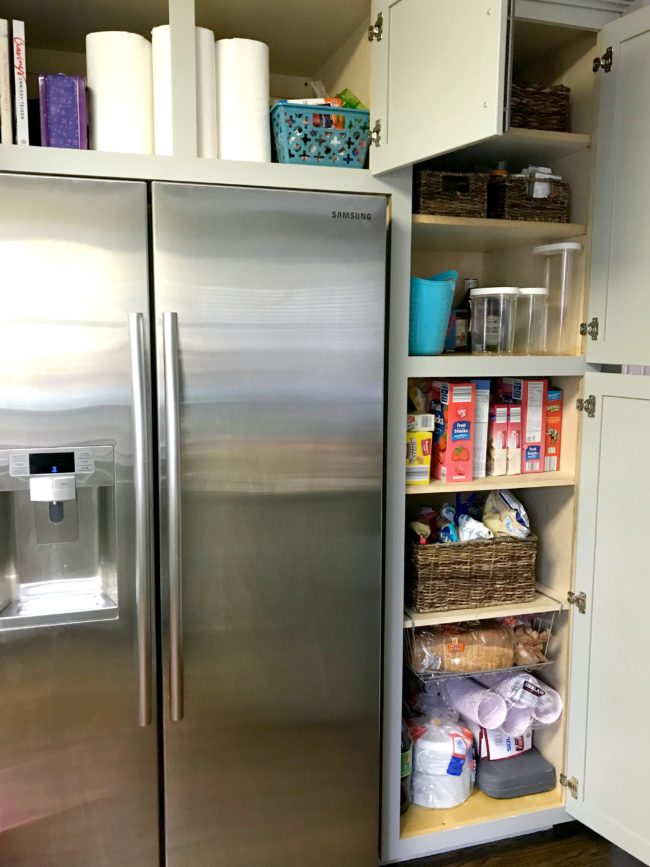 I used one of my old baskets to store school and art supplies.  The other large basket is used for hardware items like matches, light bulbs, flashlights etc. I can just pull the baskets out and get what I need and put it back.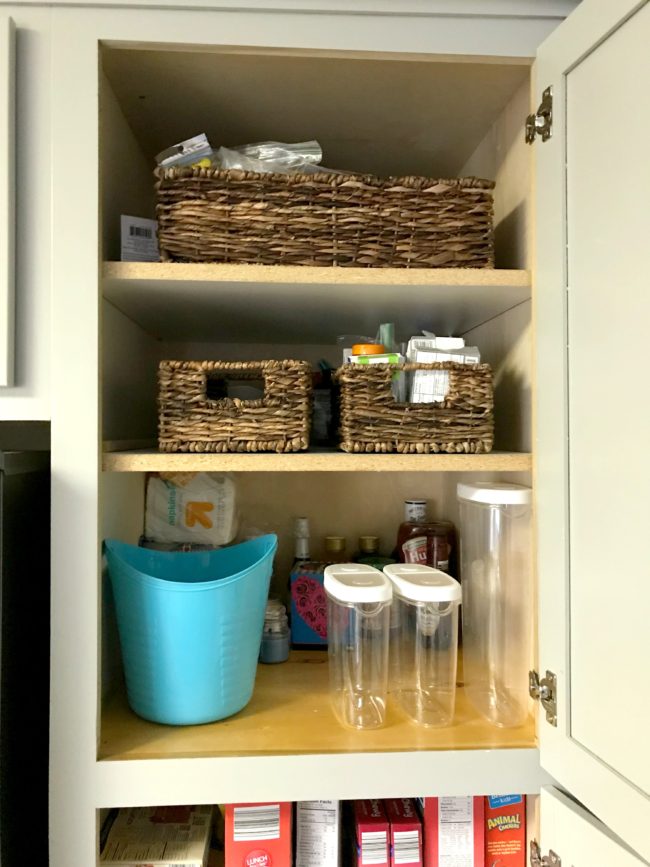 The cereal containers are from Ikea.  I forgot I had them.  We rarely eat cereal anymore but I moved them to the front to see what I could store in them.  The teal bucket is used for plastic grocery bags.  If you haven't noticed, my pantry is very deep so I can store items way in the back.
I spent less than $30 organizing this space and it feels like a weight has been lifted off of my shoulders since cleaning out my pantry.  A clean house is a happy house.  It just makes you feel good.  It also sets an example for the kids.  Peyton does pretty well (for a 7-year-old) with our organization systems.  Organizing as a whole can seem overwhelming, but when you break it down into small areas, it can make a huge impact.
I'm excited about the #OrganizedOnFleek Challenge with Danielle from The Style and Beauty Doctor and Mimi from Unlikely Martha (click on their names to see their first challenge).  Danielle organized her drawers (HERE) and Mimi organized her freezer (HERE).  I'm ready to tackle more small spaces in my home.  Some of the spaces on my list are my laundry room shelves, under my sink, Harper's dresser, makeup and coat closet.  Let me know which one you would like to see next. Details on joining in on the challenge below. 
#OrganizedOnFleek Challenge Rules and Info:
Must follow @babyshopa @stylenbeautydoc @unlikelymartha on Instagram

Follow the hashtag #organizedonfleek (click on the hashtag then click the "follow" button at the top)

Post your organization projects on Instagram! Upload NEW pics and/or videos to your IG of how you get organized (could be before and after, a photo of your organized kitchen cabinets, your dorm, your office, your car, whatever you choose). Just make sure all post include #organizedonfleek. The more posts the merrier! You can even post the stages of your projects, too. While we love for you to share on your IG stories with #organizedonfleek, those posts won't be included for giveaway entry. Private accounts can't be considered for giveaway.  Must be 18 or over and a US resident.
GIVEAWAY: We'll pick our faves each month through April. FOUR people will win a $25 e-gift card to one of our favorite home stores.
What's the first area that you want to get organized?