I'm back with my second #OrganizedonFleek challenge!  Last week I tackled my pantry HERE and this week I'm taking you under my sink.  I've found that organizing and decluttering work best when you break them down into small tasks.  Under my kitchen sink was a hot mess filled with cleaners that I never use or even empty bottles.  Watch the video below to see how I got it together and learn how you can participate in the Organized on Fleek Challenge to win a gift card to one of our favorite stores.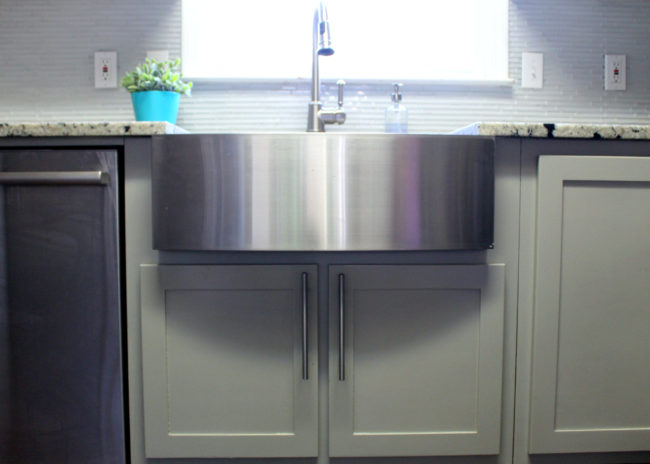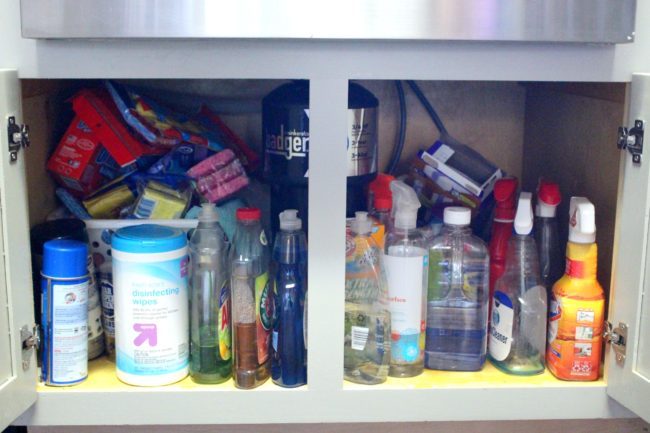 As pretty as my stainless steel farmhouse sink is, this is what was hiding underneath…bottles galore! I have to pull everything out just to find something and I was getting tired of doing that. Check out my video below.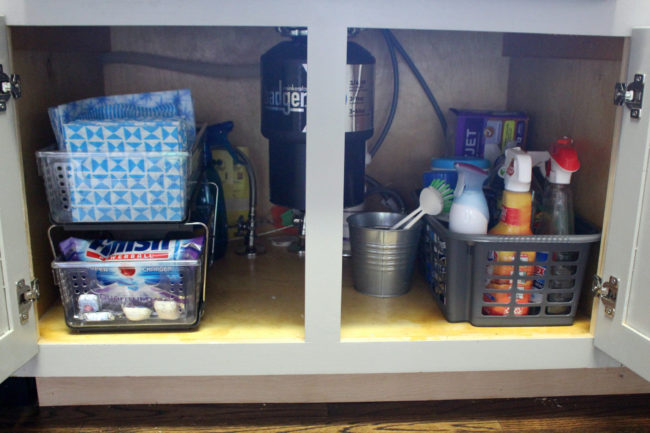 You may be wondering why I have so many of those disposable towels.  I use these to wash the dishes, then I wipe down the counters and throw them away.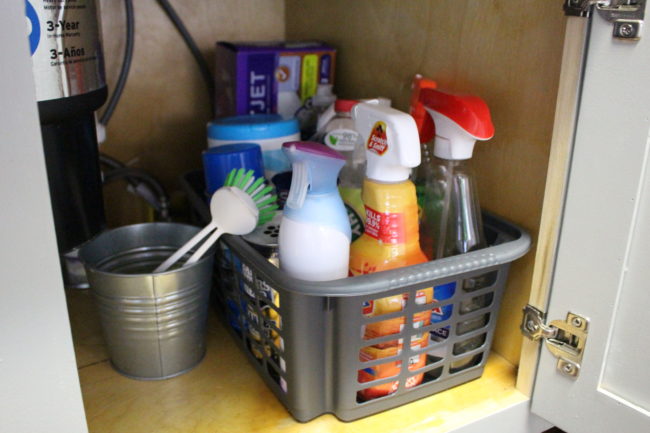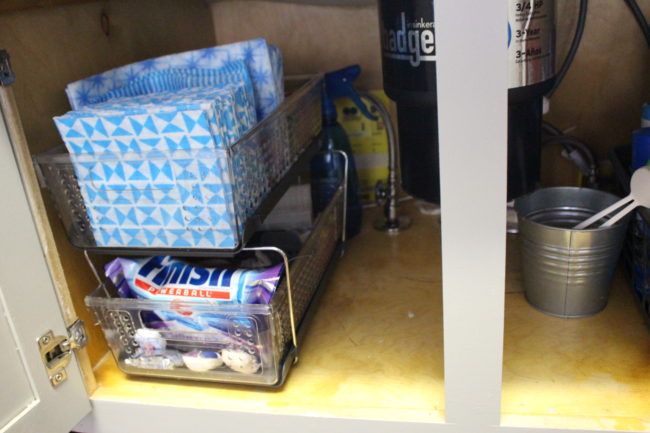 Sliding drawer ($23 but paid $18 with coupon) and basket, The Container Store
What do you think?  I can't believe how much space I have under my sink now.  With my new kitchen appliance obsession, I'm going to need it.
I'm not sure what my next project is going to be.  I want to tackle Harper's dresser but my laundry room is also a hot mess.  Let me know which one you would like to see.  Details on getting in on the challenge below.
The #OrganizedOnFleek Challenge is well underway with my partners, Danielle from The Style and Beauty Doctor and Mimi from Unlikely Martha (click on their names to see their first challenge).  Danielle organized her drawers (HERE) and Mimi organized her freezer (HERE).
#OrganizedOnFleek Challenge Rules and Info:
Must follow @babyshopa @stylenbeautydoc @unlikelymartha on Instagram
Follow the hashtag #organizedonfleek (click on the hashtag then click the "follow" button at the top)
Post your organization projects on Instagram! Upload NEW pics and/or videos to your IG of how you get organized (could be before and after, a photo of your organized kitchen cabinets, your dorm, your office, your car, whatever you choose). Just make sure all post include #organizedonfleek. The more posts the merrier! You can even post the stages of your projects, too. While we love for you to share on your IG stories with #organizedonfleek, those posts won't be included for giveaway entry. Private accounts can't be considered for giveaway.  Must be 18 or over and a US resident.
GIVEAWAY: We'll pick our faves each month through April. FOUR people will win a $25 e-gift card to one of our favorite home stores.