This time last week we were laying on the beach playing in the sand.  Back to reality.  Peyton headed back to school today eager to share her Jekyll Island spring break details with her friends.  I don't blame her.  It felt good to get away from the hustle and bustle for a few days with the family.  I thought I would share more details from our trip and stay at the Jekyll Island Club in case you are looking for a quick family getaway.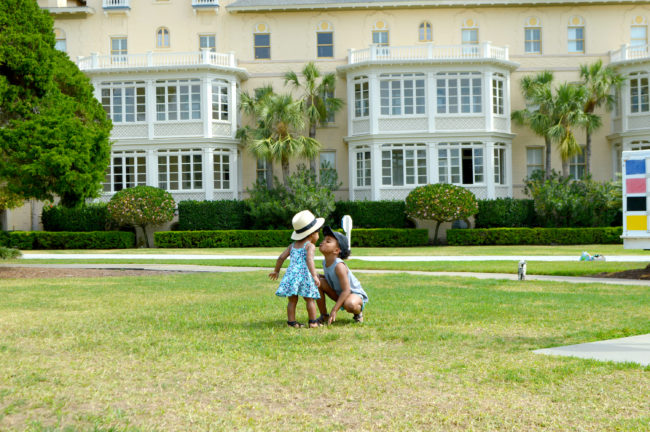 Jekyll Island is located on the Atlantic Coast, about an hour south of Savannah.  It's just 5 hours from Atlanta.  My tolerance level for road trips is 6 hours max in the car.  Thankfully, our road trip was not affected by the collapse of 85.  Jekyll Island is the perfect weekend getaway if you're an ATlien.
The vibe of Jekyll Island is laid back.  Everyone is on chill mode.  You won't find crowds or hustle and bustle here.  The guest is mainly made of retirement age adults and families.  You won't find the teen spring break scene here.
Where to Stay:
Our accommodations were provided by the Jekyll Island Club Resort.  Built in the late 1800s, Jekyll Island Club Resort is one of Georgia's few historic hotels.  When you pull up to the resort, you are wowed by the historic charm of this resort. I felt like I was about to meet the Queen. Not Queen Bey, but Elizabeth.  Jekyll Island Club Resort may be well over 100 years old but the preservation of the grounds are incredible.  Service at Jekyll Island Club was top notch.  The staff was always eager to help us. The staff did their best to make sure our stay was as pleasant as possible.  Hands down, it was the best hotel on the island.
What to do:
Hit the beach.  Jekyll Island beaches are easy to get to and plenty of room for the kids to run free (make sure you watch the video).  I would suggest bringing your own folding chairs or a blanket to spend the day at the beach.
Visit the Georgia Sea Turtle Center.  Just steps away from the Jekyll Island Club Resort.  It's only $5 for kids and $7 for adults.
Go for a family bike ride on the beautiful trails.  We wanted to bike ride but every time we were ready, it was raining. Bikes are conveniently available at Jekyll Island Club Resort.  They even have bikes that kids can ride on the back. Cost is about $12 a day.
Shop at the new Beach Village.  This a new area in Jekyll Island that is home to a few small shops and restaurants.
Head to the water park.  Yes, Jekyll Island has a water park.  It doesn't open until the summer.  Next time I'll plan a trip when it is open.
Go golfing.  Jekyll Island has a mini, 18 and 9 hole golf available.
Where to eat:
My favorite spot was Love Shack BBQ Shrimp & Yardbird.  Very reasonably priced and delish!
Red Bug Motors Pizza is also a great budget friendly place to take the family.  A large pizza is about $15.
If you want to get all fancy, make reservations at the Grand Dining Room at the Jekyll Island Club Resort.
If you want some fast food, there is a full-service Dairy Queen on the island.  We stopped there and picked up some hotdogs.  I may or may not have gotten a blizzard.
This is my first time at a Georgia beach and it won't be my last. Have you been to Jekyll Island?  What's your favorite thing to do or eat at Jekyll Island?