The days of playing ourselves in a tankini at the neighborhood pool are over.  It's time to burn those hideous tankinis that all moms feel like they required to wear because their bikini bodies have gone missing.  Of course, there are a few cute exceptions with tankinis, but not many.  If you can still rock a tiny winy bikini…Get it Girl!  Unfortunately, by body has decided to go another route after having kids.  I received so much feedback from my $17 swimsuit I wore on our trip to Jekyll Island that I decided to put together my 2017 list of HOT mom friendly swimsuits.  You're Welcome.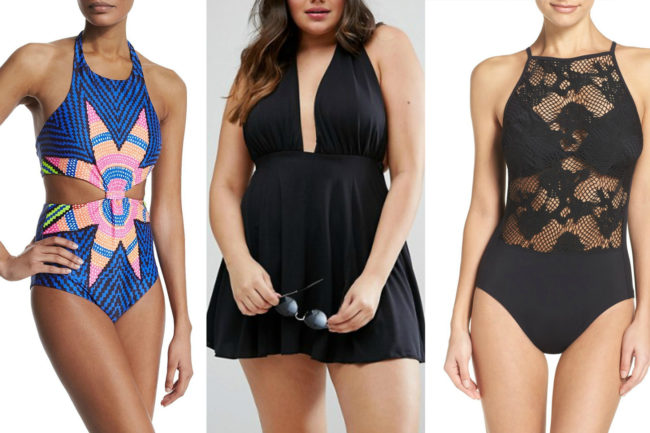 1.  | 2.  | 3.  | 4.  | 5.  | 6.  | 7.  | 8.  | 9.  | 10. | 11. | 12. | 13.

I'm wearing swimsuit 10 here.  It runs super small.  I'm wearing an XL and I would normally take a medium in the bottom and large on the top.  Even in the XL the bottom part is pretty snug.  It ties on the back and around the neck for an adjustable fit. For $17, I would suggest buying a couple if you are unsure of the size and diffinately go bigger.  It will be worth it. Click HERE to shop.
Here I'm wearing swimsuit labeled 5.  I'm wearing a large and it fit fine.  This was last summer and I was bigger than I am now.  This one is $24.  Click HERE to shop.
I'm so grateful that one-piece bathing suits have made a comeback.   Even if you don't have kids, these swimsuits are still cute.  Up until I found these swimsuits, I dreaded going to the pool.  Now I (kinda) look forward to it since I have a cute suit to wear.  All you need is a fly cover-up and some sunglasses and you're all set.  Which swimsuit is your favorite?
In case you missed it, you can check out my Jekyll Island recap HERE.