Peyton has been a fashion blogger since she was 5 months old.  She was a natural, always smiling and staying still to take photos.  Harper is the opposite.  She doesn't care if this is a family business or not, she's going to do her own thing.  Somehow I've managed to reel her in and get beautiful photos with the whole family.  Not all the photos are perfect but we end up with a few keepers. Check out my tips below on how I get them to take pictures.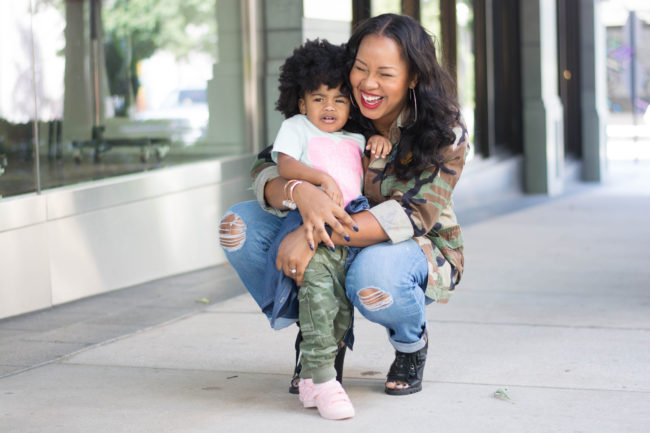 Make sure your child is not tired.  I plan my shoots early in the morning or after nap time.  Harper will completely lose it if she's tired.
Feed your child before a shoot.  I know how I get when I hungry or tired so I can't imagine the level of hangry a child has when they're hungry.  Make sure to take photos after a meal or bring snacks.
Incorporate props.  Your child's favorite toy or stuffed animal can help them focus or be still when taking photos.  I'll let harper bring a small toy during shoots.
Let them move.  Kids don't like to stay still.  Trying to get your child to stay still can sometimes be impossible and cause a breakdown.  Change your camera settings to action shooting and shoot away while they're on the move.
Plan for the weather.  If it's going to be hot, I plan shoots early.  If it's going to be cold, I plan for later in the day. Just make sure you coordinate with naptime.
Use a photographer.  I don't know why but my girls cooperate better when someone else takes the picture.  Make sure you or someone you child knows stands behind the photographer to get them to look.
Take breaks.  Sometimes you just gotta let them chill out for a while.  Even if it's just 2 minutes, let them run, play or do something for a bit. 
Bring candy.  I know this is bad, but a little sugar, especially in the morning will help get their energy up.  It doesn't work to well as a bribery tool but they are much happier when they have it.
Play some music.  Harper has a few songs that I can guarantee that she will get hype to.  We have a portable speaker that we'll bring on photo shoots.  Music will also make them smile.
Make sure they're comfortable.  I love the girls in headbands and hats.  Harper doesn't like them, so instead of fighting with her, I just let it go.  It's not even worth it if she's going to keep pulling it off.
Keep it short and sweet.  Don't torture your kid for an hour trying to take pictures.  Try to keep it no more than 20 minutes.
Tickle.  When I'm holding Harper in a photo and she doesn't want to smile, I'll tickle her from behind and I'm guaranteed to get some big smiles.
Be patient.  You can't expect a kid to nail a photo in the first minute of shooting.  Sometimes just need to let them get in the mood.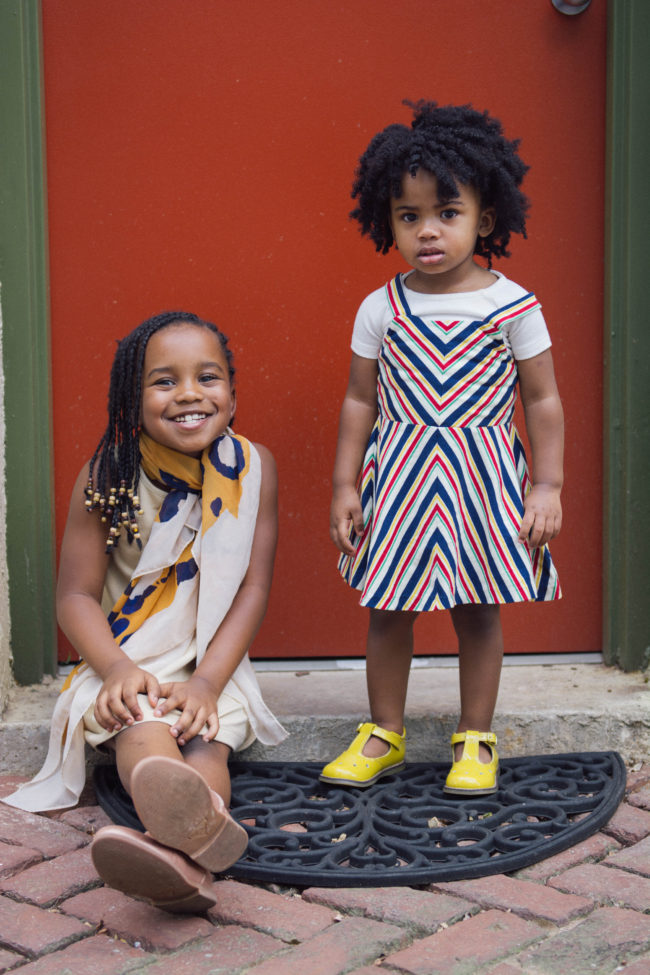 Those are my tips.  I've been at this for seven years and two with Harper, so you know I've tried everything.  Sometimes I just take Harper out the photos if she just doesn't want to cooperate.  It's just not worth it (unless it's a sponsored post lol).  I hope these tips help you on your next shoot with your kids.  It's holiday photo time, so share this post with a friend.  If you have any tips on how to get kids to take pictures please share in the comments.