Summertime wardrobes should be cute, effortless and affordable.  I've noticed some friends talking about getting their kids wardrobes together for the summer on a budget.  Most of us are in the same boat because before you know it, we'll be spending our coins for back to school clothes. Keep reading for my tips and favorite places to shop for my kids' everyday summer attire.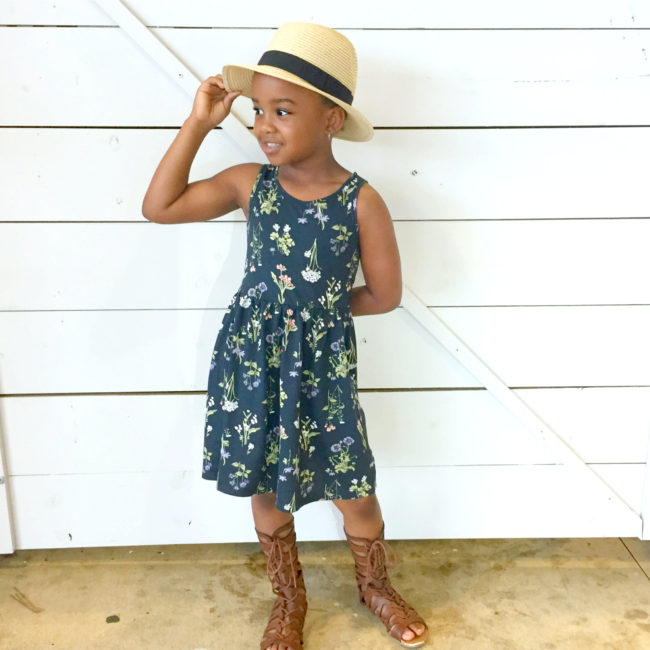 Before every major shopping spree, take inventory.  See what they can fit, get rid of what they can't.  Make note of what they need.
For girls, dresses are super easy and chic for summer.  H+M has the cutest dresses for $5 (pictured)!  Because they are only $5 they can wear them to play and even to church on Sunday.  I like to pick up at least 3 for each of my daughters. You can find them HERE.
Buy solid shorts.  I try to stay away from patterned shorts because they usually only match one or two tops.  Solid color shorts can go with anything.  My preferred colors are black, gray, pink and navy.  You don't notice stains.  I usually stock up on Walmart's Garanimal cotton shorts for $3.88 (HERE and HERE) or Targets Cat and Jack cotton shorts for $5 and up (HERE and HERE).  When you head to Target make sure you check the Cartwheel app.  I saved 30% off kids shorts last week. 
Load up on graphic tees.  Graphic tees are our jam.  They match everything and you can't see stains from popsicles or spaghetti after washing them.  They look great with the cotton shorts I mentioned above. I love the graphic tees from OshKosh, Carter's and The Children's Place.  OshKosh and Carter's usually has great door buster deals and great coupons.
Stick to a color theme so everything matches.  That will allow for easy dressing in the morning if you tell your child to grab a shirt and shorts.
Save on the shoes.  Bigger kids can live in flip flops most of the summer.  If your child can still fit their school sneakers, you're all set for outdoor play.  I recently picked up some active sandals (HERE) for Harper that she can run and play in without her feet getting hot.  
Keep a few special occasion outfits on hand.  Our summer is filled with birthday dinners and barbeques with the girls so they need to have a few stylish outfits ready to go.  My go-to spot for stylish children outfits is FabKids.  They have new looks every month for boys and girls.  Click HERE to save on your first order.
Grab some hats.  Keep summer hats on deck.  One, because it's sunny out.  Two, because I have two heads to comb and places to be.  Three, because they look adorable in them.  I try not to spend too much money on them.  I usually grab them from the dollar spot at Target.
Cut up old leggings for shorts under dresses.  Peyton had several leggings with ripes that we turned into skimmies.

Dresses, H+M | Harper's sandals, Payless | Peyton's sandals, Payless (similar) | Hat c/o FabKids
So that's how I make sure my girls are ready to go for the summer.  Our summer life is a lot easier, because Peyton and Harper have cute and comfortable pieces they can mix'n'match.  I seriously spent less than $50 on each of them to buy summer play clothes.  I would also like to add that these items wash very well.  Just make sure you dry them on low heat to avoid shrinking.