I love (well before kids) wearing heels and feeling tall.  I'm not part of the "Talls" but on a good day, with the right heel, I can be an honorary member.  Wearing heels is easier said than done. My feet went up 2 shoe sizes while pregnant and back down.  That's a lot of drama to have on your feet in one year.  What if I told you I found a cute wedge sandal that you can wear all day and that feels better than any flat sandal?  You probably wouldn't believe me but I did!  Crocs is changing your summer shoe game with fashionable and comfortable sandals for the whole family.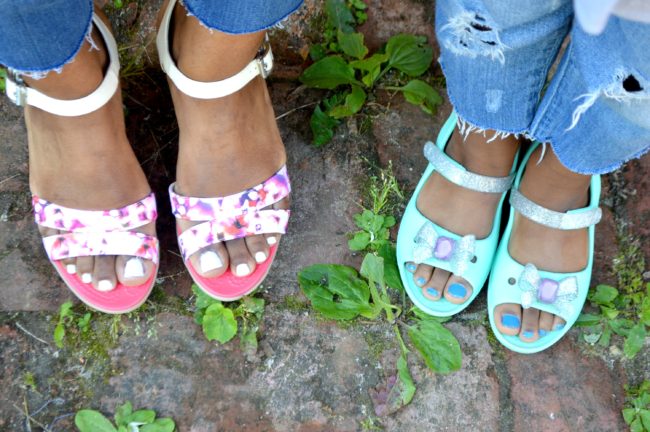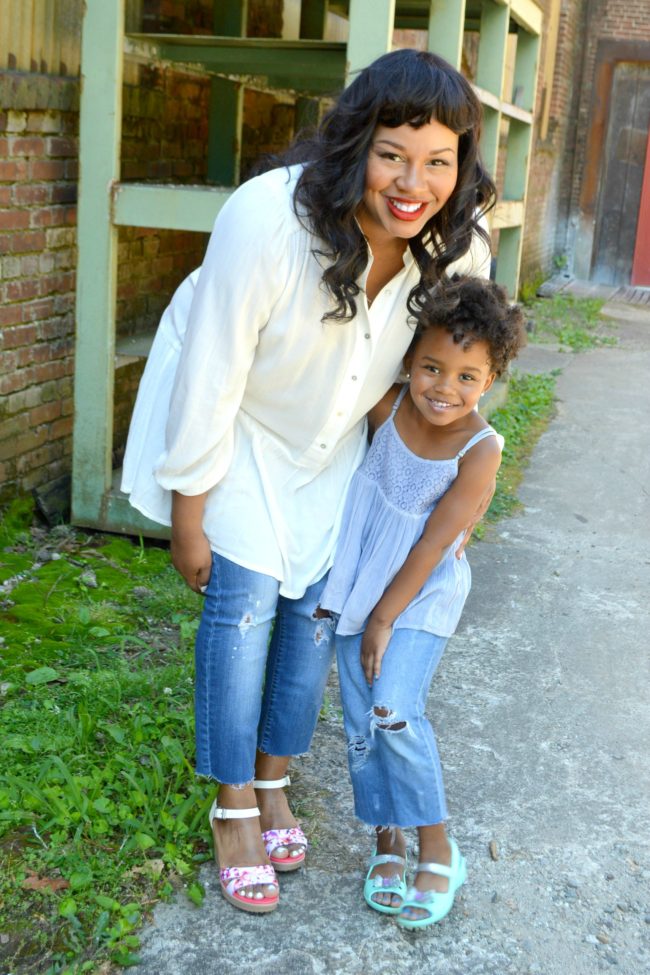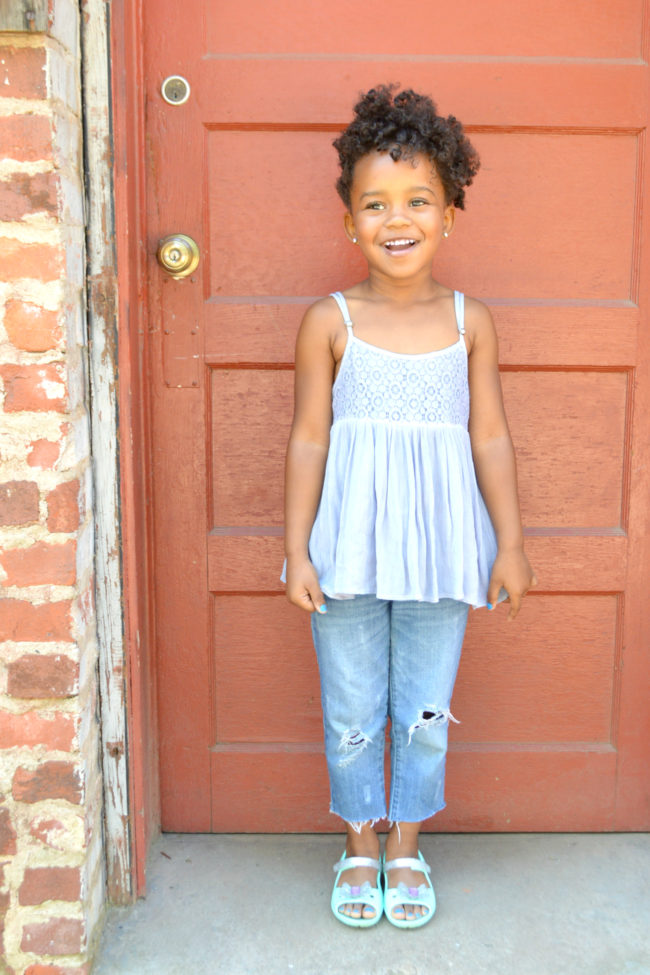 Top, Target | Jeans, DIY | Sandals c/o Crocs
Peyton is rocking the Crocs Kids' Keely mini wedge (HERE).  They are easy to get on and off with the velcro ankle strap.  She can both play in these and wear them with her Sunday Best.  The Keely mini wedge can be wiped clean with ease.  I can't wait till Harper can fit into her Crocs.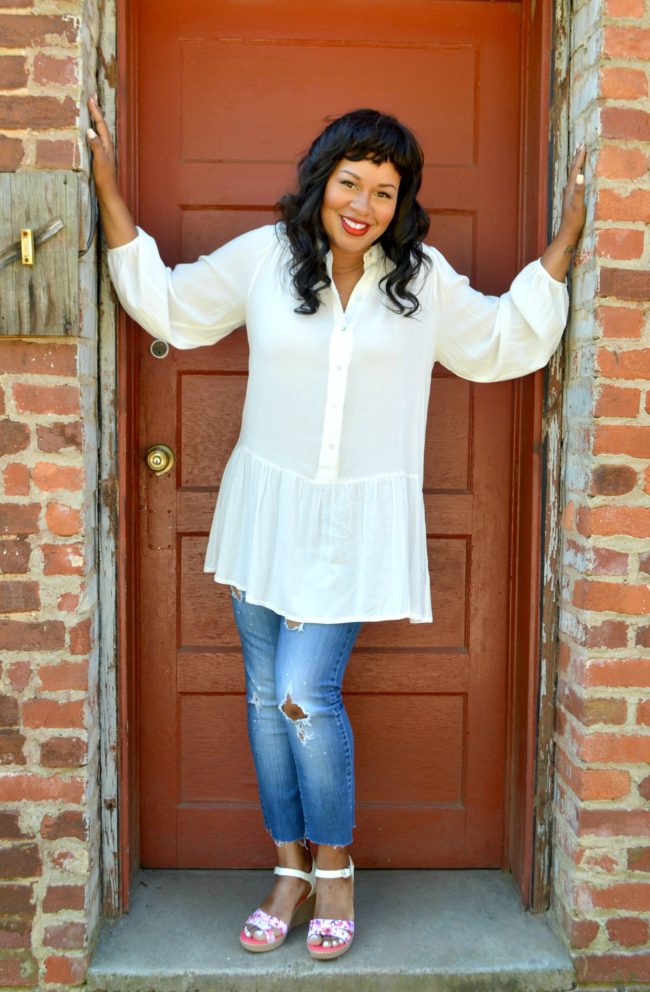 Top and jeans, H&M | Wedges c/o Crocs
I'm wearing Crocs Leigh II ankle strap graphic wedge.  I feel like I can pay in the NBA finals in these wedges!  With Crocs Leigh wedges, I didn't have to sacrifice style for comfort.  I have a high arch so getting the foot support I need is usually a challenge.   The Leigh wedge features Crocs contoured Croslite™ foam footbed that gives you a little more arch support.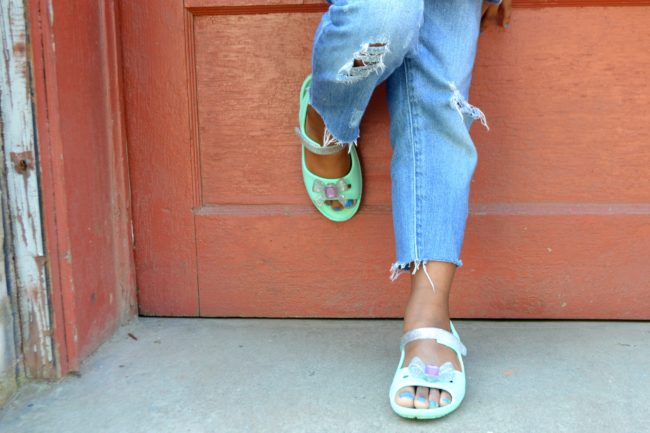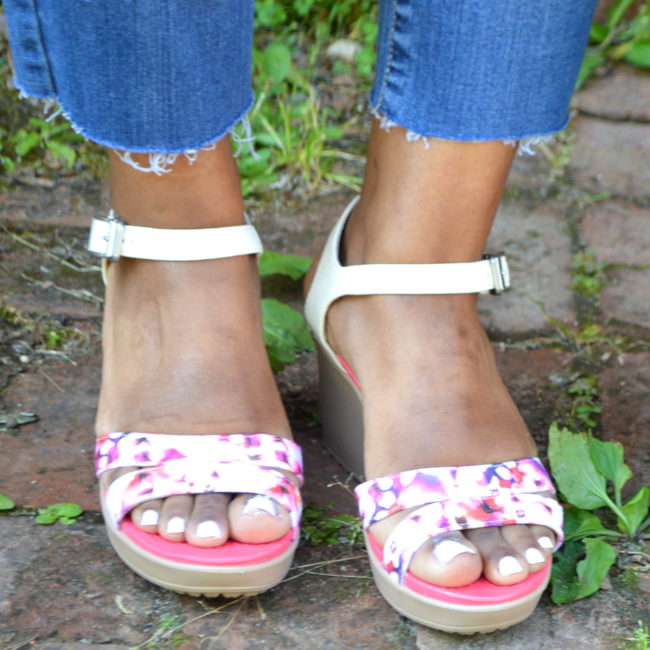 When Peyton tried on her Crocs shoes, the first thing she said is that they feel like clouds.  Now I can't keep her from wearing them.  I totally feel the same way, I want to wear them everyday!  My Crocs Leigh graphic wedges are heaven!  I've never worn such a comfortable sandal, even flats.  When your out with your kids, normally wearing any kind of heel is not an option.  I'm excited that I don't have to sacrifice my mommy swag and can wear a wedge sandal when I choose too.  If you haven't checked out Crocs lately, I suggest you start NOW!  You may find the only you need for the summer.  Make sure to check out their SALE section online, they have some great deals!  Save 20% off your entire purchase online until June 17 with code SHOPAHOLIC20. 
*I've partnered with Crocs for this post.  Thoughts and opinions are my own.