Goodbye 2016.  Hello 2017!
This past year had it's pros and cons.  Personally and professionally my year was pretty great.  I continue to fall more in love with my husband (HERE) and I have two beautiful healthy girls.   Some of my professional highlights from the year are working on St. Jude Walk/Run for Atlanta, being a panelist for Essence and Johnson & Johnson Path to Power event and working with Disney Cruise Lines!  On the other hand, our county and our world are hurting.  We had a crazy election, police killings (both officers and unarmed black men), terrorist attacks and unrest in the middle east. I don't know if there is anything I can do about any of these things.  One thing we can all do is spread more love because there is already enough hate out there.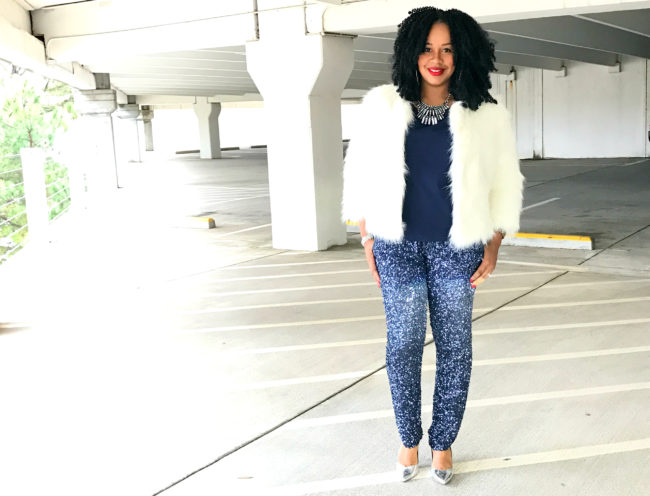 Everything I'm wearing is super old so I won't bother trying to link.  If your looking for cute sequin pants check these out HERE.
I've been thinking a lot about what I plan to do with the Baby Shopaholic in 2017.  I've been blogging consistently for 6 years.  That's a long time of talking about the same stuff.  If you didn't think I was passionate about my space, that should tell you something.  I love my blog!  I also appreciate those of you that have been rocking with me through the years.  You've seen me skinny and juicy : ). I don't plan on going anywhere anytime soon.
Here's my plan for Baby Shopaholic.  I'm going to step my content up.  I have so many ideas in my head but I don't have time to implement them.  I'm going to do my best to get them out to the world.  I also want to be more transparent as a wife and a mother.  This game ain't easy and we could all use some support.  I also plan to introduce my first product line!  EEK!  I'm excited and nervous at the same time.  It's going to be dope is all I can tell you!  Stay tuned!
I think I have done pretty good job of staying in my own lane and not turn into a blogging robot.  When I say robot, I'm not going to fall in the trap of doing what bloggers are "supposed" to do.  Of course I want to continue to grow, but it will be because I'm sharing good fresh content.
Yes, I will still continue to do sponsored posts.  How do you think I keep the lights on around here.  I just paid a car note to GoDaddy!  LOL!  But seriously, I love to shop for my babies.  You wouldn't want me to go in debt just to get cute outfit pics would ya?  So please continue to support the amazing brands that support me.  Please note, I pass on a lot of opportunities if I don't feel it's a good fit or doesn't benefit you in any way.  I got your back!
I know I'm kinda all over the place in the post, but I wanted to have this chat with you.  I would love your feedback on what you would be interested in seeing from Baby Shopaholic this year.  More videos?  Do you like podcasts?  Home decor?  Food?  More outfits?  Let me know in the comments.
Love you guys!