A few weeks ago I had the honor to sit on the Johnson & Johnson Path to Power panel for Essence Magazine in Atlanta.  After the initial shock of Essence considering me for the event, I accepted.  Growing up, Essence was my go to source to read encouraging stories about women that looked like me.  I still couldn't wrap my head around why Essence choose me to sit on a panel with these successful women.  Then I reminded myself that I've been able to make something out of nothing, with no handouts.  So many women like me are trying to go down the same path.  I wanted to share some of the great tips and advice that was shared during the Path to Power discussion.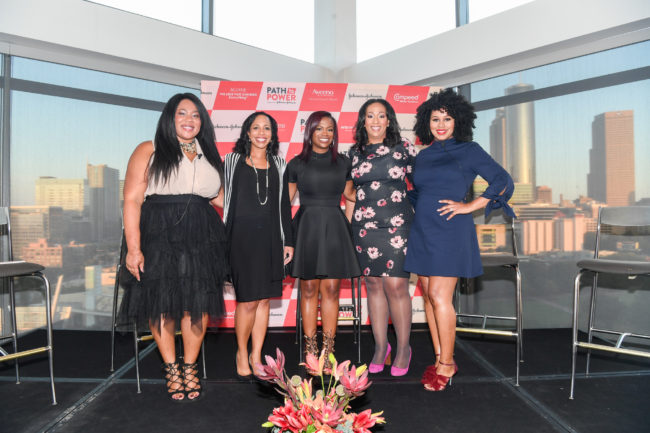 Moderator Charli Penn (Essence Senior Editor), Wanda Bryant Hope (Chief Diversity Officer Johnson & Johnson), Kandi Burruss (Celebrity Song Writer), Dr. Aeva Gaymon-Doomes (Physician), and Trina Small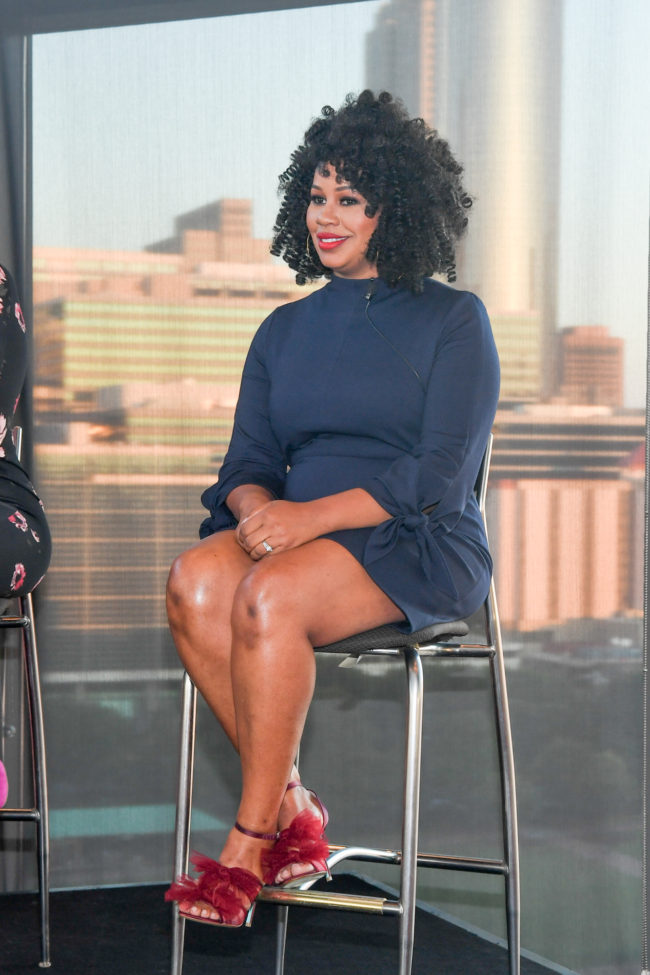 Don't I look nervous?  I kept thinking I was going to fall off the stool.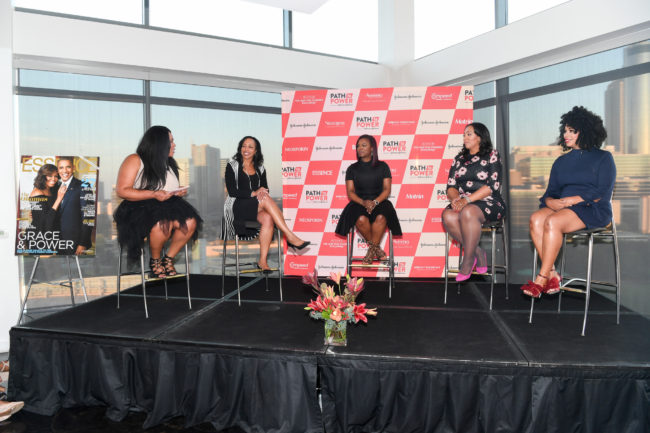 All the panelist were mothers so it was easy for us all to relate juggling a career and family.  Let's get in to the discussion.
1.  My secret to self care.  For me, just being the best mom and wife I can be is my secret to self care.  If I stay in my own lane and just do me, it takes away the stress of trying to be someone I'm not.  Just because someones life looks perfect on Instagram doesn't mean it is.  They struggle just like the rest of us, they just choose not to share those moments (which is ok).  I talked about this in my post about getting my life together HERE.  There are so many people telling you what you should be doing or how you should look.  Do what works for you and your family and you will be ok.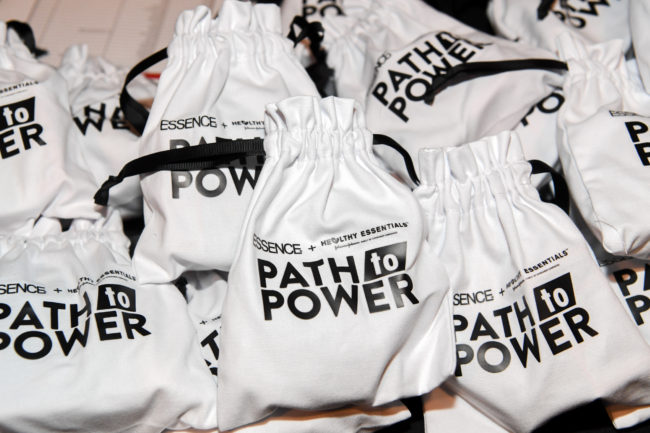 2. Say No the first time.  Kandi Burruss (who is the coolest) shared that we should practice saying no first.  Let me explain.  Sometimes we're asked to do something that we are not too excited about or maybe can't do it at all but we say yes out of habit.  Then when the time comes we're looking for ways out because we can't or don't want to do something.  The person you committed too is left hanging and disappointed.  If you start with a NO, you won't have this problem.  If you come through it's a pleasant surprise because you made it happen.  So if I tell you no, I still may show up : ).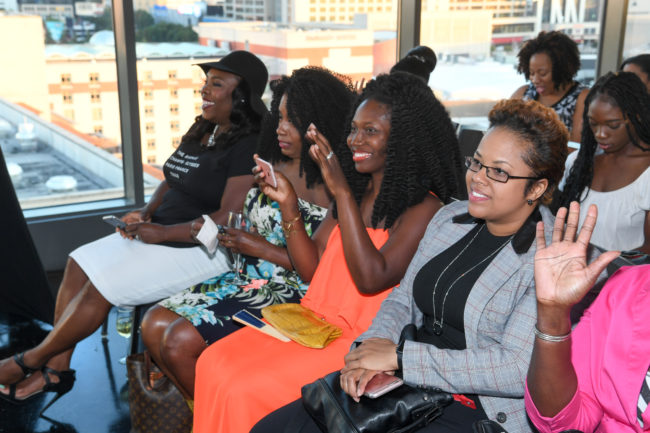 3. Outsource.  Chief Diversity Officer Johnson & Johnson, Wanda Bryant Hope shared with us that she outsources things on her to do list that she doesn't have time (or want) to do.  If my budget allows, I'm going to do this more often.  Outside of cleaning, can also take advantage of apps that provide meal delivery and grocery pick up services.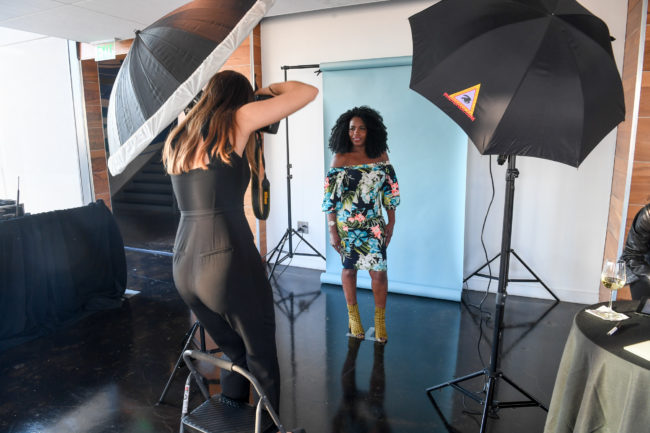 4.  Block out time for family.  Dr. Aeva Gaymon-Doomes stressed the importance of blocking out time.  She shared that only family activities are allowed on Sundays.  That means no practice, meetings or anything that takes someone away from that family time.  It doesn't happen often for my family, but those Saturdays or Sundays when we do not have any commitments are awesome.  We can eat meals together, play at the park or watch a movie.  I'm going to try and block out more time for my family.
5.  Just start.  A woman in the audience shared her dream business with us but didn't know where to start.  Kandi and I both shared that she just needed to start.  Sometimes we can talk ourselves out of pursuing our dreams because everything is not in place or we don't have the resources.  A pen and paper doesn't cost anything (well maybe a dollar).  Start writing down your plan.  They're are plenty of things you can do with a few dollars.  Buy your domain, research the industry, start working on your social media, and find a mentor.  Don't just wait for something to happen, you can start moving in that direction.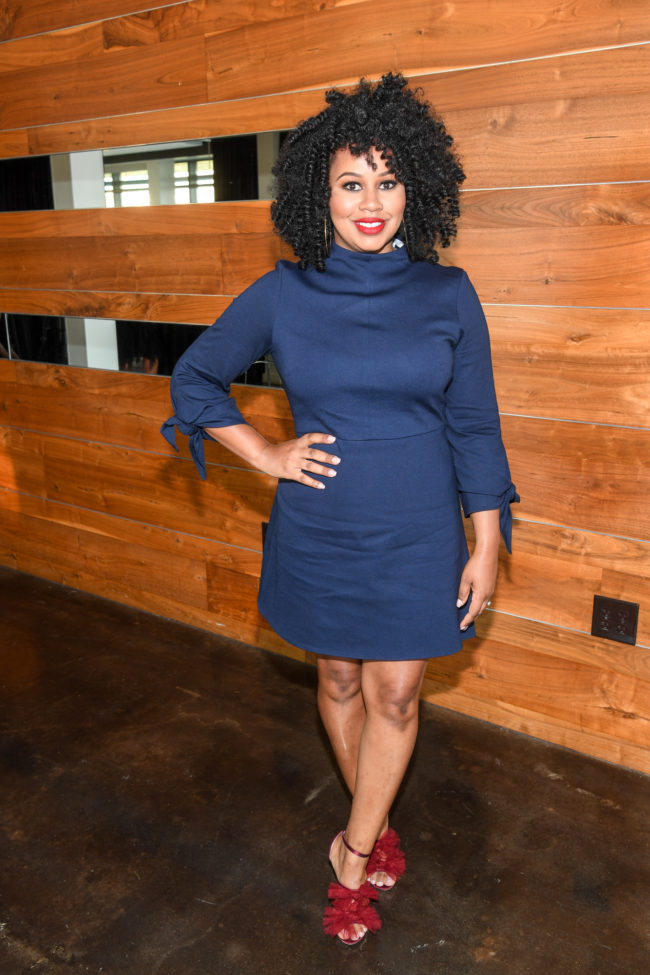 Dress, Tibi | Shoes, Zappos | Makeup by Alex Butler
I know I've been on this empowerment kick and I hope you're enjoying it.  I'm realizing that my space on the web is much more that just cute baby clothes and skincare products (that's not going anywhere).  I know God has a greater purpose for my voice and I plan to use it.  Being a mom is tough but that doesn't mean we have to give up on our passions and dreams.  I pray that these tips can help someone in their Path to Power.
I met so many wonderful women that encouraged me as well.  I appreciate Essence and Johnson & Johnson for having me on the panel.  If you have any Path to Power tips please share in the comments.