We all know that edges ain't loyal.  I lost all my edges (and more) after I had Harper about a year and a half ago.  You can read about it HERE.  I'm happy to report that my edges have returned *praise break*.  It was a long journey of trying to cover up my bald spots without wearing a wig.  I did try rocking a wig once but I kept moving it around like I was wearing a hat…not a good look when you're in public.  This year I'm letting it all hang out this summer.  I've been weave and braid free for over a month.  I know that doesn't sound long but with two girls, trying to work out and a busy social calendar, it seems like forever.  Because I'm a lazy naturalista, my go to style is a low or high bun.  I just wash, brush and go.  With that being said, I've been going through a lot of gel and edge control.  I thought I would share my favorites.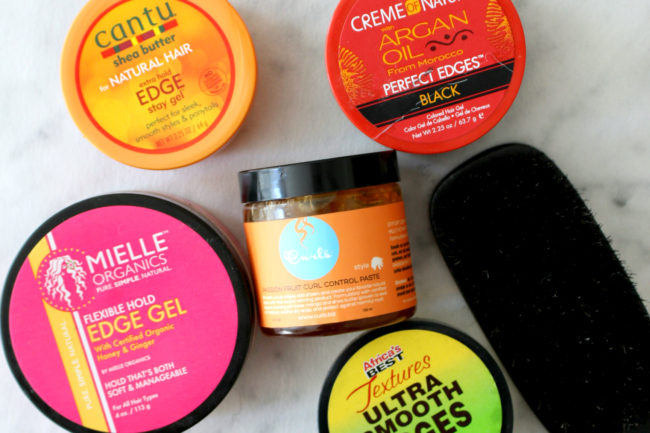 Starting from the top left:
Cantu's: edge control is pretty new on the scene and it is awesome.  I use it daily when I'm wearing weaves and braid.  Great long lasting hold.  Definitely a staple at my home. You can find it at Walmart.
Cream of Nature Perfect Edges Black.  This gel has a black tint that helps to feel in thin edges.  Perfect for me since I'm just getting back in the edge game.  It doesn't have a super hold but I've used it on top of some of the other edge controls if I wanted the tint.  If you're not looking for that hard slick look, this is it.
Curls Passion Fruit Control Paste is a long time fave of mine.  It's actually my go-to gel to lay down Peyton's baby hairs.  I love that Curls has a light hold but keeps the texture.  I can use it daily on Peyton with no build up.  I always pick up on my Target runs.
Mielle Organics Edge gel is new bae.  Someone told me a while back to try it and now I'm hooked.  I can slick my edges to the gawds with this gel.  Because I'm slicking all my hair into one ponytail I use quite a bit.  If you want the snatched look, this is the edge control for you.
Africa's Best Ultra Smooth Edges is great to have on deck.  It has a great hold but it doesn't last all day.  Perfect if you don't use a lot of edge control.
Hicks Edges (not pictured) is ole faithful.  I've used Hicks for several years.  I remember when my stylist first used Edges on me, I swore she relaxed my edges because they were so straight.  When I hit the bottom of my last jar, I said I wasn't going to buy any more until I tried some new ones.  I'm glad I did because I wouldn't be able to share all the other great ones with you.  I will re-up in the near future.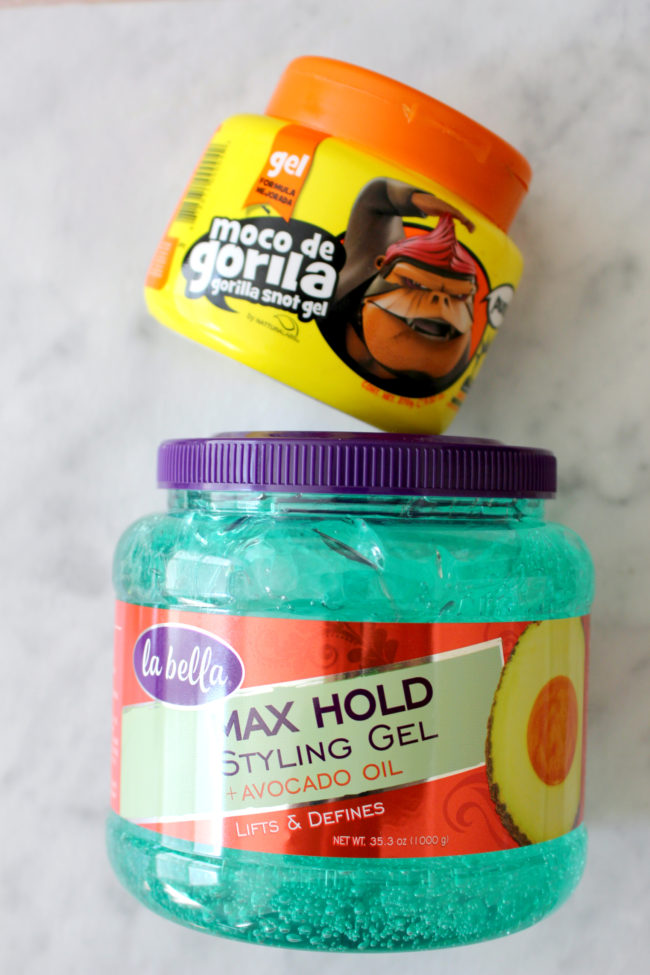 When slicking my entire head of hair into buns I would run through a whole jar of edge control trying to do it.  My wallet won't allow that so I picked up a few gels that I use to get it done.
Gorilla Snot Gel is a new one for me.  I discovered it when I fell in a natural hair rabbit hole on Instagram.  I saw it at the store and it was only $4 so I decided to try it.  It looks like snot but it's great for slicking natural hair down.  I used it on Peyton during her gymnastics competition season.  Downside is you have to wash it after unless you're leaving it slicked. They're are several different types, I would suggest trying a few since they are only $3 a jar.
La Bella Styling gel is a great alternative to Eco Styler.  I can put this all over my head and get that "wet" laid down look.  It doesn't flake.  I'm going to try it with a twist out in the near future.  I was able to find this on the shelf at Target for $4.  The jar is HUGE.
That's my round-up of gels and edge controls.  I'm sure this list will continue to grow as I try more products.  What are you goto gels and edge controls?  Please tell me in the comments so I can try them.