This post is sponsored by Mirum. All opinions are my own
If you were like me the moment you found out you're expecting you went straight to one of those mommy to be websites. You start reading all the tips and then fall into the rabbit hole of baby feeding forums. I fell in the hole and was I like O M G. What if I' can't breastfeed, what if it hurts, how am I going to keep it up for 5 years, what if I don't get any milk at all, am I a bad mother, will my baby be ok if I don't breastfeed? All those concerns made me question myself as a soon to be mom. Once Peyton was born (now 7 years old) all those insecurities went away and I made decisions on what was best for me, my baby and family. I thought I would share more about my journey and how Parent's Choice from Walmart played a significant role. Parent's Choice is also giving away up to $500. Check out this video about other mom's feeding choices and keep reading for our story.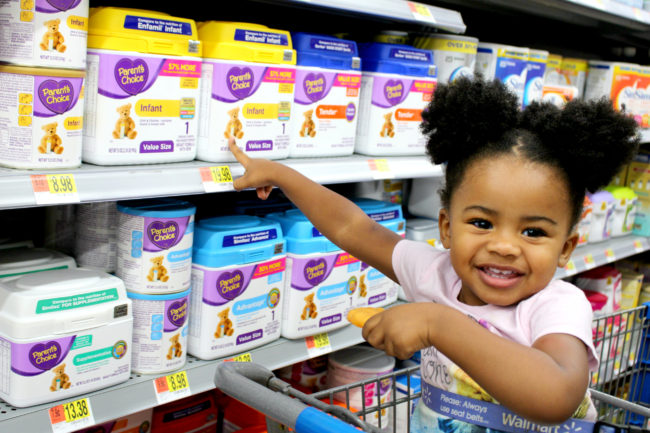 When my first daughter was born, my milk came in like the Niagara Falls. I had so much milk that I had to start pumping in the hospital. Unfortunately, my baby had to be in the NICU for the first couple of days because she wasn't breathing properly.   I wasn't able to breastfeed or give her a bottle while she was in the NICU. Whether she got my milk or not was the least of my concerns. I just wanted her to be ok.
Once they brought her to me, I tried to breastfeed and everything was going fine. After she feed on each breast, I was still full of milk. That led to me being engorged most of the time. I kept pumping but it got to be too much to keep up with pumping and breastfeeding so I stopped breastfeeding and exclusively pumped. I was able to keep that up for 6 months until one day I mentally could not pump anymore. I proceeded to naturally dry up my milk. I did have about 3 months of breast milk stashed in the freezer.
After my daughter ran through the frozen milk, I asked her pediatrician what I should give her. She gave me some samples. I took them home and proceed to give them to my daughter. To my surprise, the samples were Parent's Choice from Walmart. When I headed to Walmart to get more I was shocked at how much I would save compared to other brands of formula. I read the labels and they all had the same ingredients.   Until Peyton turned 12 months, she kept drinking Parent's Choice formula.
My journey with Harper, who is almost 2 now, is similar but I only pumped for 3 months. I just knew I would be breastfeeding for a full 12 months but it didn't work out that way. I was home full –time and taking care of two kids, it was hard to keep up with a pumping schedule. I seriously started to feel like pumping was taking away time with my girls. Not to mention I lost a lot of hair. I talked to my husband and we decided it would be best for me to stop pumping to spend more time with my children.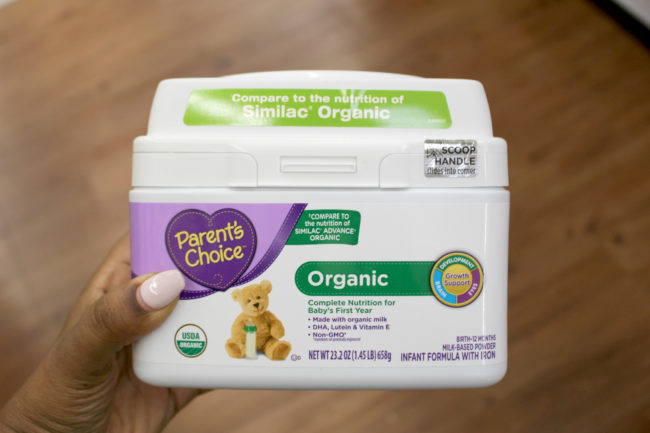 Like Peyton, Harper had a few months stash of milk as well. Once that supply was depleted, I headed straight to Walmart to pick up some Parent's Choice Formula.  This time around there are more options of Parent's Choice formula like sensitive, infant, tender, advantage, organic and more. We decided to go with the organic formula. Let me tell you that we saved $10 per container compared to other organic formulas.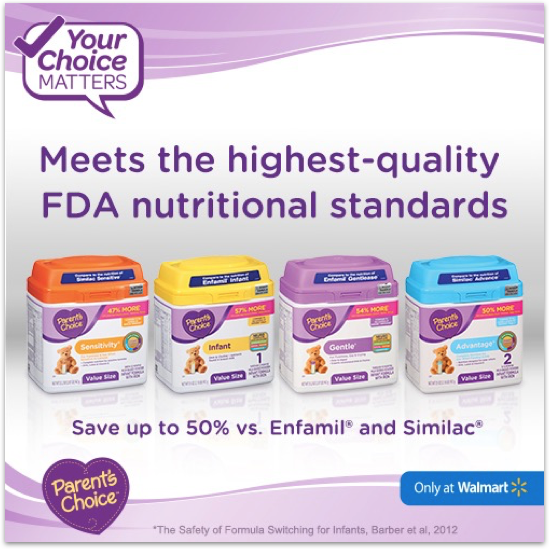 Parent's Choice extends beyond infant formula to include toddler formulas and baby and toddler Foods.  You can learn more about Parent's Choice HERE or at Walmart stores in the baby aisle. Use the widget below to enter their awesome giveaway. Good luck!
Please share how you choose to feed your children in the comments, it may help another mother in her feeding journey.
The Parent's Choice Formula Feeding Time Summer 2017 Sweepstakes