TEN years in this marriage game!  WOW!  The best thing about celebrating 10 years is that we're still madly in love.  Like I would do it all over again.  Like most women, I thought that I was supposed to meet my future husband in college.  That ideal died quickly after breaking up with my freshman year college boyfriend.  After that relationship, I decided I was going to enjoy myself and play the field.  My longest relationships before Mister was only one year max.  I told myself that marriage wasn't for me.  At 26 (still young) I said, I was going to get my grind on and be a super bachelorette.  Within a few weeks, I met Mister. You can read about it HERE.  He's been sweeping me off my feet ever since.  Keep reading for our proposal story.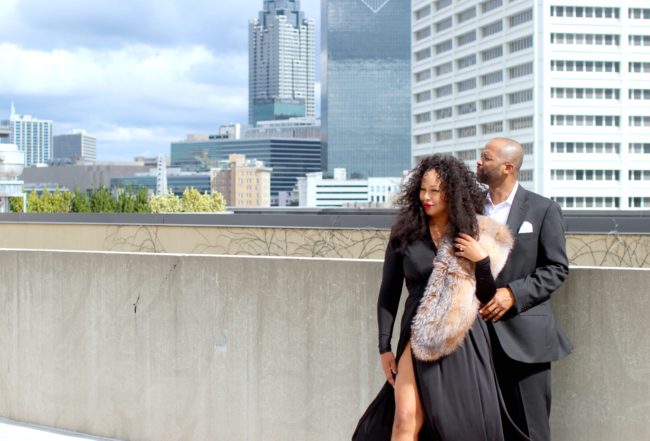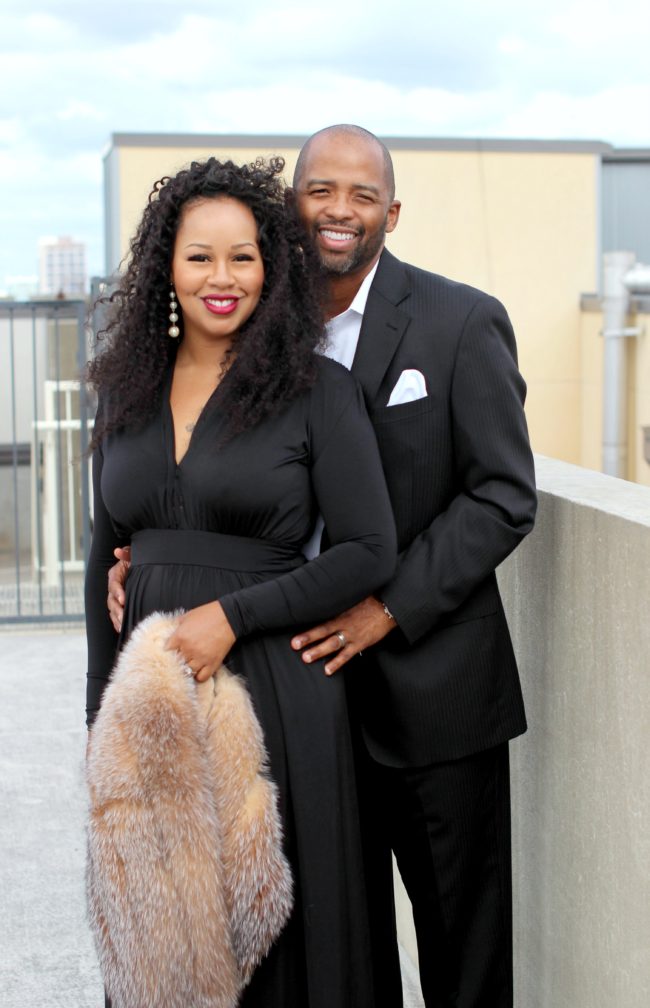 July 14, 2007 my boyfriend (Mister) said he wanted to take me out somewhere nice.  That wasn't unusual for him to say that because we always went out but it was just a couple of days after his birthday.  When I got off work I headed to get my nails done before our date.  I called my mom on my Motorola Razr phone (LOL) on the way to the nail salon.  I told her that I had a date with my BF (boyfriend).  She asked what were we doing and where were we going.  She never asks that.  I told her I didn't know.  I got off the phone with her and got my nails done. Later that evening, my BF picked me up and we head downtown Atlanta.
We pulled up to the Westin hotel.  I was like, what are we doing here.  We proceeded to the elevators and headed to the top floor.  We were going to have dinner at the Sundial restaurant, the restaurant that rotates while your seated.  Fancy!  I was surprised because neither one of us like to spend a ton of money just to eat out.  I thought maybe he won the lottery or got a new client.  I was impressed and I told him everything that I heard about the Sundial and that it's known for being the most romantic restaurant in the city and they people propose here.  Not thinking about the possibilities, I eat my dinner.  Then he says he has to use the restroom.  No problem, but he's gone for like 15 minutes or more.  Strange.  We finish dinner and head back down to the hotel lobby.
When we get to the lobby, he pulls out a chair at the bar and orders me a drink.  He tells me to stay there because he needed to meet with his cameraman (he was a television producer at the time) to give him a file that was in his car. That wasn't out of the ordinary because he always had deadlines.  I sat at the bar for at least 30 mins.  He finally returns and asks if I'm ready.  Umm…yeah.  I didn't go off (maybe because I had a few more drinks while waiting.)
We walk outside of the Westin and there is a horse and carriage waiting.  I was like OMG!  Is this for us?  He said yes.  Still not expecting anything, I get in and enjoy the ride.  The carriage stops at Centennial Olympic Park.  Now I'm asking questions.  Why are we stopping here, what are we doing?  He said he wanted to go for a walk with me.  I got on heels.  I told him we couldn't walk too far. The park is beautiful at night.  After a few minutes of walking, we sit down on a park bench near the flag canopy (photo below).  There was a homeless man on the bench next to us.  Mister gets up and heads towards him but the man gets up and walks away.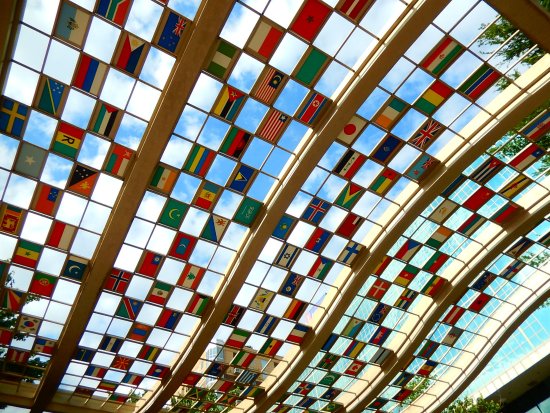 Now it's just us.  I'm like what is going on.  He grabs me by the hand and walks me under the lights and flags and proceeds to get down on one knee.  I blacked out and don't remember anything else.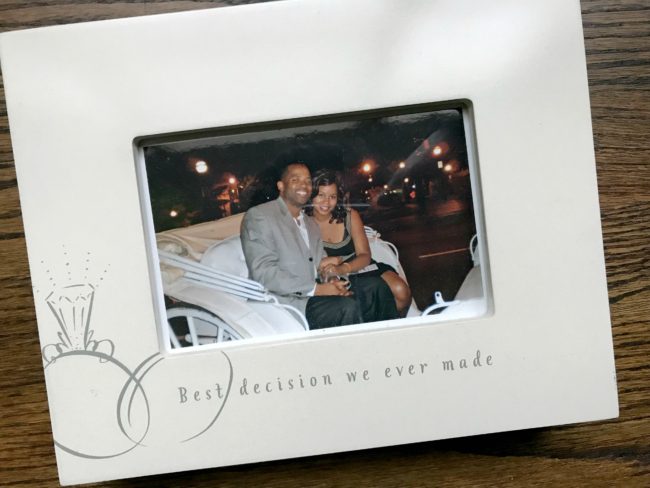 I was totally surprised.  It was like I was watching a movie and could not believe this was happening to me. I don't remember what he said but I managed to come back to reality to say YES!  And then I hit him in the arm.  I'm like what did you just do!  I'm crying and shaking.  I'm like I need to call my mom!  He said she already knew.  So that's why she was being weird.  I also found out that Mister actually had his cameraman pick up an engraved ring box he had made.  That's what he was meeting with him about.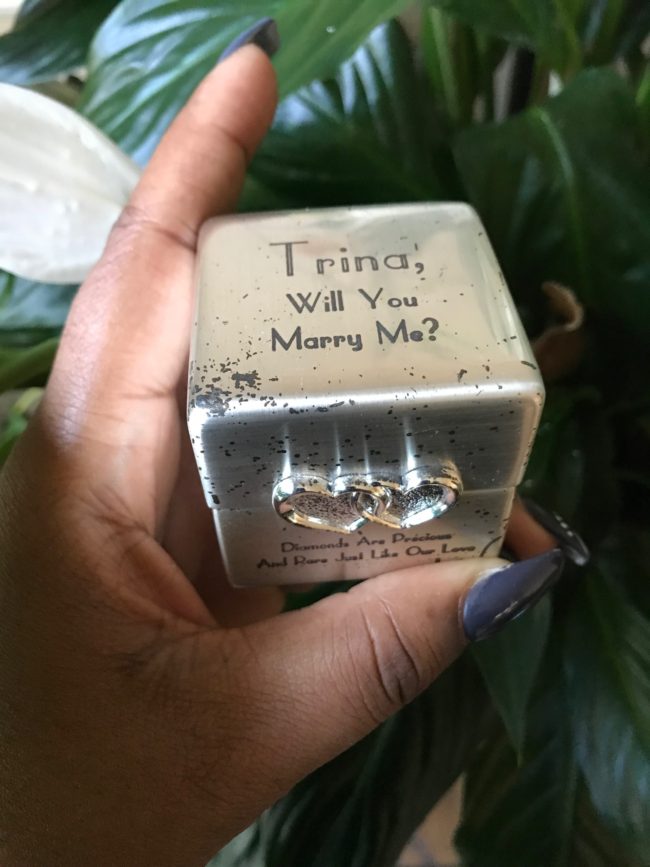 We got married 3 months later and it has been a fairytale ever since. I don't know what I did to deserve this man.  Like a lot of women, I felt unlucky in love and that I would never meet Mr. Right.  I kissed a lot of frogs and dogs.  When I met my husband, I thought it was too good to be true.  Ten years later it still feels like a dream but it's my reality.
I'm not saying we haven't had any bumps in the road but we've always managed to get back on track. We never give up on each other.  I'm looking forward to spending the rest of my life with this man.
Like last year, we're going to answer your relationship questions.  Leave your questions in the comments or email [email protected].
*Please excuse any typos and grammatical errors.  Just go with the flow. LOL!