When my house is clean, even if it's just for 5 minutes, I feel a since of peace. My goal is to have a home that when an uninvited guest pops up I won't feel completely embarrassed. No, I'm not OCD. I like to be proactive instead of reactive. You know, stay ahead of the mess. Since the new year has started, I've been trying to tackle these annoying cleaning to-do lists, I even considered getting a company like GREENFACILITIES.CO.UK to come out and clean my house. I have a few home cleaning solutions to handle those odd jobs in you home with products you already have. However, if you're short of products and apparatus for cleaning, https://www.bissell.com/vacuums/robotic-vacuums has a great catalog of products that can help you make use of my tips. You be amazed how these tricks will save you time and money.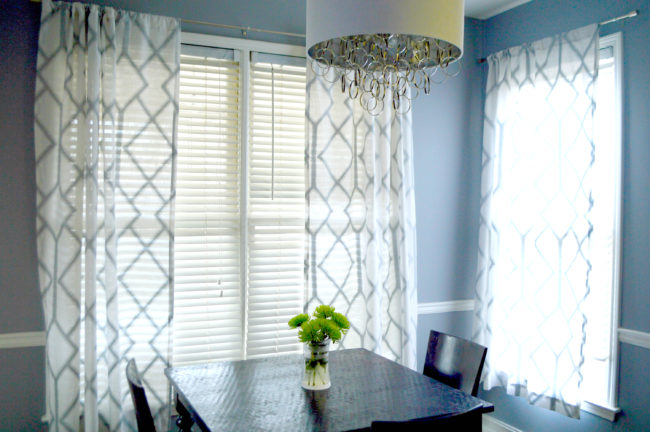 Table, World Market | Curtains, Target | Chandelier, Lowes | Rug, Ikea | Wall color Storm by Benjamin Moore
1. Faux wood blinds. Believe it or not, vinegar, water and an old sock is all you need. Mix your vinegar and water (1:4) in a spray bottle. Spray the blinds. Cover your hand with an old sock (wear rubber gloves underneath). Start wiping them down. The sock helps you to get in between each slat so you don't have to do the reverse side.
2. Upholstery stains. Vacuum the furniture thoroughly with brush connection. In a bowl or bucket add a quarter size of dishwashing liquid soap and fill with warm water. Using a thick towel, start vigorously rubbing the stain with the soapy water. You may need to go over it a few times until you see it start to fade. Grab another bowl with just warm water and a clean towel to rinse. Let it dry overnight. Please test a small area first before you go ham. Just be warned that the process isn't the same when it comes to carpet cleaning Baytown. If you have the same stains on your carpet then you will want a professional to clean it so you don't mark or discolor your carpet. Below is the before an after of my nasty ottoman that I was about to throw away because it looked so nasty.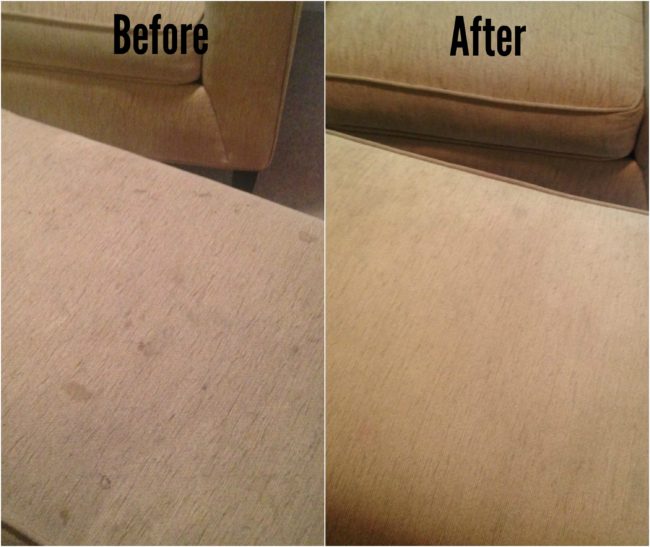 3. Burnt food off pots and pans. Before you toss your pans in the garbage try this the clean off the baked on food. Pour vinegar in the pan and let it sit for 15 mins. Use a scouring pad to scrub the pan. Rinse. In a small bowl make a paste consisting of baking soda and peroxide. Using the scouring pad, scoop up the paste mixture and begin to scrub the pan. Again, test a small area to make sure it doesn't scratch your pans. My pans were on their last leg so I didn't care about the scratching. Your going to have to put your back in to it but the burned food will come off.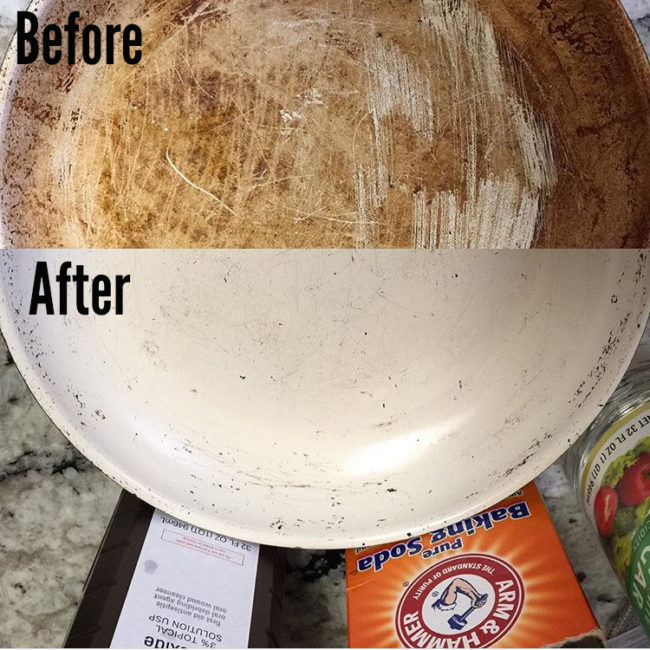 4. Ink on leather. When you have kids your bound to find some precious artwork done in ink on your carseat or leather couch. To remove ink grab a can of aerosol hairspray and a dry clean rag. Spray directly on the ink. Keep spraying and wipe till the ink is gone. Test a small area before you start.
5. Makeup brushes. Instead of buying expensive makeup brush cleaners use baby wash. In small bowl or cup, pour about a dime size of baby wash in the bowl. Add enough water to make sure the bristles on your brushes are covered. One by one place each brush in the baby wash and water and swish around. Rinse with warm to cool water. Using your hands or a clean towel, squeeze out the access water. Lay brushes on a flat surface to dry.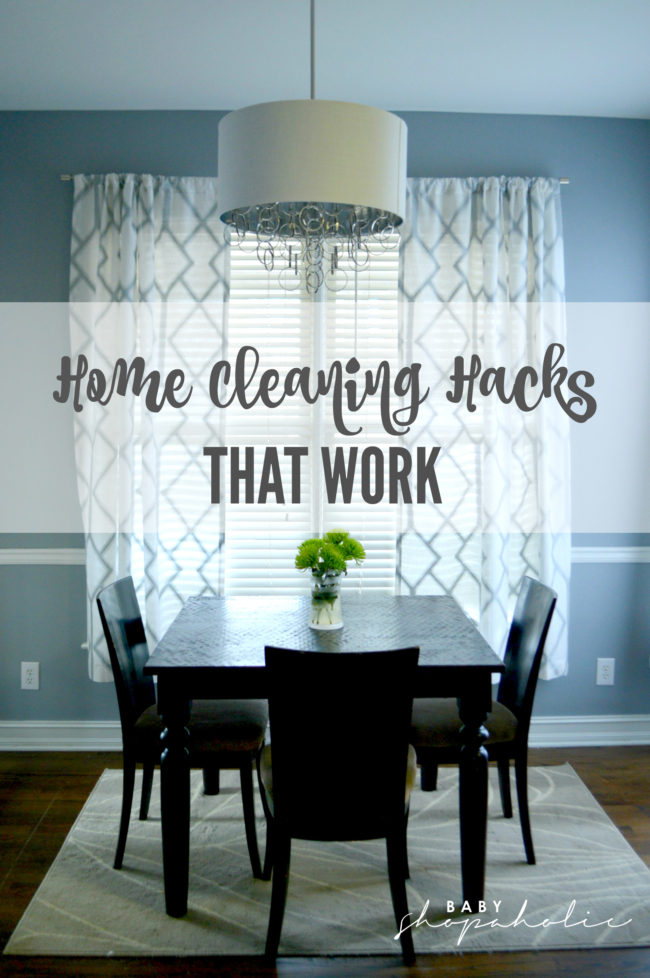 These are my home cleaning hacks that I swear by. Before you toss out that sofa or frying pans, give these hacks a try.
If you're really looking to get your home together check out these helpful YouTube videos Do It on a Dime and How Jen Does It. I also wanted to share this FREE printable cleaning schedule from Unlikely Martha. If you have any home cleaning hacks, please share in the comments.