This post is sponsored by National Pork Board. Thoughts and opinions are my own.
What day is it?  I think we're all asking ourselves that over the past several weeks. We are going to call this Blursday! To beat the Blursday blues, I've partnered with the National Pork Board to bring you details on my delicious bacon bagel sandwich!  Everything is always better with bacon! Join me and the National Pork Board to beat the Blursday blahs with bacon!  Tag National Pork Board on either Instagram, Twitter, or Facebook using #baconforblursday of your meal with bacon for a chance to receive a package of pre-cooked bacon! 
You can also support the National Restaurant Association's Restaurant Employee Relief Fund when you purchase a #BaconforBlursday t-shirt.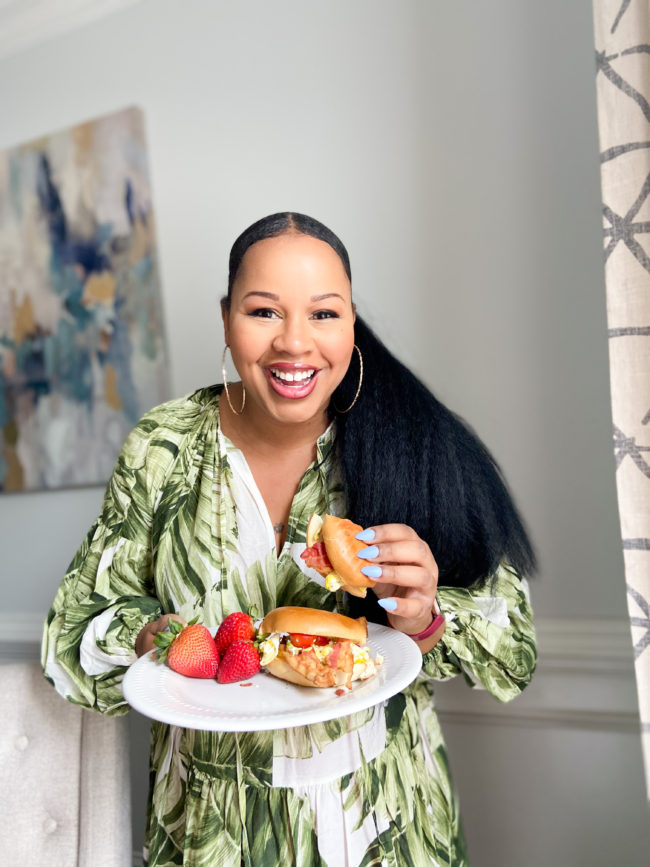 I received a cute package from the National Pork Board that included a fun tee and pre-cooked bacon.  This is my first time trying pre-cooked bacon.  It heats up in seconds and no cleanup!  Pre-cooked bacon is great when you're short on time or to add to a meal or salad.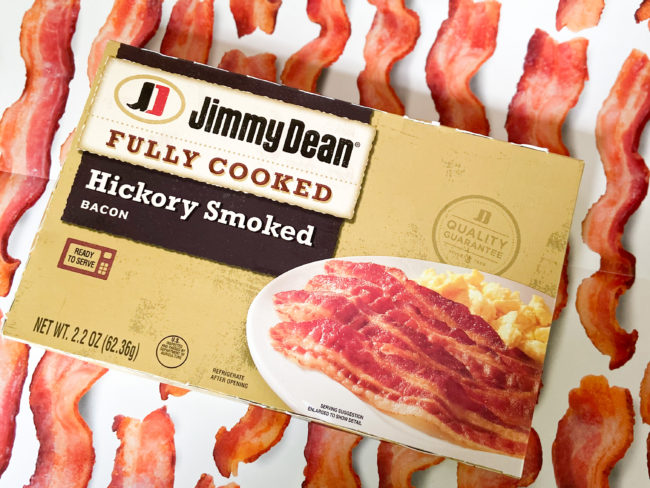 Here's what you need for my Bacon Bagel Sandwich:
Bacon
Egg
Shredded Cheese
Feta Cheese
Cherry tomatoes
Avocado
Bagel (or bread)
Seasoning (I used everything but the bagel)
Feel free to improvise if you need to, that always makes for a great sandwich.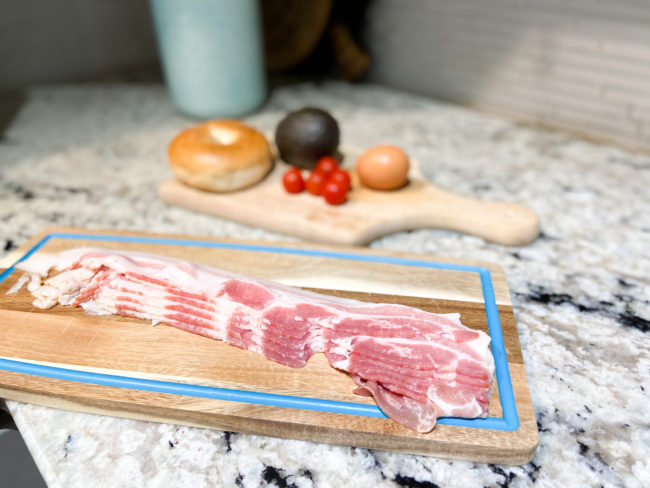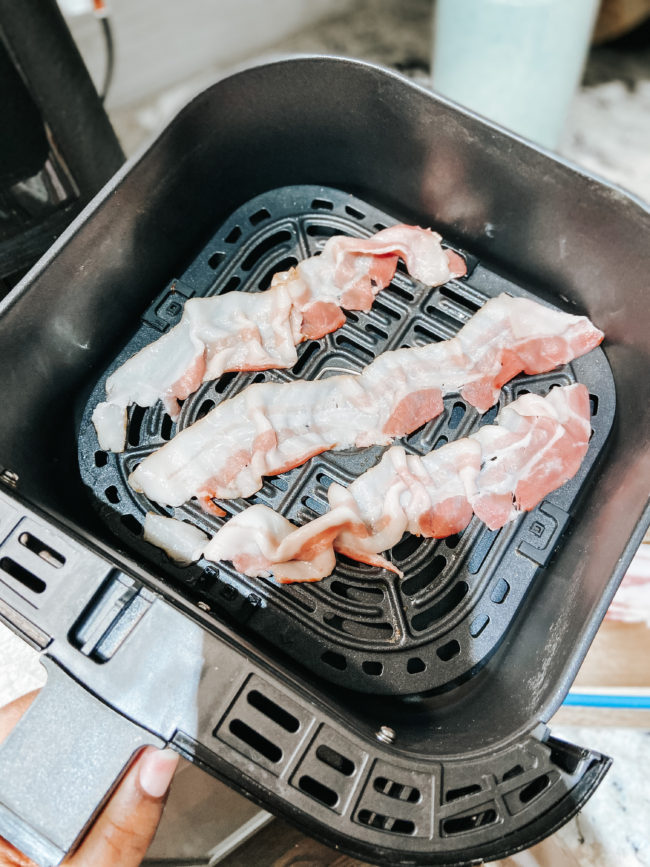 I'm using my large airfryer to cook my bacon.  It only took 5 mins to get crispy!  No mess!  If you don't have an air fryer, you can cook your bacon in the oven on a sheet pan lined with foil for 25 minutes at 400 degrees.  Also less clean up!
While my bacon was cooking in the airfryer, I scrambled one egg and added a little seasoning and sprinkle of cheese.  I also popped my bagel in the toaster for two minutes to warm it up.  Again, you don't have to use a bagel, it's just my bread of choice for this delicious sandwich.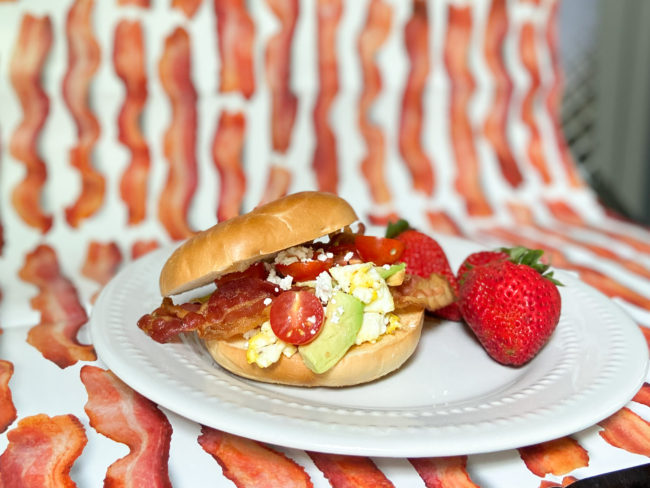 Bacon is cooked, egg scrambled and bagel is warm!  I sliced up ¼ of avocado and two cherry tomatoes and added it to the egg and bacon.  I sprinkled about a teaspoon of feta cheese and a little seasoning to top it off.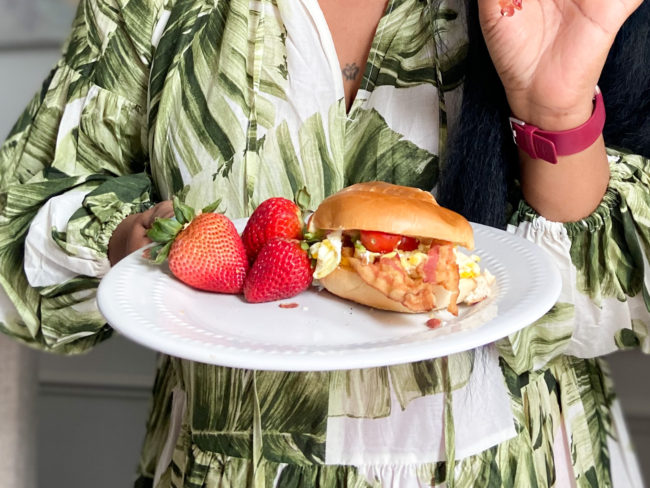 I swear this Bacon Bagel sandwich tastes better than the kind they charge $15 or more for at a cafe.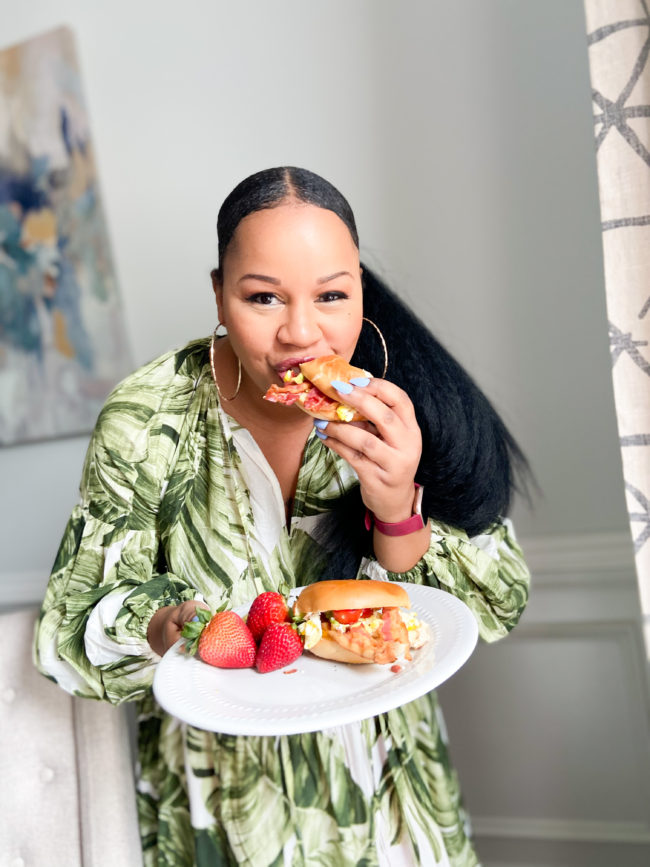 I just love when I can make something so good at home! Bacon just makes any Blursday better!
Let me know if you try this!  What's your favorite dish featuring bacon?  You can find more bacon recipe ideas from the National Pork Board HERE.