Social media will have you convinced that some people really have the "perfect" life and have it all together. Let's be honest, social media is just the highlight reel of our lives.  I'm the first to admit, I don't have it all together.  I currently feel like I'm drowning.  I can't seem to get a handle on my laundry, cleaning, my blog or my kids.  I know these are third world problems, but it's not fun.  Just in case you already had the thought, no, I'm not depressed.  I'm truly happy.  I'm just have a constant feeling of what am I missing or supposed to be doing.  It's keeping me up all night (along with a 12 month old).  Instead of continuing on in this state of chaos, I've decided to take control of my situation.  After having several conversations with other moms on and off the internets, I'm not the only one that feels this way.  I'm hoping that sharing how I plan to get my life together will help other women feeling the same way I do.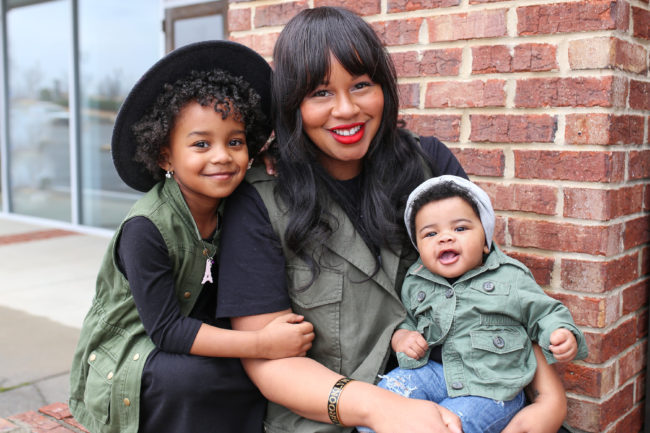 Photo by Anna Lynn Hughes Photography
 Plan.  I fell off dramatically with my planning.  I stocked up on all the pretty tapes and stickers to make planning fun.  That didn't last long.  I'm a visual person and like to "see" my week so I want to get back to writing everything in my planner sans the stickers and tape.  Every Sunday I'm going to plan out the week ahead.
 Make a schedule.  Peyton started a gymnastics team this summer and it is running our lives.  Poor Harper has to come along for a ride.  In addition to my planning, I'm going to make a daily schedule.  It will include meals, nap time, workouts and Peyton's gymnastics.  I think this will help me to organize my days more instead of just winging it.
Meal plan.  I've managed to do pretty good by keeping up with meal planning.  The weeks that I don't meal plan just adds to the chaos.  I'll continue to keep up with the planning, even planning when we'll eat out during the week.
Workout.  In my never ending battle to fit in my pre-pregnancy clothes, I need to get back to working out.  It's so hard to get out of the house with a baby to hit the gym.  I know what you're thinking, just workout at home.  I don't enjoy working out at home as much as I do the gym.  Plus, trying to keep an eye on a one year old and workout at the same time can be stressful.  I'm going to make working out part of my daily schedule.
Outsourcing.  I learned this from Johnson & Johnson Chief Diversity officer and mom, Wanda Bryant Hope at the Path to Power event that we both were co-panelist.  Things that I can't handle and or don't enjoy doing, I can outsource.  I've decided instead of getting overwhelmed with house cleaning, I'll get someone else to do it.  I know you're thinking that sounds expensive, but there are so many services that offer significant discounts on cleaning services.  I've paid as little as $60 to have my bathrooms, kitchen and floors cleaned.  As long as I have the coins, I will be doing this on a regular basis.
 Mandatory mommy time.  Whether it's getting my nails done, taking a trip to Walmart without kids, or brunch with my girls, I'm going to make sure I do it more often.  We need a break.  It's ok for us to sit down and have a meal without constantly picking things off the floor, wiping ups spills and cutting up food.
Childcare.  I feel like this blog has suffered because I've been trying to manage an active one year old while trying to produce new and fresh content.  I've failed.  After almost 6 years of blogging, I'm still full of ideas I want to share.  I can't seem to find the time to implement them.  I want to do more outfit post, videos, and cool diy's.  But when?  I've decided to get some help.  I'm currently building a team of babysitters that I trust to help me out so I can be more productive.  Nothing full-time, just a few hours a week so I can work without interruptions.  I'm making a comeback so please don't write me off.
Date nights.  I'm actually winning in this area.  Mister and I have managed to have more dates than ever this past year.  That's a grand total of 5! Two of them were on the Disney Cruise.  LOL!  I know that's not many but previous years it has been more like one and a possible date.  Now that we've been dating more, we're hooked.  We look forward to that quality time together.  Having childcare has helped our dating life.  In the past, if family or friends couldn't help us with our kids, we didn't go.  We actually don't like asking people to help out with our girls.  Now that we have a sitters on payroll, we don't feel bad about going out more often.
Meditation.  I have been the worst at sitting still and reflecting.  I'm going to set my alarm to remind me daily to stop, meditate and pray.  I already pray everyday but I want to be more intentional with my prayer and still time.  I know I really need this time to clear my mind and show gratitude.
That's my plan.  Don't let social media fool you.  Real life is not walking around with a photographers following your every move in the perfect light.  Real life is struggling to get kids ready for school after being up all night with a sick baby, planning meals, helping with homework and finding time to take a shower.  Motherhood isn't easy.  There are times when we feel like we're failing.  Just because our kitchens aren't spotless doesn't make it us a bad mom.  Sometimes we just need to hit the reset button.  It's not a race to the "best mom" finish line.  You need to be the best mom YOU can be.  Emphasis on YOU, not the mom on Instragram with the pretty white photos.  We got this!
Can you relate?  How do you get your life together when you're feeling overwhelmed?