Raise your hand if you looking like an extra for the Walking Dead in carpool? *Raises hand*  I'm doing good if I have a bra on and take my bonnet off.  I think we all get a pass at 7am but what about the rest of the day?  It usually take me 20-30 minutes to do my makeup but ain't nobody got time for that on the daily.  All these makeup tutorials will have you thinking you had to get up and put on lashes everyday.  I'm going to help you bring some life back in to your face in less than 5 minutes (in a one minute video).  Remember I'm not a makeup artist, I just want to look alive.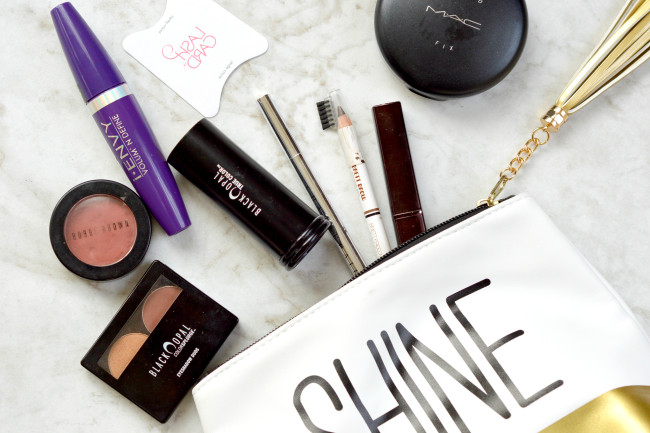 Products used in the video:
Black Opal Eyeshadow Duo in Tawny Tease |Bobbi Brown Blush in Currant |Kiss I-Envy Mascara in Very Black | Black Opal Foundation Stick in Rich Caramel | Lash Card | Chantecaille Liquid Eyeliner | Brett Brow in Dark Brunette |Laura Mercier Rouge Lip Color in Cafe | Mac Studio Fix in NC42
Most of us feel like we have to put on a full face of makeup, so we just don't do it at all.  The key is to use just enough makeup to look alive, not to look like Beat Face Honey every time you step out the house.  I could have stopped after the lipstick but I had a little time to spare.  No need to put on a full face for the parent and teacher conferences or a run to Target.  Keep your essential makeup products in one place so they are easy to find when you need them.
I hope you enjoyed the video.  Moving forward I plan to do my videos in 1 minute or less.  Ok… 3 minutes max.  Make sure you subscribe to my channel HERE.  How do you manage to put on makeup with kids?