I can't stop talking about our recent family vacation aboard the Disney Dream Cruise.  This was our first cruise and I wasn't quite sure what to expect prior to boarding.  Before our arrival, I was told by veteran cruisers that Disney Cruise Lines were the best.  They were right!  Not only was our Disney Cruise special for Peyton and Harper, it was  one of the best vacations of my life.  I've got a million reasons why you should take a Disney cruise, today I am sharing 21 of those reasons with you.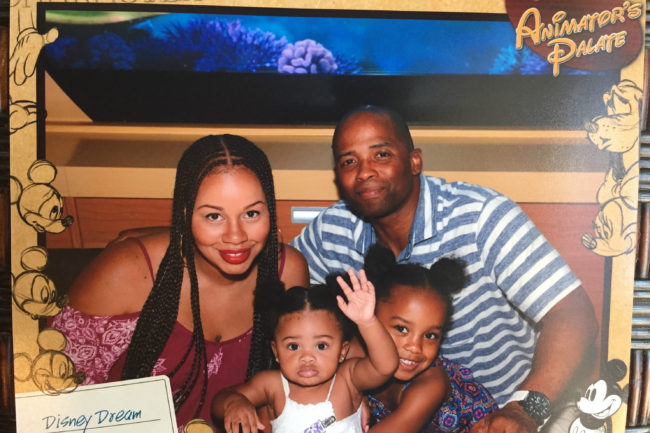 First, check out this short video so you can see the cruise in action.
1. Food – I didn't meet a meal that I didn't like on the Disney Dream. Everything that I ate was perfect, even the food served on the buffets. Anyone that knows me in real life, knows that I am not a fan of buffets but while on the Disney Dream I made sure not to miss breakfast or lunch. Fresh shrimp, Mickey shaped waffles and flaky croissants were my highlights for our morning meals.
2.  Disney Characters – Most, if not all of the Disney characters were on the ship. Not only could you get a photo and your autograph book signed, there was a strong chance that  a dance party with Elsa and Ana could happen at any time.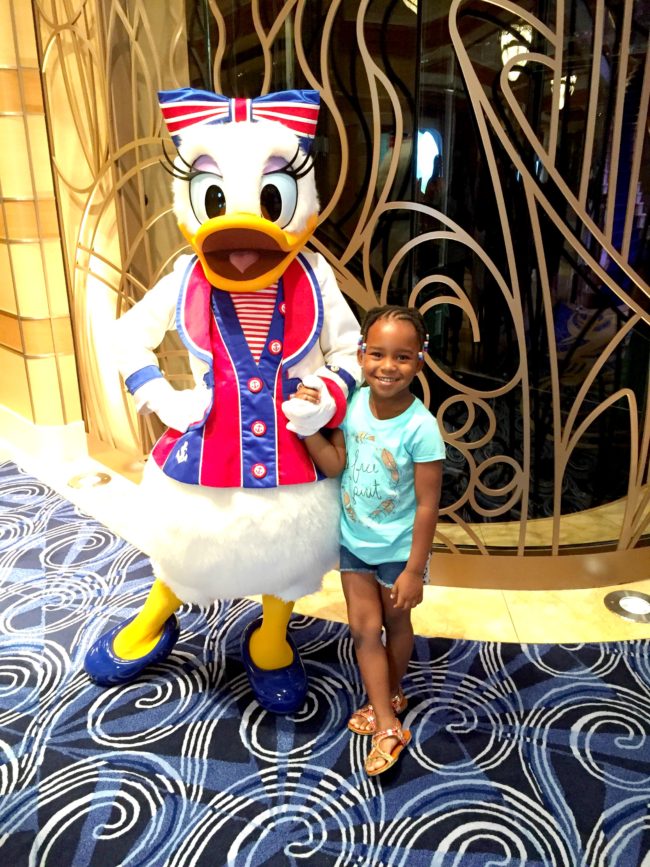 3.  Baby Nursery – Mommy guilt went out the door when I peeked in to see how much fun Harper was having in the It's A Small World Nursery (6 months to 3 years). She didn't even want to come out when I went to pick her up. We didn't hesitate to take her back to the nursery the next evening so we could have some adult time.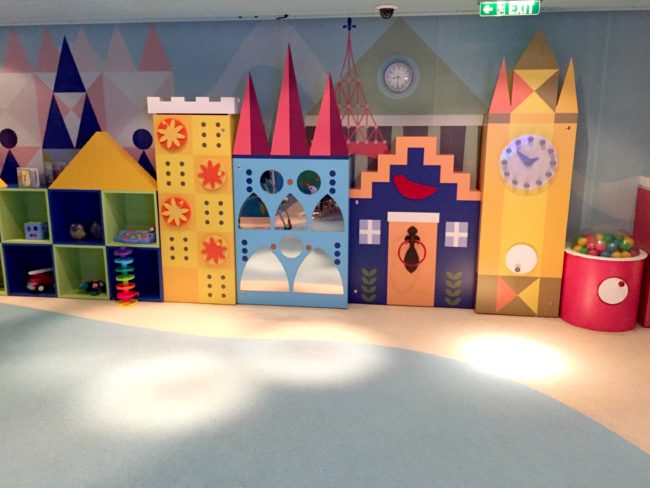 4.  Youth Clubs – Aboard the Disney Dream they have the Oceaneer Club and Lab for kids ages 3- 11. Peyton would have been happy not spending any time with her parents during the cruise. From the time she woke up, she kept asking us to drop her off. We had to beg her to eat dinner with us. The Oceaneer Club and Lab features everything a child could ever want in life. They have the Millennium Falcon from Star Wars, the Pixie room for arts and crafts, labs headed by mad scientist, dance parties, Andy's room from Toy Story, and character sightings. I don't blame Peyton for not wanting to chill with us. When I took the tour, I wanted to stay  too.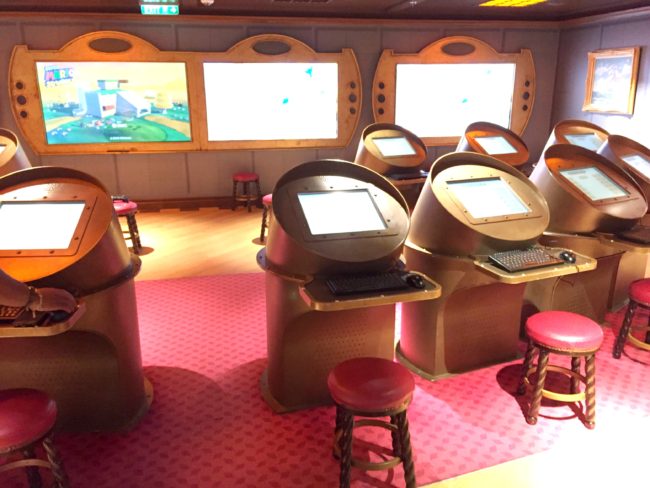 5.  Something for Tweens and Teens – Kids 11-17 have their own designated areas and activities.  Two of the popular areas among this age group are the Edge and Vibe rooms. The tweens and teens are encouraged to connect with each other for activities aboard the ship to include scavenger hunts as well as taking part in filming a movie played for parents on the last night.
6.  Adult Lounges and Clubs – Disney has love for children and adults alike. There were plenty of lounges and clubs aboard the Disney Dream. Mister and I went "club hopping" on our last night, we sat and sipped wine while listening to a live band, and later ventured over to another bar where we enjoyed some music and 90's trivia.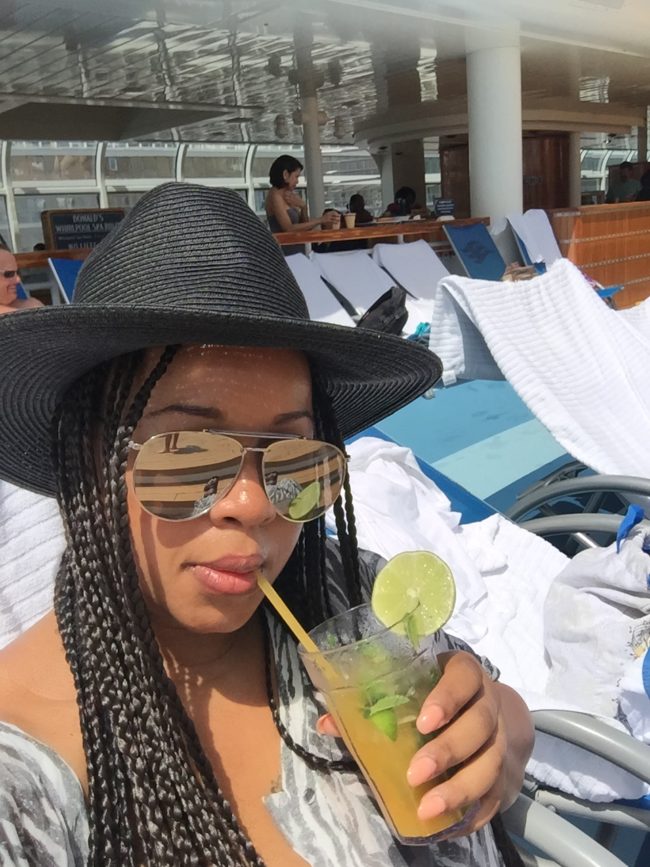 7.  Adult Pool – If your kids are partaking in the youth activities and you're not interested in seeing any other children, the Disney Dream has adult only pools, hot tubs and a dedicated sun deck.
8.  Safety – The nursery and youth clubs are like Fort Knox. Disney puts safety first, something all parents can appreciate. Each kid is strapped with a monitored (waterproof) bracelet that they cannot remove. Each child has to be scanned in, once scanned in a picture of the child and the parents show on a screen allowing the workers to confirm identity. When we checked Peyton out, they scanned our Key to the World card (card where everything is connected during your cruise, much like a FastPass), confirming we were her parents by the photo that came up on the screen. Once you've picked up your child, both you and the child have to be scanned again. Prior to exiting you have to state a secret password that was set up upon registering, this is another level of security.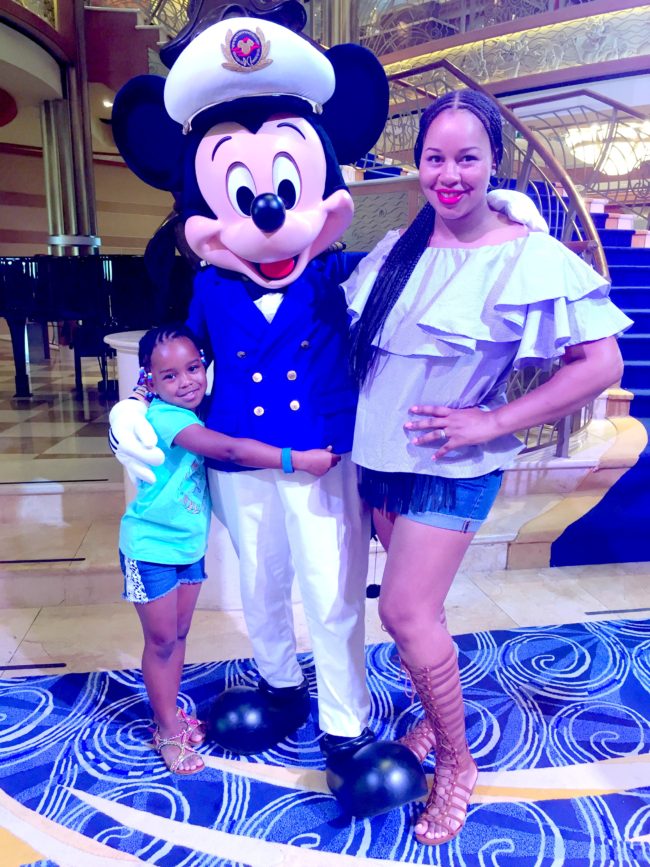 9.  Family Activities – In the event your child thinks hanging with you is cooler than the kids club, there are plenty of family oriented activities. Pirate night was my favorite, entire families were dressed to the nines in pirate gear. Jake and his crew were there for the party, complete a DJ. Seeing families doing the Whip and Nae Nae was a definite highlight. Yes, we were one of them!
10.  Hair Braiders – You don't have to be at the port to get your hair braided on the Disney Dream. There are hair braiders on board, I was thrilled because I didn't have to comb her hair for the rest of the trip. Peyton swam her heart out, and couldn't have been happier with her braids and beads.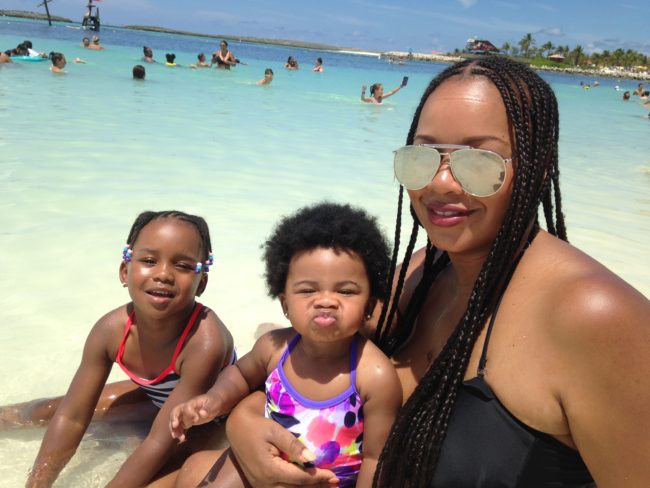 11.  Castaway Cay – In case you didn't know, Disney has their own private island in the Bahamas. The only way you can get there is if you are on a Disney cruise. The island felt like paradise, t he sand was white and the water was clear. Plenty of lounges and umbrellas to go around. There was a DJ, drink stations, a bar and a buffet lunch on the island. Snorkling, paddle boating, and parasailing are some of the activities that you can partake in on Castaway Key. Just chilling is also an option, they also have a secure youth area on the island. Yes, Peyton spent her time in the youth area.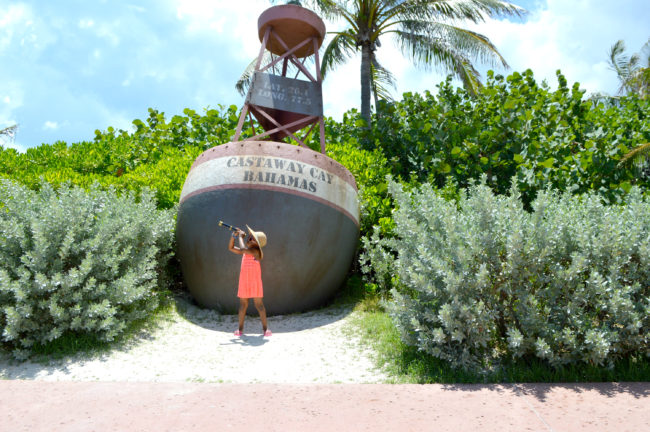 12.  Restaurants – The Disney Dream has several dinning options. Every evening you're scheduled to have a seated, white tablecloth dinner at a different restaurant. Each restaurant gives you a different experience, the best part of the dinner experience is you always have the same server. Your servers become familiar with you and have your drinks waiting upon your arrival.
13.  Palo – Disney already makes you feel like a VIP but dining at Palo  takes it to another level. Palo features Northern Italian dishes with a twist in an adult exclusive atmosphere. Located on the top of the ship, you get to enjoy your dinner with a spectacular ocean view.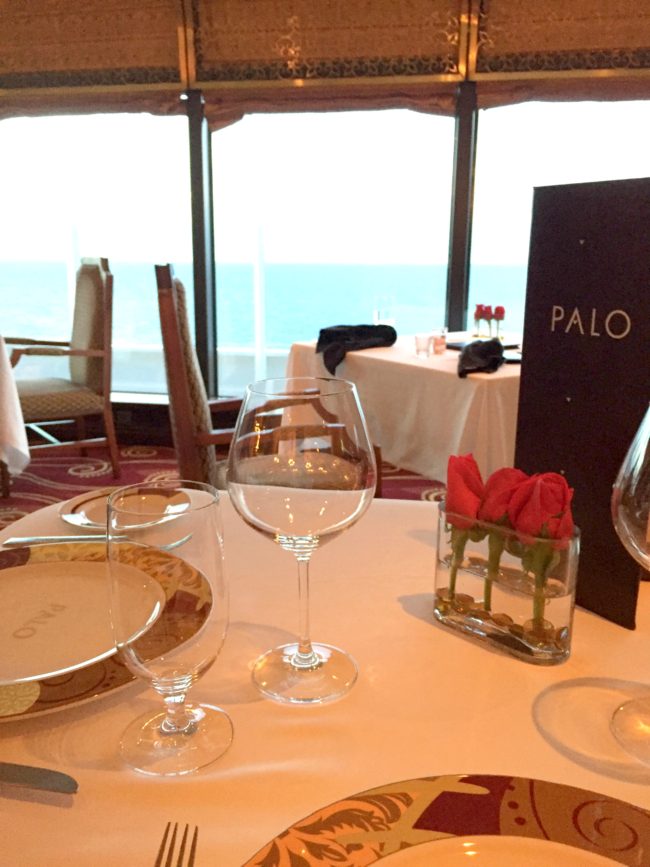 14.  Shows – Disney puts on Broadway caliber shows aboard the ship. There are plenty of shows to choose from. Great for the whole family.
15.  App – The Disney Navigator App is off the chain! It tells you everything that is going on during your cruise. You can search by activity, time, and date to see what's going on. It also made it easy to find Peyton's characters on the Disney Dream. You can also text other party members that are sailing with you on the cruise. No WiFi is needed to use this app.
16.  Date night – I don't know about you guys, but date nights are hard to come by in my household. With two small kids, it can be difficult to schedule alone time together. Let's just say that we had more dates while on our Disney cruise than we've had all year.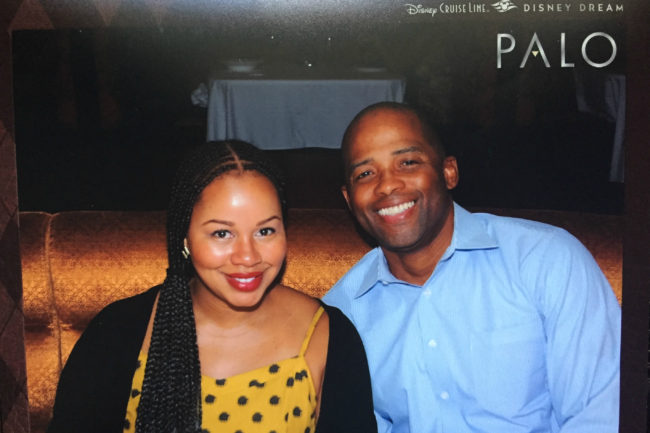 17.  Wave Phone – More than likely your phone will not work during the cruise. You have the option to purchase WiFi but it can add up quickly. This is the perfect opportunity for your family to disconnect from  gadgets. Trust me, the kids won't miss them. Each stateroom provides two Wave phones. They are like cell phones that work on the ship and on Disney's Castaway Key. Youth club and nursery cast members will call you on the wave phone in the event they need to get a hold of you.
18.  Special Dietary Needs – Disney Cruise Line ships offer options for guests with food allergies or special dietary requests. If you're, vegetarian, vegan, lactose intolerant, or have food allergies they have you covered.
19.  VIP Status– Our Disney cruise had us feeling like we were Beyonce and Jay Z. The service and staff was incredible. Everyone we encountered was so polite and accommodating. My husband who can be a bit particular at times was impressed. I'm 100% sure that every guest felt the same way.
20.  This is not a just a vacation for your kids.  The parents are able to enjoy themselves as well.  First vacation that I've had that I didn't feel like I need another vacation from.  Except for unpacking.
21.  It's Disney – If you didn't know by now, Disney does everything 1000%. Everything Disney touches is magical. The Disney cruise exceeded all my expectations.
I can keep going on and on about our Disney Dream experience. All I can say is that I wish every family had the opportunity to experience a Disney Cruise. If you go one time, you will sure enough want to go again. We are already planning to take another cruise once Harper turns 3 years old. I'm looking forward to it!
Please let me know if you have any questions regarding the cruise.  I'm also considering doing a Facebook Live for questions.  Let me know if you're interested in the comments.
Have you been on a Disney Cruise?  How was your experience?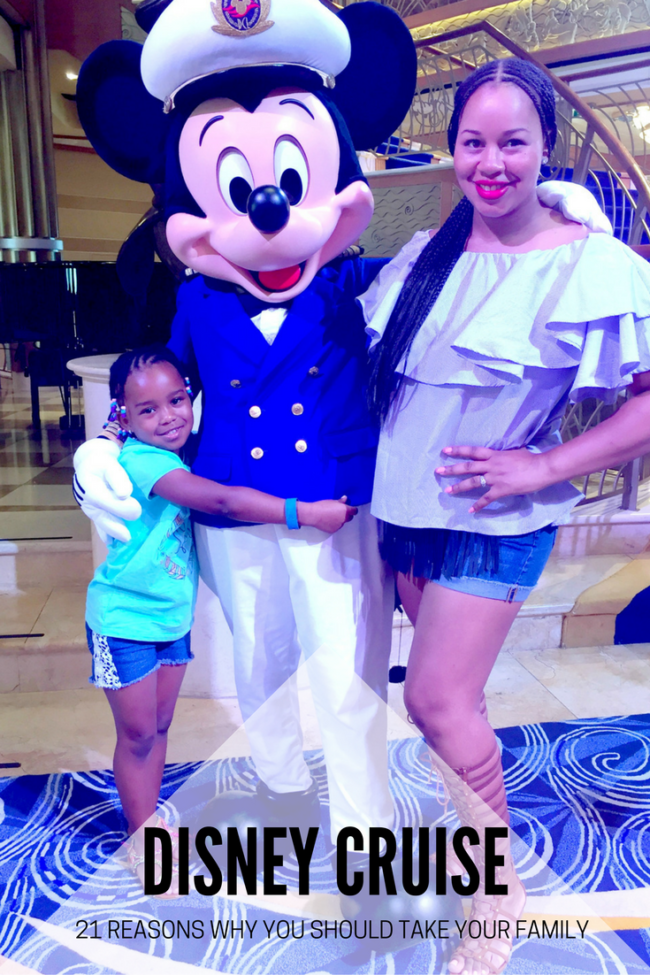 This post is in partnership with Disney.  Thoughts and opinions are my own.
Save
Save