Baby items have certainly changed in the last 5 years. This time around I know what I really need and what not to waste money on. I bought so many things for Peyton that weren't even used one time. I'd like to think I'm a little wiser with Harper. Outside of clothing, I try to make sure everything I buy is a must have item. I'm sharing our favorite newborn must-have items and why we love them. We have every single item that I mention so you know it's real. Oh and before we get into it, its a good idea to make sure you have the best insurance deal possible as well. Some policies work better for families so do some comparison. My friend recommended Money Expert to me and they were so helpful! I got the perfect quote for me and my family.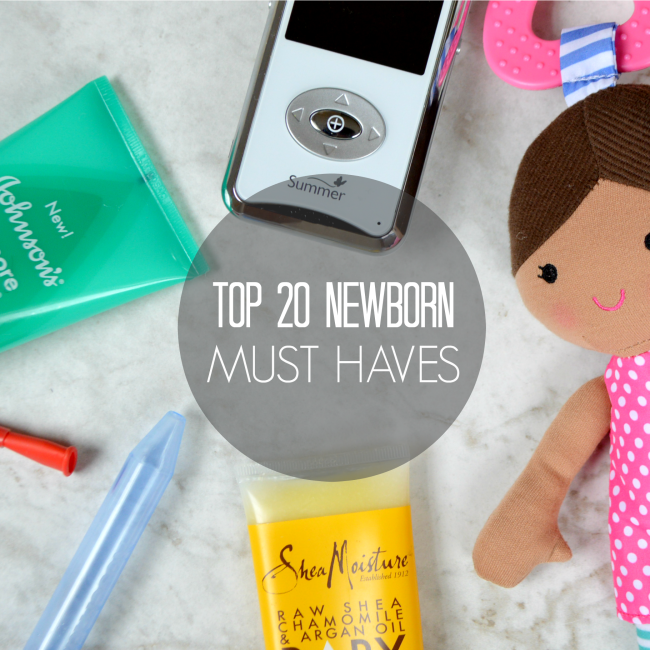 1. Maxi Cosi Mico Max 30 Infant carseat. It's one of the lightest infant seats out and is available in different colors.
2. Shea Moisture Baby Ointment. This ointment does everything! I use as a diaper rash preventative.
3. Lansinoh Electric Breast Pump. I spent a lot of time with my pump. This one is easy to use and clean.
4. Target Up + Up Diapers. I've tried just about every brand of diaper and found that these work just as good as expensive diapers.
5. Milk Screen Alcohol Test Strips. I've waited long enough to have a drink. You can use these test strips to check if there is any alcohol in your milk.
6. Boogie Mist. There is not much you can do when a baby has a cold. I've under estimated the power of saline for decongestion.
7. Nose Frida. If there is one thing you get from this list, get this aspirator. It get everything out an more. It's safer than using the traditional aspirator. Pair the Nose Frida it with the Boogie Mist to get those hard dried up boogies out.
8. Quinny Zapp Xtra Stroller. It's so chic and folds up small, I can slide it under my chair at restaurants.
9. Braun Forehead Thermometer. You don't have to wake the baby to take their temp.
10. Johnson's Leave-in Conditioner. This has worked great to detangle Harper's curly thick locks after wash.
11. Babies'R'Us Disposable Changing Pads. I keep these all around the house to change Harper's diaper. Use them to cover changing tables in public restrooms.
12. Britax Carseat Mirror. You can see baby while you drive.
13. 4 Moms Rockaroo. This swing is small and easy to move around the house.
14. Muslin Swaddle Blankets. Muslin blankets are super soft and will have your swaddle game on point!
15. Formula Dispenser. I don't know how you travel with your formula but this makes it super easy.
16. Summer Video Monitor. Being able to see your baby without going into the room. Hello sleep training.
17. Tommee Tippee. These bottle are great if you are breastfeeding to help avoid nipple confusion.
18. Aveeno Calming Comfort Lotion. This smells divine and the lavender helps to relax baby.
19. Gerber BabyNes Formula Maker. This is the Keurig for bottles. Super easy and makes a nice warm bottle in seconds. Husband proof!
20. Shea Moisture Baby Wash and Shampoo. To this day, I still use this wash for Peyton. Leaves skin moisturized and smelling good.
Whew! Y'all just don't know how long it took me to put this together. I'm sure I left out a lot of items. I feel like these are the most "slept" on baby items. You know, the items you use all the time and take for granted until they go missing or you run out. Do you have any of the items on this list? Do you have any must-have items to add? I may have to do a part two. Feel free to share and pin!