I hope you all had a great weekend.  My weekend consisted of Bingo Night at Peyton's school on Friday, watching my BFF daughter play basketball Saturday morning and a blogging event on Sunday.  I also managed to catch up on laundry.  Juggling motherhood and a career is not easy for any mom.  One of the top emails or dm's I get is how I became a Mompreneur or a full-time blogger.  I thought I would share my journey with you guys since some of you may be new around here and missed the glow-up LOL!  Here we go…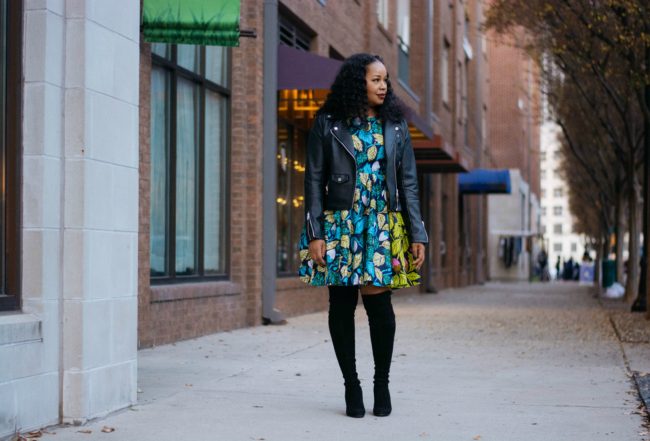 Dress, Suakoko Betty | Moto Jacket, Blank NYC | Boots, Stuart Wietzman
Allow me to reintroduce myself, my name is Trina and I grew up in a suburb right outside of Chicago.  I was never good in school because I had a hard time learning.  I would later learn (as an adult) that I suffered from dyslexia and never got the help I needed.  I barely graduated from high school but I was a smooth talker and made it out.  I studied Marketing at Southern Illinois University and graduated in 4 years and even made the deans list a few times.  I somehow figured out a to navigate through my learning struggles.
After college, I moved back home to Chicago with a job offer from Walgreens as an assistant manager.  That lasted about a month because it was hindering with my postgraduate social life in the city. Working nights and weekends wasn't my style.  I quickly I found a job with an electronics company as a sales and marketing rep.  I killed it in sales at 21 years old.  I moved out and got my own place near the city.  A year later I was laid off.  They said I was the last one in, so I had to be the first to go.  Boo!  I got a little severance and unemployment that took care of me (barely) for a year.  I partied hard that year.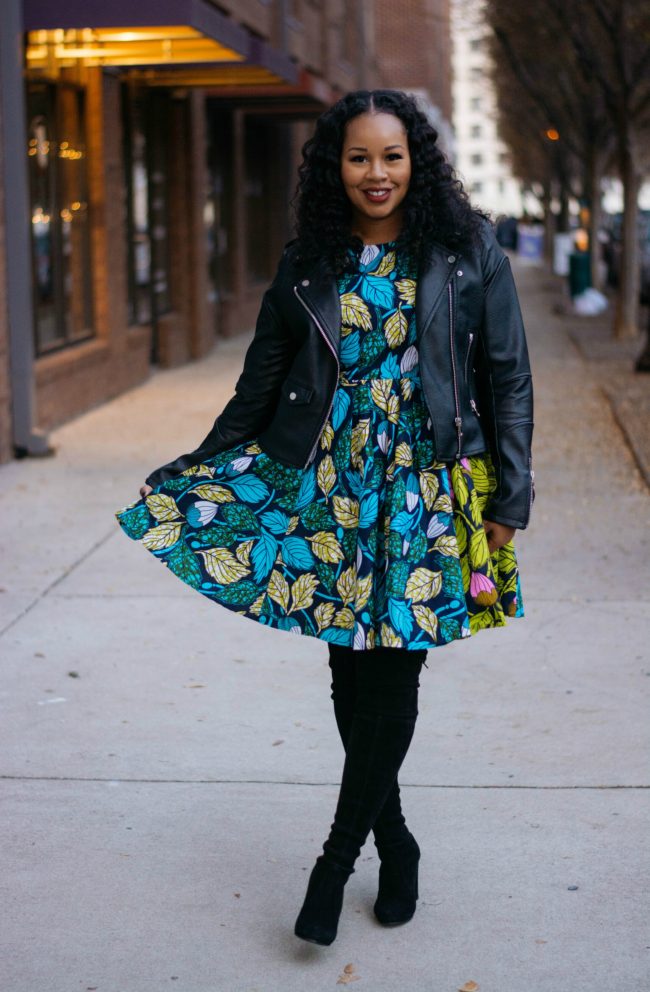 After a year of unemployment, I took a job in logistics.  I barely knew what that was but I had the attitude that I could do anything so I took it.  In case you're wondering, logistics is part of the supply chain focusing on transporting goods to the consumer.  I loved it!  After one year, another company offered me a job in Atlanta and I took it.
I jumped in my little pearl white Mitsubishi Eclipse and headed to Atlanta.  The job was awesome and I excelled at the age of 23.  Because I was dealing with trucks and trains all day, I yearned for a creative outlet.   I started networking and helping out with styling photo shoots for small magazines and videos.  I also got my business license and my mother and I started a virtual boutique that catered to the church ladies (big hats and blinged out suits).  I also started designing jewelry after I wanted a pair of chandelier earrings that I could never find in a store.  My handmade jewelry was carried in a few boutiques in Atlanta.  I was doing this for a few years all while working a full-time job.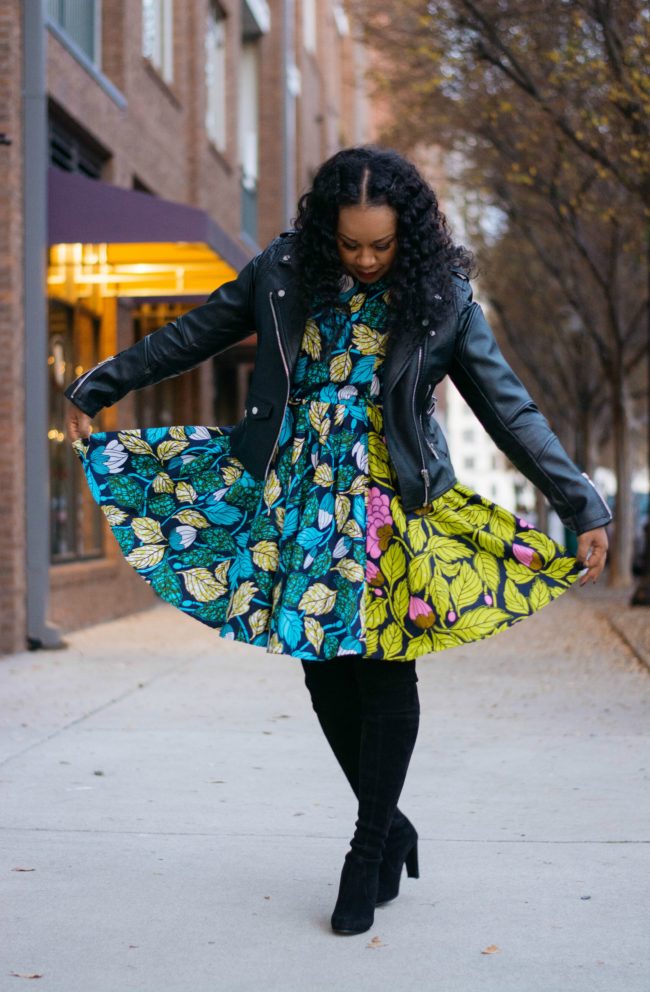 At 26 I met my future husband.  You can read our love story HERE.  After a few years, we got married.  Then we had a baby.  I was well in my 30s and switched jobs a few time but still working full-time.  I stopped doing the side hustles that I loved doing to get a handle on this motherhood journey.  When I had Peyton, I would search the web for the best baby products and sites that I later learned were called blogs popped up.  I thought it was cool that real people shared their mommy experience.
I was obsessed with styling Peyton in her little baby clothes that I would send emails with photo attachments to family.  This is before text messaging blew up. After I stop exclusively pumping I felt like I so much time on my hands.  Instead of getting rest (I was still working full time) I decided to click on an icon that said "free blog".  I uploaded some photos of Peyton propped up on a pillow for her first outfit photos (HERE).  That was 7 years ago.
I continued working full-time in the transportation field because I loved it.  Making a living off of blogging was never a thought to me because of a few things.  First, I didn't know you could even make money from blogging.  I blogged about 2 years before I received my first paid post and it was about $75 (woohoo).  I also made decent money on my job and I liked to shop.  My husband was also an entrepreneur at the time.  He had good months and bad months.  My steady income was something we could count on.  I kept pushing and blogging.  Things were great until it wasn't.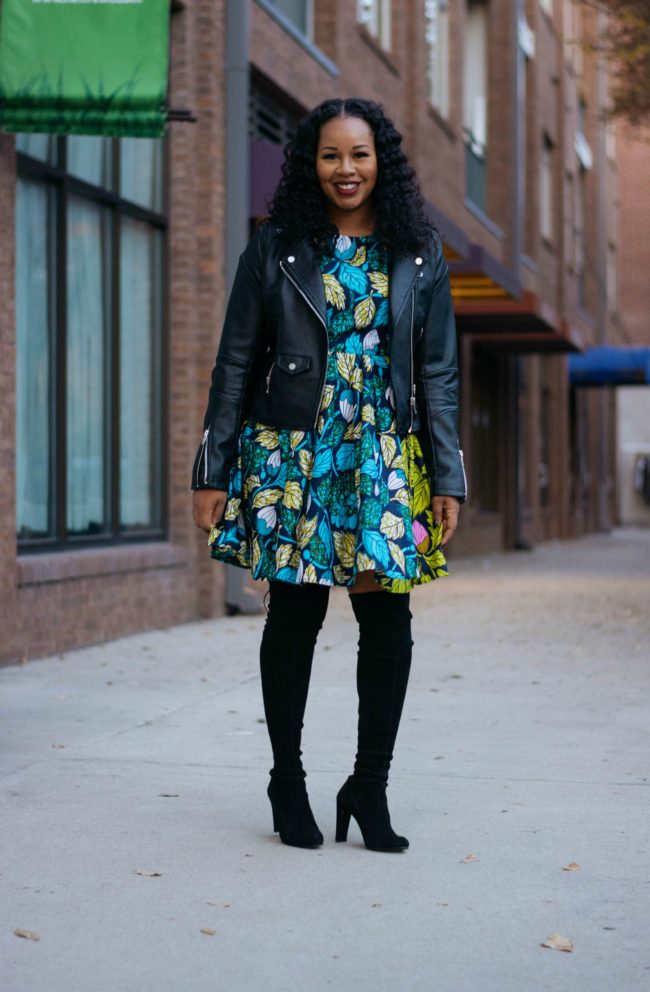 There were some changes in management at my gig. I only mentioned my blog to a few co-workers.  As my blog grew more co-workers learned about my blog.  Some people even came over to my desk telling me how they loved my blog and they didn't know I worked there. Then I was featured in a few magazines and a few higher-ups saw it.  Then it was ALL EYE ON ME.  "What is she doing, is she blogging at work?",  "Does she have twitter open?" etc.  Seriously, the photos were clearly taken at home because my daughter didn't work there… duh.  I kept having to defend myself against smart comments from my male counterparts.   Occasionally checking my blog email or twitter was over.  I made sure I didn't give them any reason to say anything.
At this point, I was making some decent change from the blog but not my salary.  I was being flown out by brands to appear in videos and photos.  My vacation time was used for blog trips.  At this point, the blog started competing with my job.  One of them had to go.  I just prayed that it wasn't my blog because it was such a part of me and where my passion was at that time.
My husband knew how unhappy I was because I felt I had a target on my back.  My husband took a great executive position doing something he loved so he was straight.  We sat down and came up with a plan.  Our plan was to pay off my personal debt (my husband didn't have any).  We started knocking out bills with the money I was making.  We also paid off both of our cars (we're team no car note).  Then we worked backward from my salary.  We subtracted the debt payments (which was high), car notes, and childcare.  That was my monthly goal to make with the blog and I was already making that. We also budgeted to live off of my husband's income just in case I didn't make any money.  Entrepreneurship has it's ups and down.  Some months are dry like the desert. 
This whole process took a little over a year. I remember my team lead who I didn't care for scheduled a yearly review with me.  I knew he had it out for me.  I told Mister I would be damned if I go out like that as hard as I worked.  So a few days before the review I handed my team lead my resignation. His first words were "Is it because of me?".  Yes MF!  LOL, I didn't say that but because I'm a professional and loved my field, I'm not going to burn bridges because I may have to go back.
That was  3 years ago!  Since then we've bought a new house and I had Harper.  Last year was my biggest year as a blogger. I thank all you for all your support.  Every like, comment, share, and click makes this blog what it is.  I will continue to work hard and grow this space that I created.  I'm sharing this story because, in this age of insta-fame and instant glow-up, people forget about the journey.  I worked hard on this blog for 5 years like it was already my full-time gig.  I stayed consistent and always tried to continue to grow and outdo myself, not anyone else.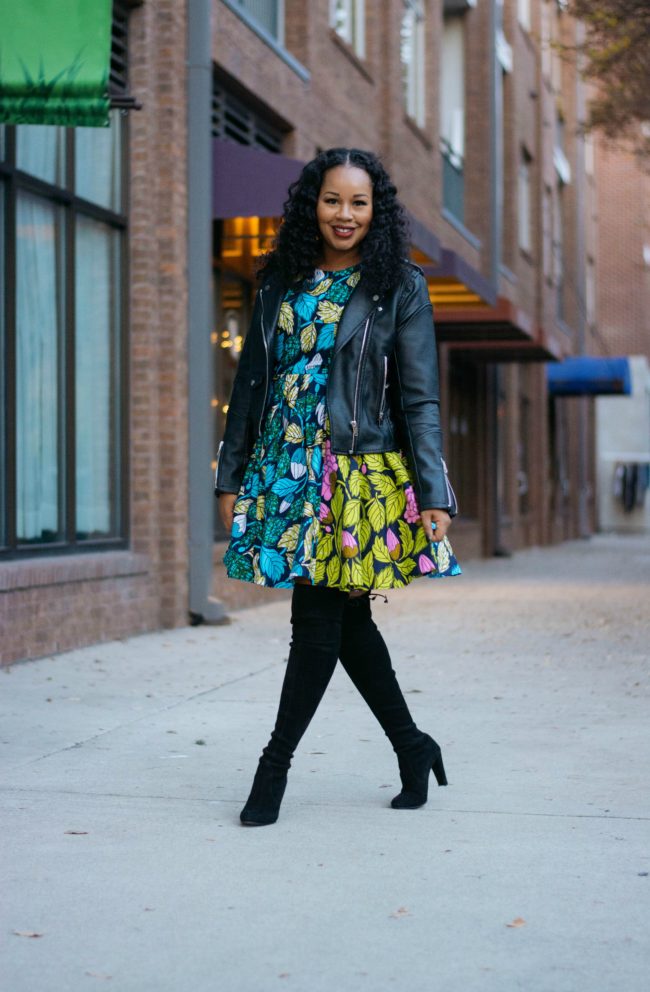 Just because you have kids doesn't mean you can't pursue your passions.  We just have to work smarter and harder.  Kids won't be little forever.  My husband reminds me of that all the time when I complain about Harper giving me a hard time during the day.  Worst case sceniero I can go back to work if something doesn't work out.  We have real bills and kids to take care of.  Just communicate with you spouse and come up with a plan.
While I love this whole "BOSS" movement but most of these girls are young and don't have kids so try not to get caught in that.  Also, don't get caught up in the "you have to make time for what you want"  Nope… I'm responsible for two small humans, ma'am, there is no extra time, not even enough time.  I can say that for certain.  It's also ok to press pause for your family.  This isn't a race. Some days I get up and decide I just want to be a mom today.  No blogging or answering emails.
If there is one thing that I've learned in this process is that you have to have passion, stay consistent and work hard.  You have to be willing to do all those things, even if you don't make any money.  Be willing to learn and grow.  If you have a passion, go for it.  It won't be easy but it will be worth it.  Take your time.
Sorry this is so long. I usually don't write posts this long but I wanted you guys to get the whole story.  Let me know if you have any questions you would like me to answer regarding momprenuership.  Leave them in the comments.