This recipe has been a long time coming.  If you follow me on Instagram (if you don't you should) and watch my stories you will see I cook quite often.  Most of the time it's the same meals but I like to shake things up and add something new.  I made my low carb stuffed bell peppers back in November but I promised I would share the recipe.  It's finally here!  I also did you one better and filmed a video while cooking it.  That something new that I wanted to do for 2018, more simple cooking videos. Check out the recipe for my low-carb bell peppers below.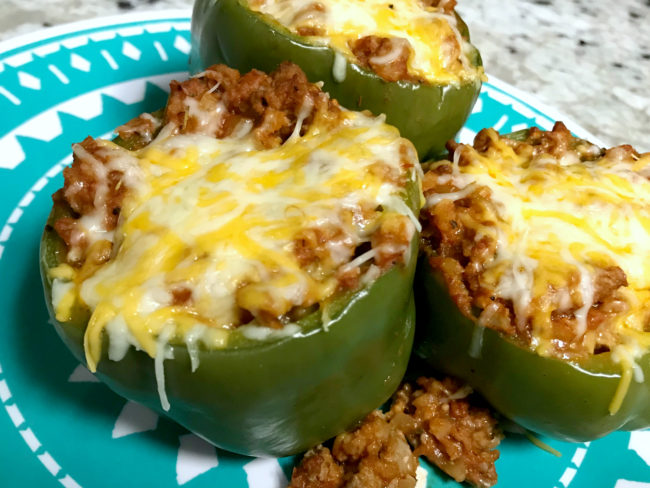 Ingredients:
8- 10 bell peppers (this makes a lot)
1 lb of lean ground turkey meat
1 white onion
2 tbsp of minced garlic
1 can of crushed tomatoes (you can use regular tomato sauce)
2 cups of riced cauliflower (steam in the bag is perfect)
1/2 to 1 cup of reduced fat colby-jack or cheddar cheese
1 tsp of seasoning salt (season to taste)
1 tsp of Itailian seasoning
1 tsp of garlic powder
1 tsp of ground black pepper
Instructions:
Remove top of pepper. Remove seeds and membranes and rinse peppers. If needed, cut a thin slice from bottom of each pepper so they stand up straight. In a large pot, add enough water to cover peppers. Heat to boiling and add peppers. Cook about 5 minutes and drain.
In a large skillet, add a tablespoon of olive oil.  Add onions, minced garlic, and ground turkey.  Lightly season ground turkey while in the skillet.  Cook turkey until brown. Reduce heat to low and add in crushed tomatoes and riced cauliflower.  Add in salt, pepper, garlic powder and Italian seasoning to taste. Stir in cheese.
Heat oven to 400°F.
Stuff peppers with mixture. Stand peppers upright in ungreased baking dish. Sprinkle peppers with cheese.  Bake for 15-20 until peppers are tender.
Serves 8-10 but they are so good, you could eat 5 alone!  I hope watching the video makes this recipe look less intimidating. If you're on Weight Watcher, I would estimate that each pepper is 3 points, depending on what type of cheese you use and how much.  If you go with fat-free, you're all good!
Let me know what you think?  Do you like these cooking videos?  Would you like to see more?  Do you plan on making this?  I recently purchased an Instapot, so I'm excited to break that bad boy open!  I think I will film my first experience.  Don't forget to like the video and subscribe to my YouTube channel.