This post is sponsored by Green Giant.  Thoughts and opinions are my own.
If you've been hanging around here for a while, you may have noticed my efforts to get fit and also feed my family nutritious meals.  Unfortunately, my kids don't have the same goals as I do.  I have to get creative to find ways to get them to eat their vegetables. I'm also working hard to trim a few inches from my waistline by lowering my carbs.  I've finally found an easy solution for both issues!  Green Giant recently introduced a new line of frozen veggies, cauliflower rice at Walmart.  Game changer!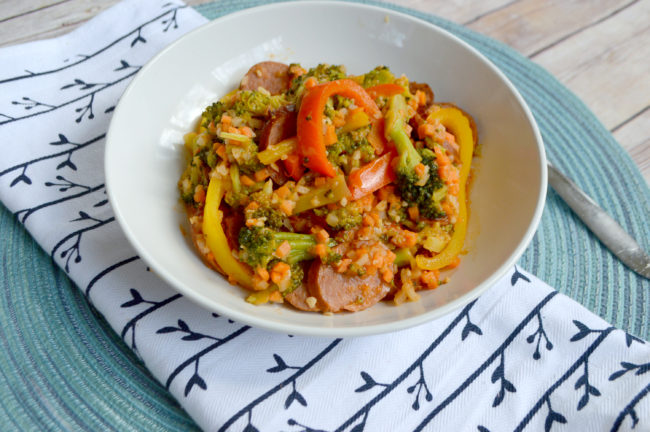 Green Giants line of riced cauliflower is 100% made with vegetables and is gluten free.  Riced veggies are low in calories and significantly less carbs than regular rice.  Perfect for me since I'm trying to limit my carbs.  I also get the benefits of eating more vegetables without feeling like I'm missing the rice.  I decided to make my family's favorite meal and swap out the rice with Green Giant's cauliflower and sweet potato riced veggie blend.
Ingredients:
1 Package (14 g) of smoked turkey sausage
2 tsp of olive oil
1 large red/yellow bell pepper
2 tsp of minced garlic or 4 garlic cloves
4 cups of broccoli (use steam in the bag for faster cooking)
1 package of frozen Green Giants riced cauliflower and sweet potato blend
1 cup of tomato sauce
1/2 cup of low sodium chicken broth or stock
1/4 cup of reduced fat shredded colby-jack or cheddar cheese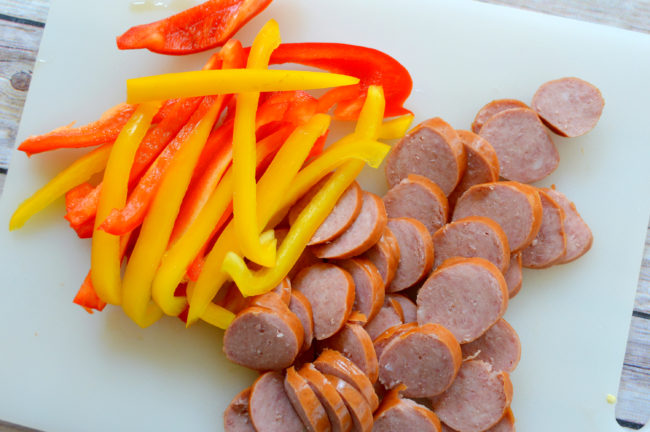 Directions:
Slice peppers and smoked sausage.
Heat olive oil in a large skillet on medium high and add sausage and garlic.
After about 3 to 4 minutes, flip sausage over to cook on the reverse side.
Add peppers, broccoli, tomato sauce, chicken broth, and stir.
Adjust heat to low and simmer for 10 minutes or until broccoli is tender.
Microwave Green Giants riced cauliflower and sweet potato blend according to the package.
Add Green Giants riced cauliflower and sweet potato blend to the skillet and stir.
Sprinkle in the cheese and serve.

In less than 30 minutes, you have a delicious and nutritious meal.  No need to add spices in this skillet because the flavors from the garlic, tomato sauce, and the chicken broth take care of that.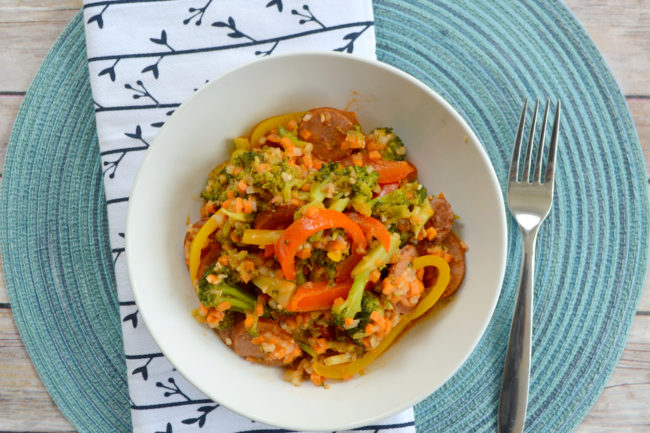 Not only is this one of my favorite recipes, Peyton and Harper love it as well.  Now that I'm using Green Giants riced cauliflower, I know they are getting more than enough vegetables.  I no longer have to feel guilty for getting seconds (or thirds) because this version is lower in calories and carbs.
Green Giants riced cauliflower veggies are a great way to "hide" veggies for the kids.  Next up on the menu is chicken cauliflower rice stir-fry and taco bowls.  Have you tried riced cauliflower before?  You can find Green Giant's riced cauliflower line in the frozen vegetable section at Walmart.