This post is sponsored by Kohl's. I was paid for this post and received the included Fitbit as compensation.
Once you have kids it's a 100 time harder to stay fit. My schedule is packed with work, kids schedules, cooking and traveling, it can be hard to find time to work out. Somehow over the years, I've managed to find ways to consistently get a workout in. With the help of Fitbit from Kohl's, I'm going to share how I manage to healthy active lifestyle while keeping up with my family.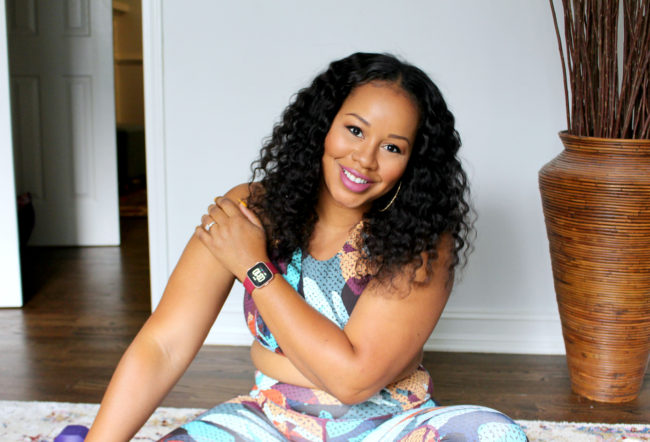 I've been a Fitbit user since the little clip on came out about 7 years ago. When the Apple Watch came out I had to decide which I preferred, Fitbit Versa vs Apple Watch, and I'm glad that I stuck with the Fitbit. I've been a user ever since with some upgrades along the way. You may have noticed that I'm always wearing one in my pictures. I recently updated to the new Fitbit Versa Ruby exclusively from Kohl's. The Fitbit Versa has already helped me to step up my fitness game with my family.
SCHEDULE WORKOUTS
Instead of just waking up and saying I'm going to try and workout today, I put it on my schedule like an appointment. I have an alarm set in my Fitbit Versa Ruby that goes off to remind me.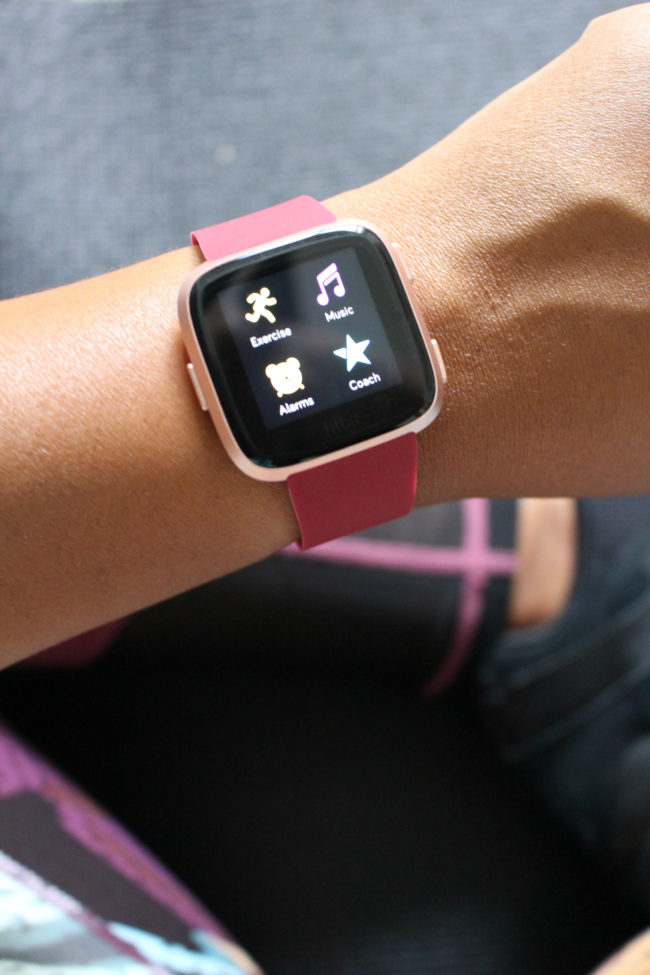 MAKE WORKOUTS COUNT
In the past when I worked out on my own, I didn't work that hard. I would be doing good to do a full 15 minutes on the elliptical. After joining the Fitbit family, I realized I was making an impact. I was basically going through the motions but not really getting in a good workout. With my Fitbit Versa, I can see how many steps and active calories I've burned during a workout. Being able to see what I'm doing motivates me to push harder.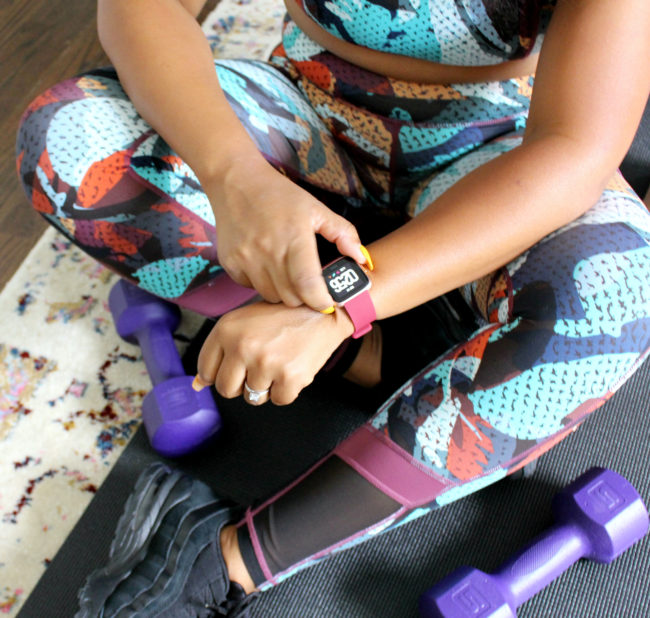 TRACK EVERYTHING
Studies have shown when you track your food intake you're more than likely to lose weight if that is your goal. Through my Fitbit app, I can log my food and water throughout the day. Tracking my food helps me to make better choices. When I don't track I know it's because I'm eating something super delicious that I probably shouldn't be eating. When you track it forces you to think about your choices.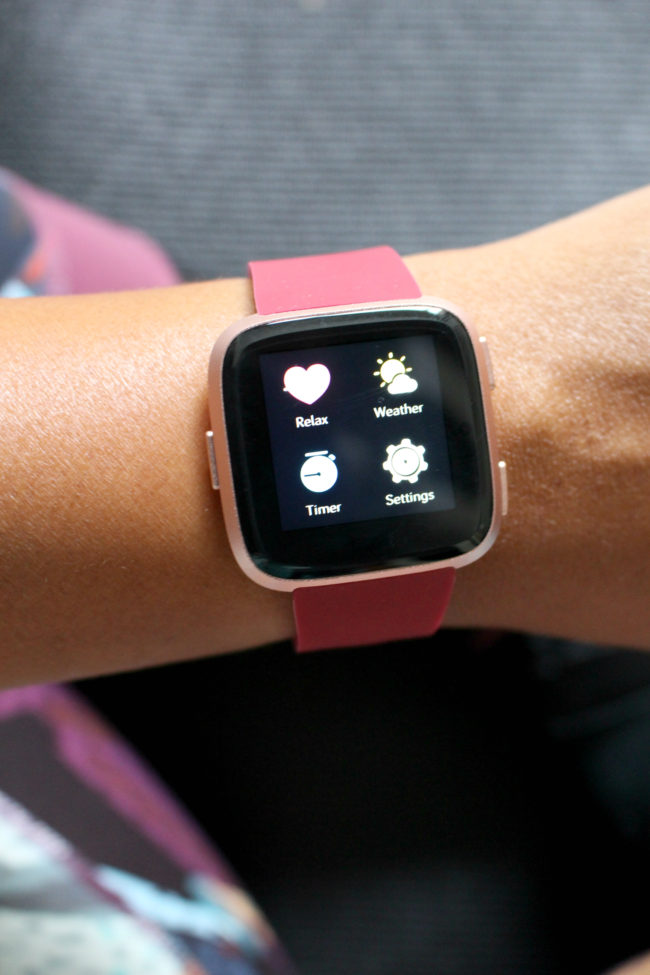 MODERATION
To piggyback on my tracking that still needs some work, but let's talk about moderation. It would be crazy for me to think I could give up French fries when I've been eating them my entire life. Instead of giving them up, I try to limit the portion size and how frequent I eat them.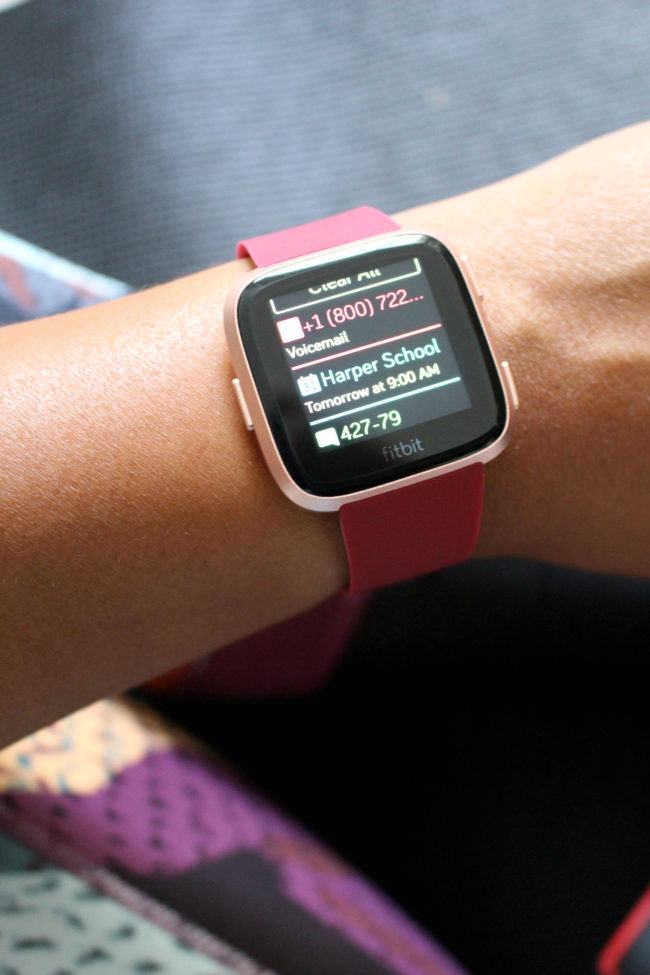 GET THE FAMILY INVOLVED
On the Sundays after church, we like to head to the gym as a family. My husband will play basketball with the girls while I'm doing my class. It's something that they look forward to and hard for me to say no to a workout. I know that we are setting an example for the girls to stay active. My oldest Peyton checks my Fitbit at the end of the day to see how many steps I got. I actually showed her how to change a band on your Fitbit versa since she was telling me that she didn't like the strap that was on it. I think it's great that you can change the straps since I get bored too!! She's like "I see you, mommy". She also wants her own Fitbit so she can see who gets the most steps.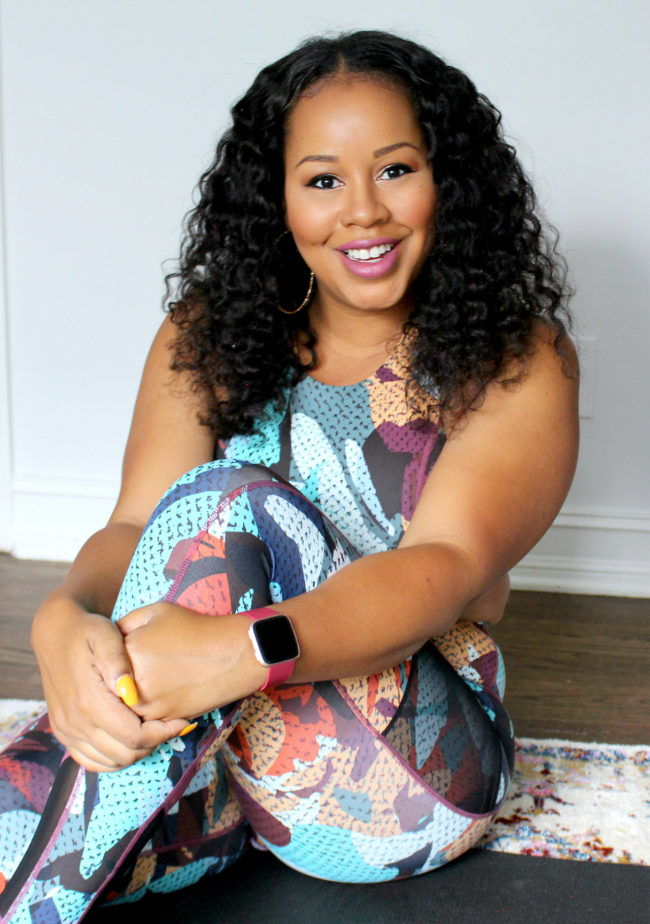 I know I'm not the fittest person but I'm fit for ME. As much as I want to lose a few pounds, I've managed to not gain. I've ditched the crash diets for an overall healthy lifestyle. Eating in moderation, tracking my food, and working out has me feeling great no matter what the scales say. My Fitbit has played a significant role in making me more aware
In addition to the tracking benefits on my Fitbit Versa, it has more features that help me with my busy life. Fitbit Versa is a modern, smartwatch at an approachable price. It alerts me when I get a text or my phone is ringing so I don't have to dig for it just to find out who it is. My calendar notifications come up on my Fitbit. You can upload your music to the Fitbit Versa and use Bluetooth headphones to listen at the gym or on the go. You can even track your menstrual cycle and you'll get an alert before it's coming! There are so many more features to the Fitbit Versa that I can't list them all.
The Fitbit Versa new dashboard simplifies how you access your health and fitness data. The Fitbit Versa Ruby that I am wearing that is exclusively available at Kohl's and is $199.99. You'll also find the newly released Fitbit Charge 3 at Kohl's. You can earn Kohl's Cash with the purchase of a Fitbit. In addition to Kohl's Cash, you'll save on Fitbit Ionic $249.99 (Reg. $299.99) or Fitbit Ace $79.99 or Fitbit Alta (Reg. $99.99) during the month of October. Check out Kohl's for details. You can check out the entire Fitbit family HERE for options that fit your lifestyle and additional savings HERE.
Do you have a Fitbit? How does it help you with your fitness goals and family life?
My blog may contain links to other websites. I am not responsible for the privacy policies of those other websites. When yo click on a link, your information may be collected by those websites so I encourage you to read their privacy policies."