This post is sponsored by Go RVing. Thoughts and opinions are my own.
Earlier this summer my family went on our first RV trip. I say first because I know it won't be our last. Born and raised in Chicago, RVing is the last thing I pictured myself doing. I remember when I was younger, my family were considering planning a camping trip, but when they found that van Insurance can be complicated, they gave up. Looking back at it now, it really wasn't that hard to make sure they had insurance for a van. It was probably one of the easiest things ever to put together, but I'm so glad I finally got round to going on my very first trip with my family. I'm so happy that all of us got to experience RVing and camping for the first time together. RVing was an experience we'll never forget. We were so glad that we came across this review site: www.rvreviews.net because before we had a look at all these reviews, we were very unsure if the RV was the right move for us. It has actually been the best purchase we have ever made as a family. Keep reading to find out why we love our RV so much…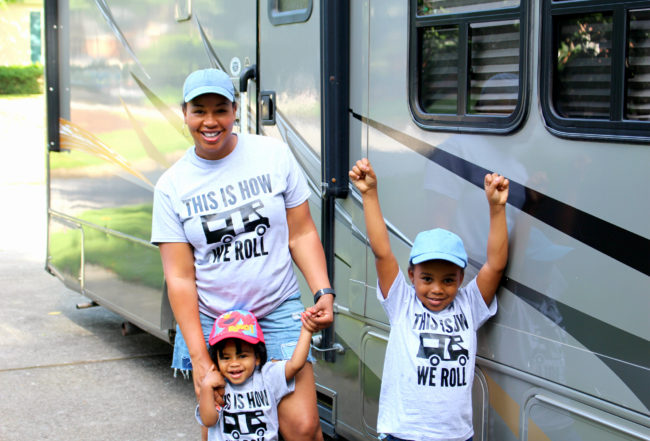 To get us hype for our camping trip, I decided to make these t-shirts. I know they're a little cheesy but Peyton loved them. Would you believe I only packed 4 tees, jean shorts, and hats for the trip? I didn't even bring makeup. Well, I did bring my brow pencil and concealer, but I didn't use it. I also twisted and braided up the girls' hair because the last thing I wanted to do in the woods was hair.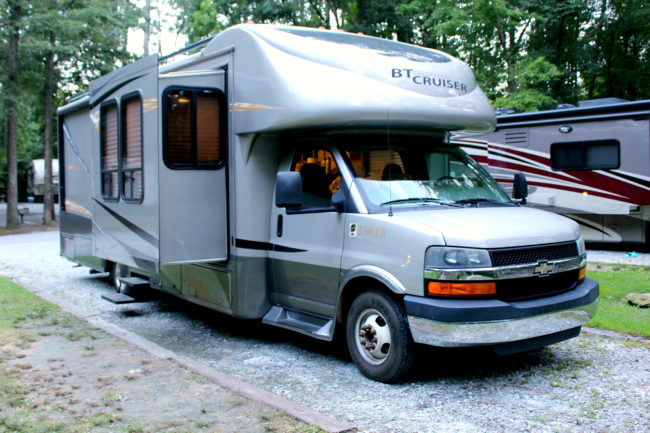 When I stepped onto our home on wheels I was impressed. This RV had everything. We had a couch, dining table, bathroom, shower, bedroom, and kitchen. Everything was fairly simple to operate.
Our RV wasn't short of storage. The bedroom had a wall of closets and drawers. I unpacked all items and each of us had designated drawers. Each of us having a drawer made our belongings organized and easily accessible.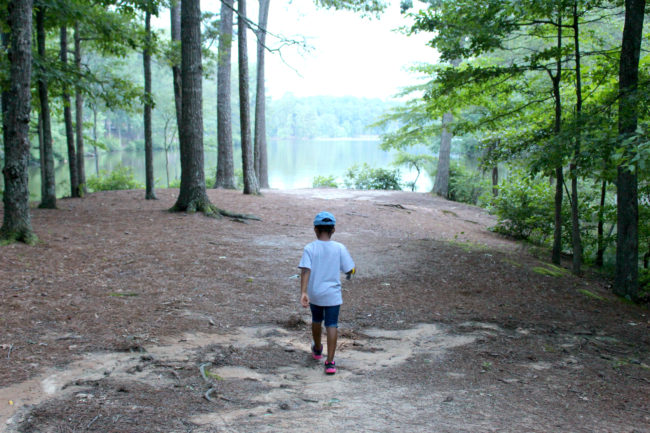 Once we got everything loaded in the RV we hit the road to Stone Mountain, an Atlanta area state park. It only took us an hour to get to the campgrounds but riding there in an RV was an adventure in its self. I learned that with an RV you don't have to go far to have an experience. Riding in an RV was a lot more fun than hustle and bustle of a busy airport.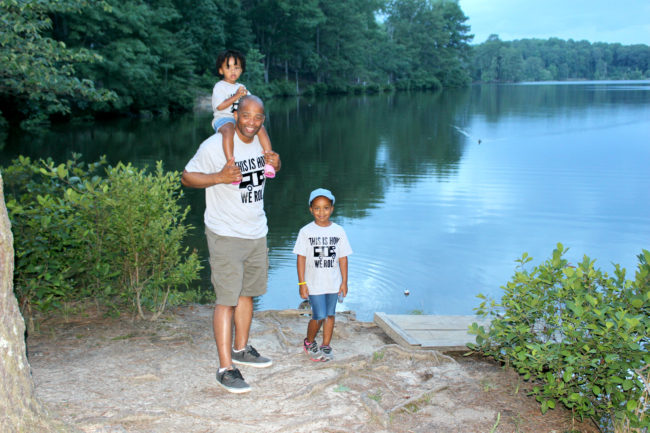 We were lucky to get a lake front spot to park our RV for the weekend. I had no clue that the campgrounds would be so nice. Our spot had a patio, picnic table, and a gas grill. When we were on our trip, I was inspired to switch things up a little when it came to our garden. As we all enjoyed this, even if meant checking out companies like GardenSite to find myself a picnic table, at least I'd be able to try and at least replicate this scene for the kids. And who doesn't love a family picnic?
It was super easy to connect our RV to the water, cable, electric and sewage at the park. My biggest fear was having to dump the toilet but you don't have to do that with the connections. It was just like home. Let's be honest, I wasn't going to do it anyway but still.
My goal for the trip was to not eat out. The campground offered shuttles that would take you to the areas in the park with restaurants. I was determined not to go that route but it did ease my mind to have that option. For lunch and dinner we grilled and ate outdoors (when it wasn't raining). Of course, I forgot a few things so Peyton and I hiked to the campgrounds general store. Click HERE to see how I prepared.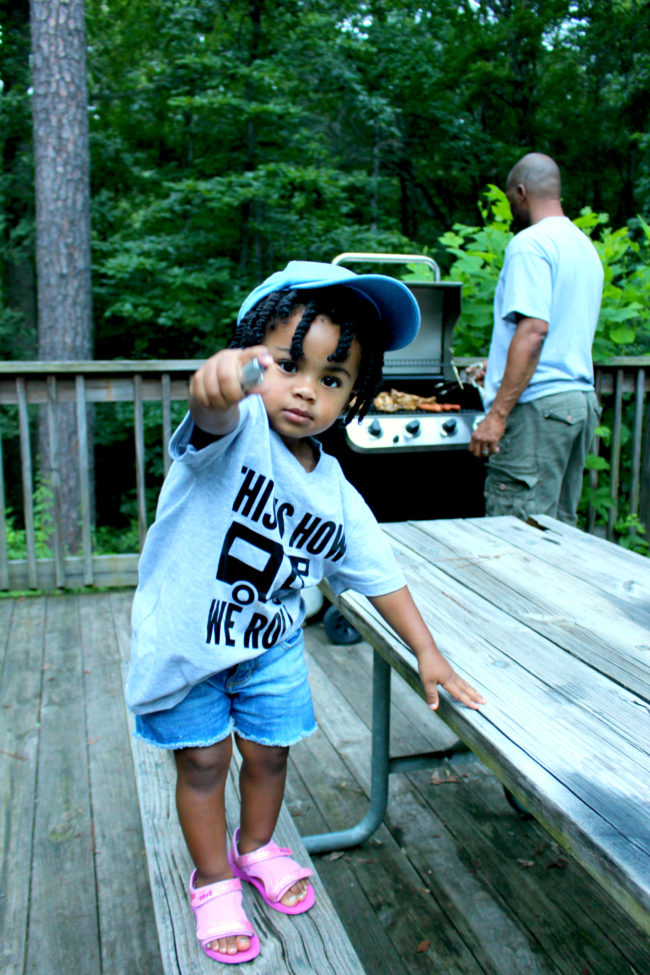 Unfortunately, it rained most of our RV trip but we managed to still enjoy the outdoors as much as possible. Our lake view spot was beautiful. Peyton and Harper loved exploring the area. We also took a fun ride on a duck boat and watched fireworks and laser show at the mountain.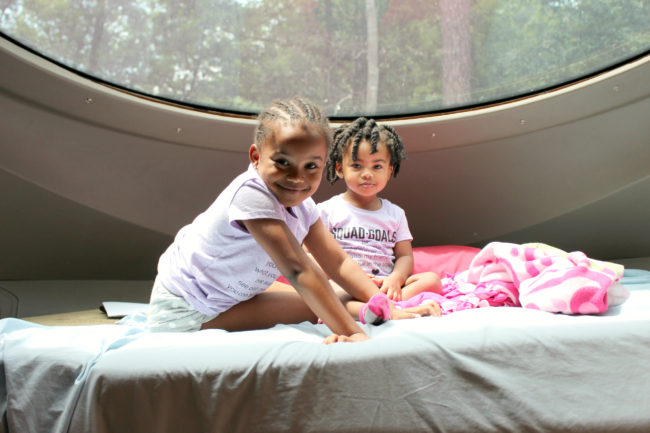 I still can't believe I spent 3 days in the woods with my family. I never had the opportunity to do anything like this as a child. My husband and I are happy to be able to do something with our kids that we weren't exposed to as children.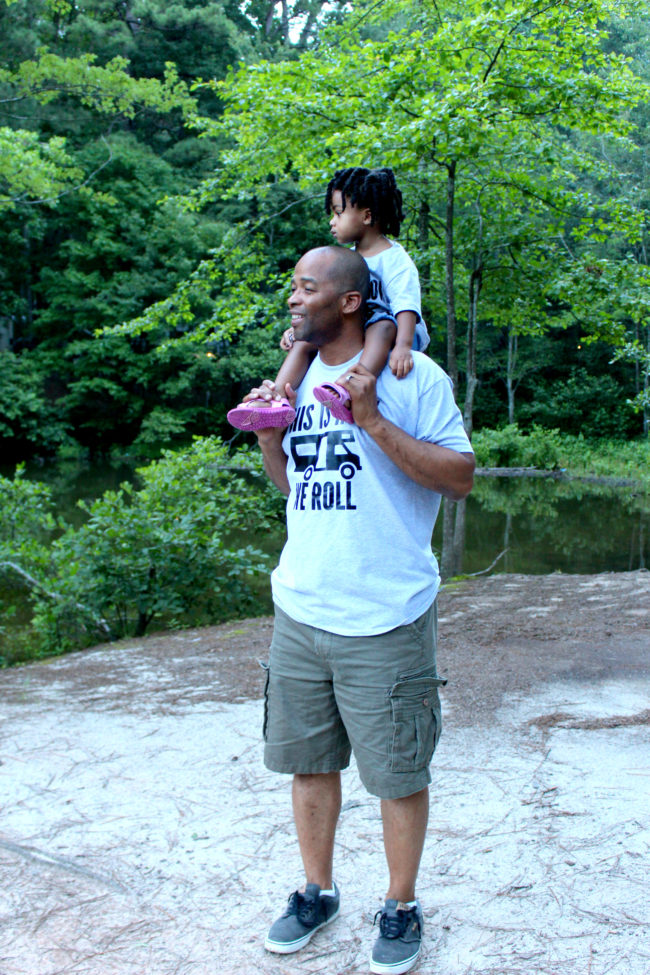 Taking a trip in the RV has exposed our family to a whole new world. There are so many types of RVs and places you can go in them. I didn't realize there were so many RV campsites in Georgia alone. Even though we rented an RV, I couldn't believe the affordability. You can own your own RV starting at $6,000. You'll never have to pay for a hotel again!
Peyton can't stop talking out our adventure and asked if we could do this once a year. I think that's a great idea. I highly suggest putting RVing on your bucket list. Remember, you don't have to go far because it's not about the destination; it's about the journey. Check out our short video recap of the trip. You can learn more about Go RVing HERE.
Have you ever been RVing? Would you like to?