While working on getting back into my skincare routine I've come across some new (to me) beauty products. Instead of refilling my old faithful products that I have used for years, I decided to try something new. With products from companies like Rojank, to PIXI and Mario Badescu, I'm so happy with how my routine is going so far. I just need to stick to being consistent and hopefully, I'll see a lot more results. With recommendations from some of my favourite beauty bloggers and cruising the cosmetic counters, I think may have found some new staples for my skincare routine. So much so, that I've been looking for a Thailand Skincare Supplier to begin sourcing my own product(s) with my own labelling. At this point it's just an idea, but perhaps one day I can launch my own range of beautiful cosmetics and skin care products.
If you're in the market for beauty products, I suggest you give these fall skincare favorites some consideration.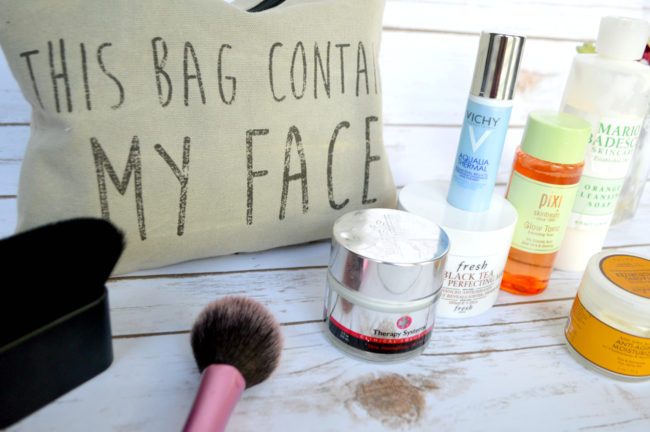 Make up bag, Unlikely Market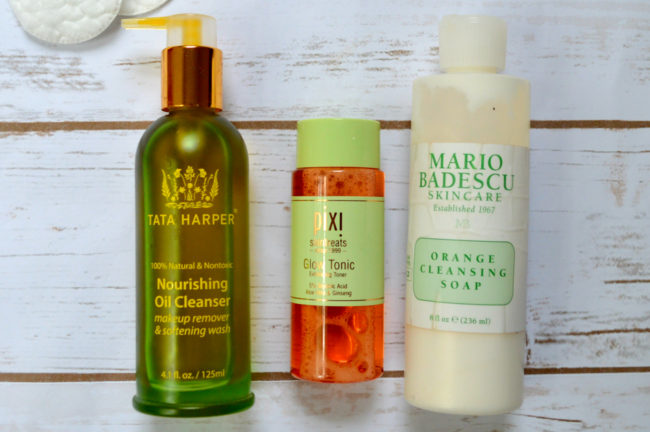 These products are in no particular order. I didn't think that through before taking the photos. Under each item I'll share when I use it : ).
Tata Harper Nourishing Oil Cleanser. Once I figured out how to use cleansing oils, I'm hooked. Cleansing oils are great for removing makeup effectively. My skin feels so smooth and nourished after. I use this before washing my face.
Pixi by Petra Glow Tonic. If you want your face to feel squeaky clean after washing, try this toner. With 5% Glyolic Acid, this toner plays no games in removing dead skin and residue. I use this after washing my face.
Mario Badescu Orange Cleansing Soap. After seeing my favorite beauty bloggers Style & Beauty Doctor and This That Beauty share Mario Badescu products on the regular, I figured I needed to check it out. Once my usual cleanser was out I picked up this Orange Cleansing Soap. I love that it lathers on, and makes my skin feel fresh after rinsing. I'm hooked! Mario Badescu isn't too hard on the wallet either! I use this after removing my makeup with the Tata Harper Nourishing Oil Cleanser.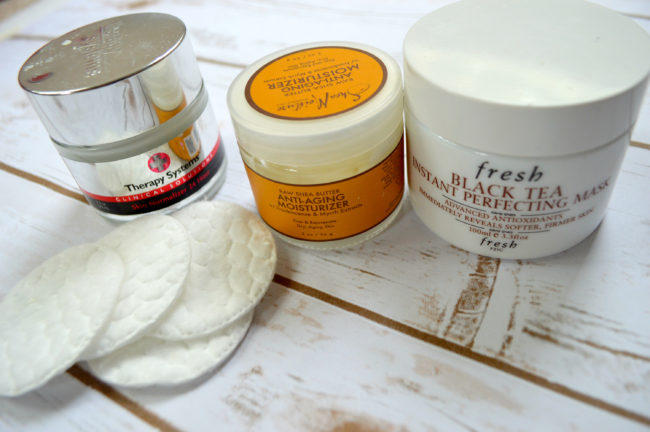 Therapy Systems Skin Normalizer. I have very dry skin so I require a hydrating moisturizer during the colder months. After using Bobbi Brown for years, I decided to try Therapy Systems. I learned about this brand while shopping at The Cosmetic Market at the Avalon in Atlanta. I first used a sample of the skin normalizer and immediately had to go back for the full size. No complaints yet and my wallet is thanking me!
Shea Moisture Anti-Aging Moisturizer. Did you know that Shea Moisture has a skincare collection? I mean, why not since they have everything else. Once I saw the collection, I was eager to try something. This has become my night time moisturizer. It makes my skin feel moisturized and firm. It also works pretty good under make up if you wear it during the day.
Fresh Black Tea Instant Perfecting Mask. I've been carving out time in my hectic schedule to indulge in a weekly mask treatment. This Fresh Black Tea mask makes me feel like I went down in my kitchen and cut up some fresh vegetables to put on my face. My face feels so refreshed and recharged after using this mask.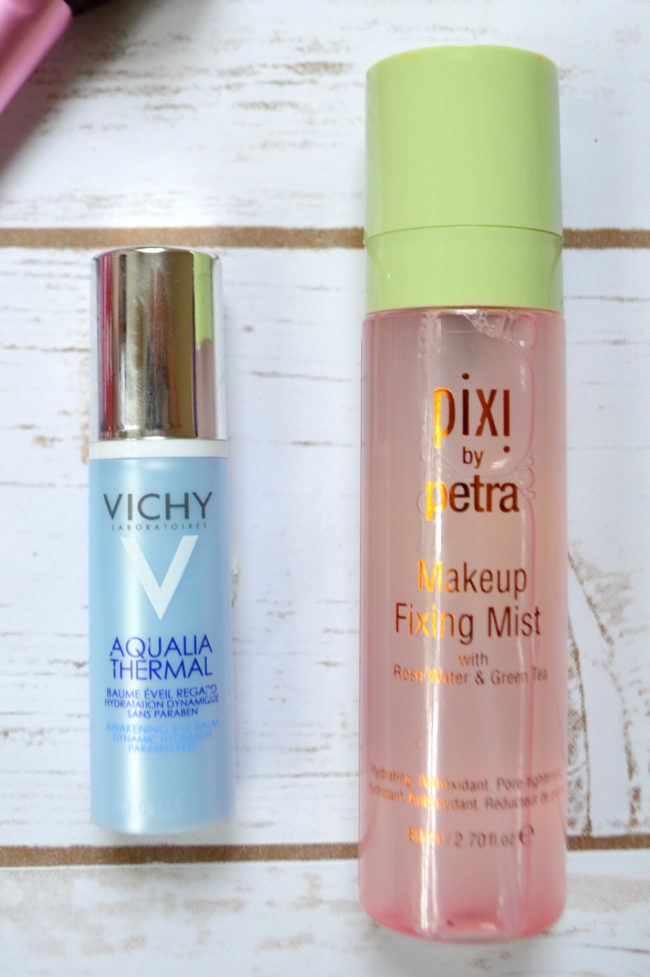 Vichy Aqualia Thermal Awakening Eye Balm. I discovered the Vichy line years ago in a Birchbox (is that still around?). I love how moisturizing Vichy products are for the price. My neighborhood Walgreens now carries Vichy. In my ongoing hunt for the perfect eye cream, I picked up this eye balm from Vichy. It's actually pumps out like a gel. So far so good!
Pixi by Petry Makeup Fixing Mist. This fixing mist acts similar to a makeup primer but is easier to use. I lightly spray the fixing mist before applying my makeup. I've noticed that my makeup goes on better and stays on all day when I use the mist. This is now a staple in my beauty routine.
I'm proud of myself for switching out my trusted old faithful skincare products. I'm happy I did because my skin seems to be reacting well to the changes.
Have you tried any of these products or come across any new skincare products that you love? If you have any questions please leave in the comments.