My weigh-loss plan has been going awesome.  If you haven't heard, I'm doing Weight Watchers with Oprah (in my head).  The Weight Watchers plan has always worked for me.  I love bread and pasta.  Weight Watchers allows me to keep eating the things that I love.  I shared last week my diet tips.  This week I'm sharing my favorite Weight Watchers meals.  Once I find something I like and helps my waistline, I'll keep it on repeat.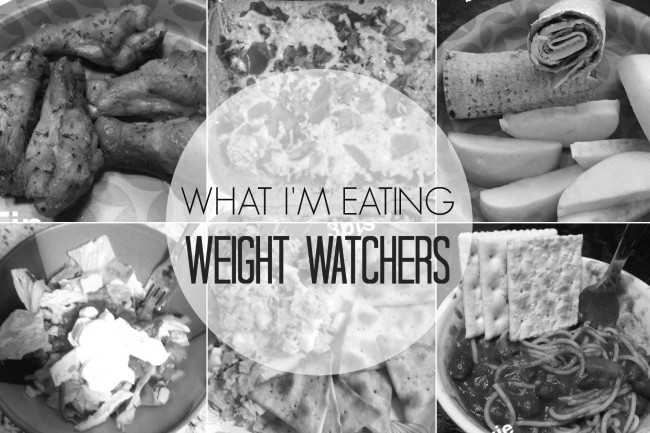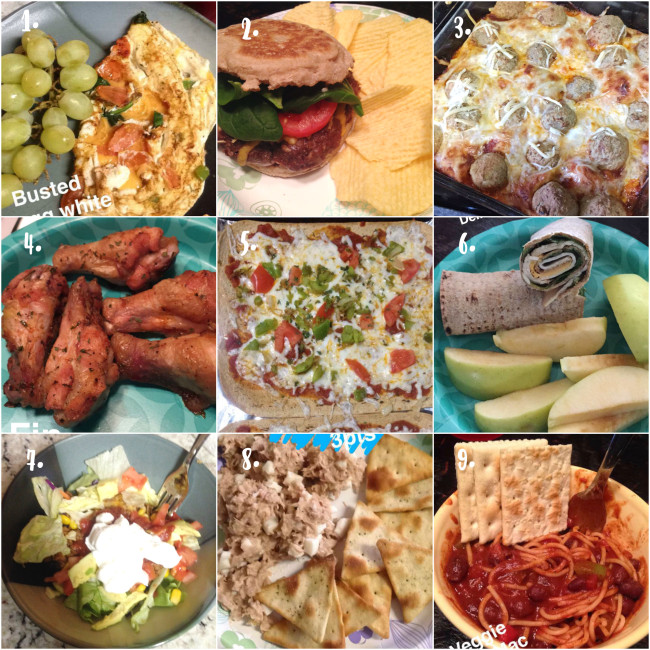 Egg white omelette with grapes (0 sp).  Yes, zero!  I use liquid egg whites, fat-free shredded cheese, spinach, green peppers, and tomatoes.  On Weight Watcher, veggies and fruits are zero points and so are liquid egg whites.
Cheeseburger with baked chips (8 sp).  I use the leanest ground beef I can find, 93% or higher.  The leaner the meat, less points.  I use an english muffin (3 sp) as a bun to save a few points.  I top the burger with fat-free cheese, spinach and tomatoes.  My side is baked chips at 5 sp.
Meatball Sub Bake (9 sp).  I found this recipe on Tasty Facebook Page.  I used turkey meatballs, fat free cheese and low fat crescent rolls. DELISH! Find the original recipe here.
Roasted Lemon Pepper Wings (1 sp each).  It's hard to calculate wings but I only like drumettes and I don't clean the bone.  I seasoned the wings heavy with Lawry's lemon pepper seasoning with zest.  I roasted them in the oven until they were well done to give me a crispy feel.  They taste awesome with some low-fat blue cheese salad dressing.
Flatbread Pizza (3 sp).  Using a flatbread wrap, I spread on some spaghetti sauce and add some fat free mozzarella.  Top it with some vegetables and bake for 12 mins at 400.  Make sure you spray Pam on the pan you use.
Chicken Breast Wrap (5 sp).  Using a whole wheat wrap and spread on some Laughing Cow cheese (1 sp), lettuce and 2-3 oz of chicken breast deli meat.  The cheese gives it a lot of flavor.
Taco Salad (7sp).  Rather than waste point on flour tortilla shells, I make my taco in to a salad.  I add my usual taco (lean) taco meat to a bed of lettuce.  I add a spoon full of corn, black beans, avocado, salsa, fat-free cheese, and fat-free sour cream.
Tuna Salad with Crackers (3 sp).  I use tuna in water (pouch) and mix it with a hard boiled egg white, 1 tbsp of light mayo, 1 tsp of relish.  If you use a more mayo you'll add more points.
Chili Mac (7 sp).  I prepare my pot of chili with 1/3 lb of ground chicken breast meat, 1/2 can of black beans, can of diced tomatoes and chili mix.  I place the chili over a bowl of whole wheat spaghetti.  Save a ton of points by skipping the spaghetti (5 sp).
*sp means Weight Watchers Smart Points
Eating these meals keep me full and satisfied.  Like I mention in my 9 Diet Tips (HERE), tweak old recipes to work for your weight-loss plan.  I make sure I use fat-free meat and cheese.  I've saved so many Weight Watchers point just by doing those two things.  I've hope my meals give you some new ideas to try, especially if you are WW.  If you have a go-to yummy healthy meal please share in the comments.  Feel free to add a link if you have one!