We all know after having a child your body is never the same unless you're J.Lo. My bounce back game after having Harper has been weak. You see, although I've already lost the baby weight after six months, I'm still well over my goal weight that I wanted to be before I became pregnant with Harper. Now, I'm struggling to get it all off.
If you follow me on Snapchat (babyshopa), you may have noticed I've been eating a lot better lately.  But my work out, my routine leaves something more to be desired.  So if I want to be "summertime fine" I figured getting my butt (literally) in gear with a workout routine I can manage, would be the best
Today, I wanted to share how I get my workouts in with my baby Harper, along with an awesome giveaway from Fisher-Price that can help you out too!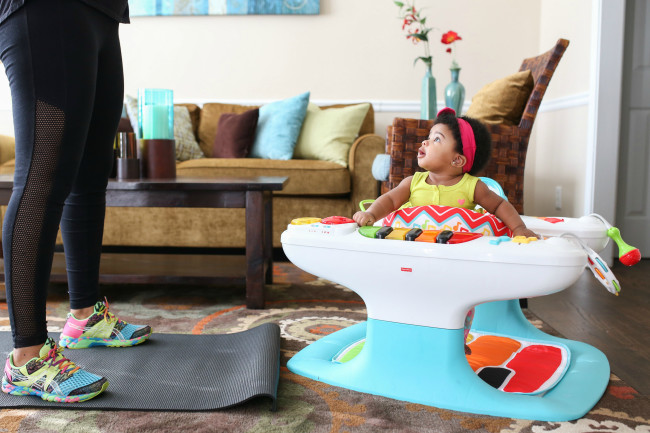 Skip the gym.  I love my gym and they have great childcare but after missing my favorite Zumba class 4 weeks in a row, I gave up.  I was getting too stressed out trying to make it to the gym daily with a newborn.  Now I work out at home so I have a flexible schedule that works for Harper and I.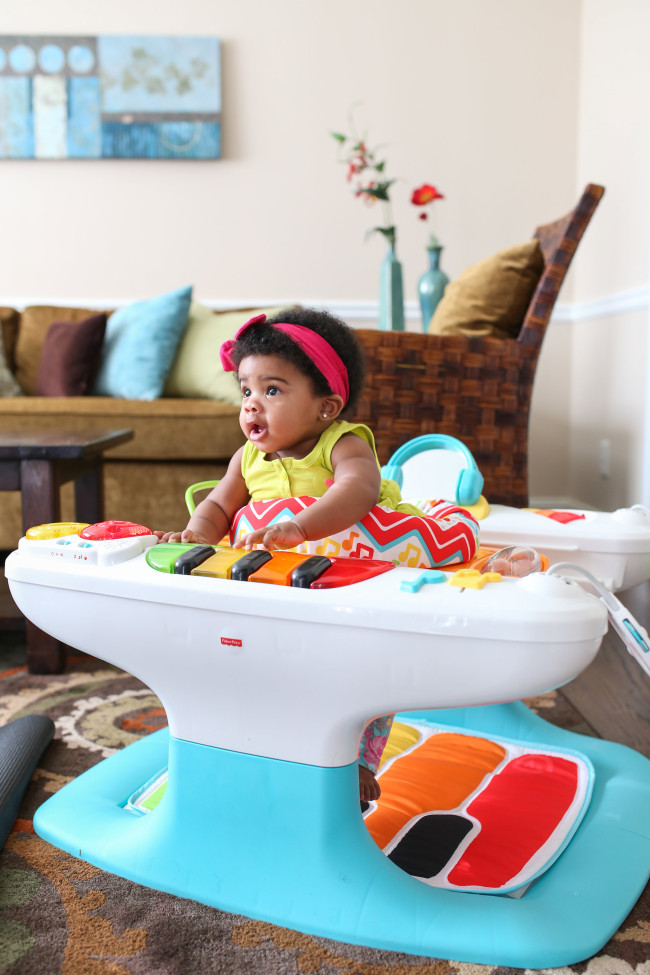 Use workout videos.  I've found some good (FREE) workout videos on YouTube.  Like most of us, I even have a few old workout DVD's that I can put to use.  It's like having your own personal trainer.  You can start and stop as needed.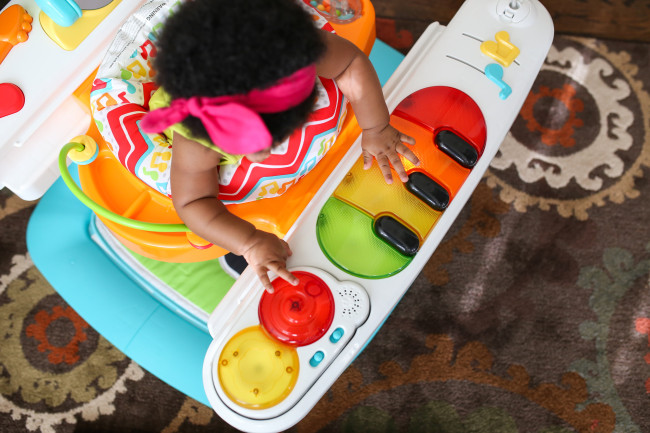 Feed and change baby before workout.  Just like when you leave the house, make sure baby is full and dry so you don't have to stop for diaper duties.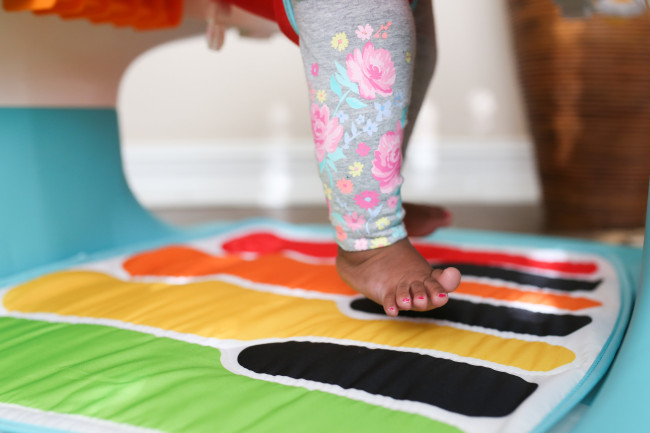 Plan to workout after nap time.  Depending on your baby, you may want to wait till after their nap to workout.  If your blessed with a baby that only sleeps for hours at a time, you can throw all these tips out the window and just work out then.  But the way Harper is set up, she only takes disco naps throughout the day.  She's always in a great mood after that.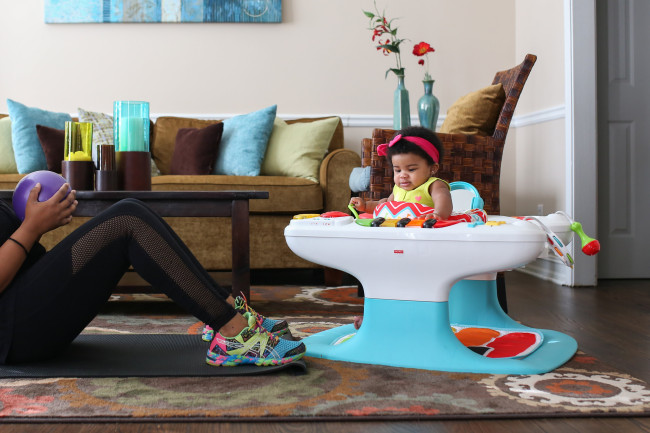 Invest in a baby entertainer. Fisher-Price's new 4-in-1 Step and Play Piano has been a lifesaver in keeping Harper busy while I get my workouts in. Before I got the baby entertainer, I would get a 1o minute workout if I was lucky.  Now Harper will play in her Fisher-Price Step and Play Piano much longer than before.  The Step and Play Piano grows with your baby from tummy-time to walking.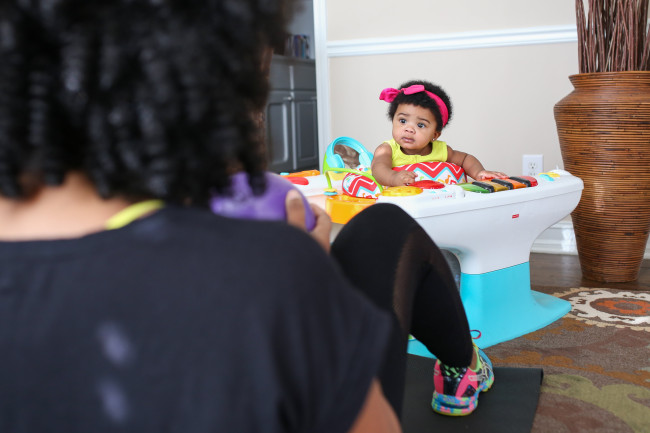 We love our new Fisher-Price 4-in-1 Step and Play Piano!  This baby entertainer keeps Harper safe and happy while I get things done around the house, including working out.  I even bring it in our eating area for her to play while I prepare meals.  Fisher-Price 4-in-1 Step and Play Piano is a registry must-have and will make the best shower gift.  You can shop for Fisher-Price 4-in-1 Step and Play Piano HERE.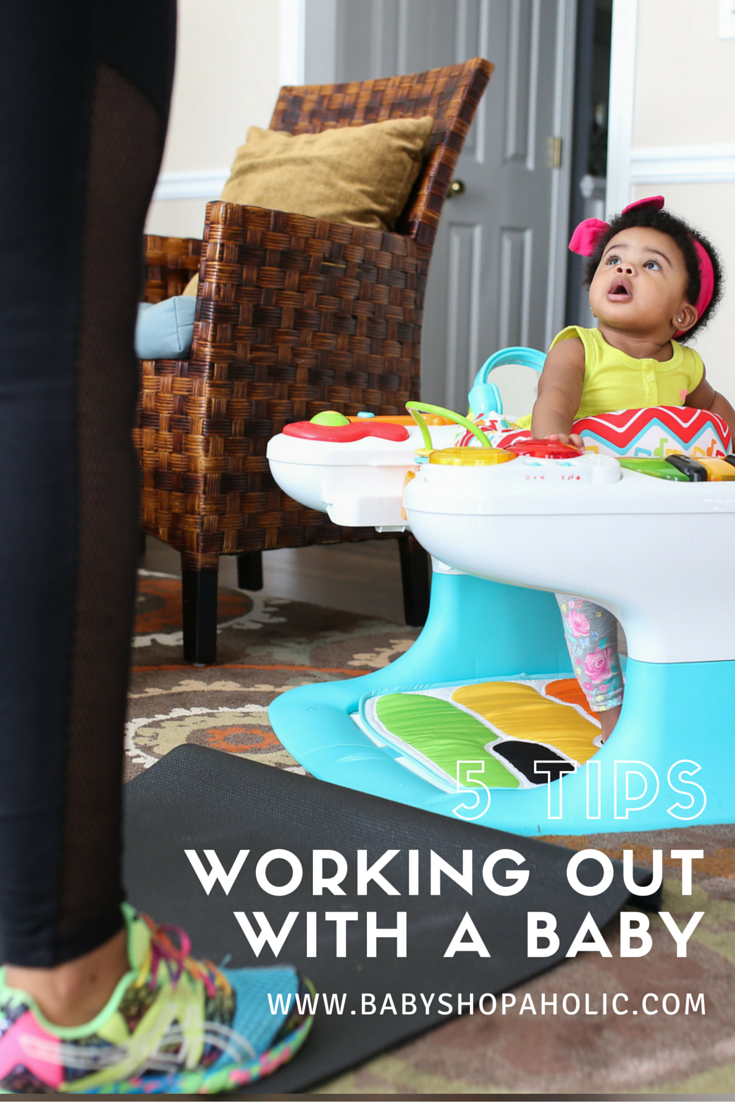 Fisher-Price understands the day to day challenges of having a new baby.  That's why they are always developing new products that parents need. Fisher-Price has been kind enough to give one Baby Shopaholic reader a new 4-in-1 Step and Play Piano!  You must be over 18 to enter with a US shipping address. Giveaway will end at 11:59 PM on April 14, 2016. Allow 4-8 weeks for prize delivery. I (Baby Shopaholic) is not responsible for lost or damaged packages. Use the widget below to enter. Good luck!
*I've partnered with Fisher-Price for this post.  Thoughts and opinions are my own.