Most moms think that if you are black or have natural hair that you are not a candidate for getting lice.  WRONG!  I remember bringing home notes in elementary school when several kids in my class had lice, which included both black and white.  Now that Peyton is in elementary school, I want to make sure that lice doesn't find it's way to my home.   Just because Peyton has curly hair, I'm not going to assume that she'll escape these tiny creatures.  SoCozy's Boo! 3-Step System helps to prevent lice before those dreaded alerts from the school start going out.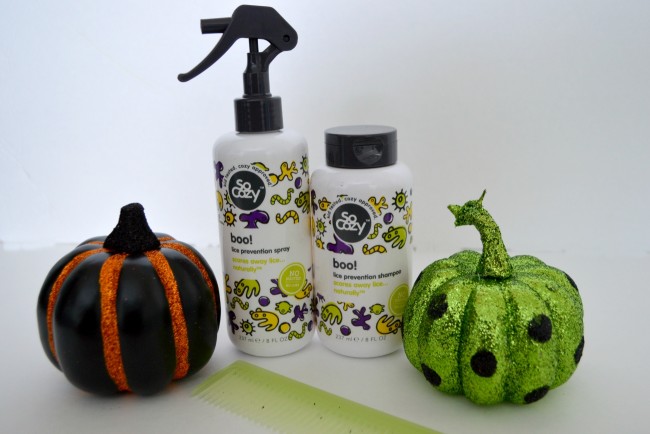 Now more than ever, natural hair can make a comfortable environment for lice.  Here are a few reasons why.
We are using products that have less chemicals, therefore it makes it easier for lice to survive.
Most natural hair products are water, not oil so it's easier for lice to climb up the hair.
Wearing natural hair doesn't require heat but heat kills lice.
Sleeping with wet hair.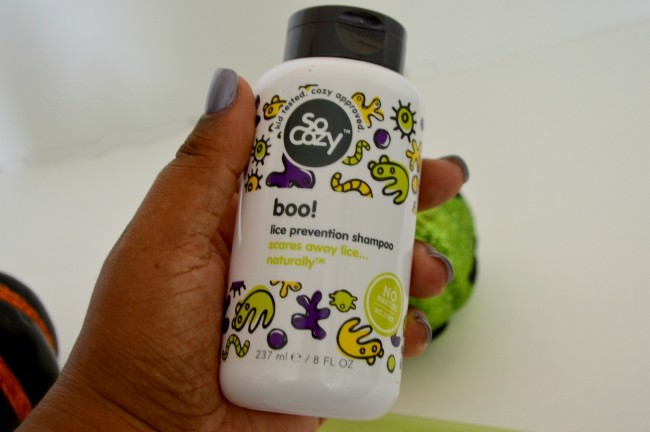 SoCozy's Boo! 3-Step System is clinically proven to scare away lice.  The Boo! 3-Step System consists of Boo! Lice Prevention Shampoo, Conditioner and Lice Prevention Spray are gentle, safe and leaves hair manageable.
Tea Tree Oil – One of the most effective natural ingredients demonstrated to prevent lice naturally.
Rosemary Extract – A natural plant extract that helps with preventing lice; rich in vitamins to promote healthy hair and natural shine
Keratin – Protects hair, helps to increase hair strength and minimize damages caused by brushing and overuse of accessories like barrettes and elastic bands.
Peppermint Oil – Moisturizing and works as an astringent to prevent buildup plus aids in hair growth.
Lavender Flower Extract – Calms and soothes skin.
Aloe Barbadensis Leaf Extract – Moisturizes and soothe hair, scalp and body.
Boo! 3-Step System is So Safe: Non-Toxic, No Parabens, Sulfates, Phthalates, Synthetic Color, Propylene Glycol. Free of Gluten, Wheat and Nuts. No Nasties Here!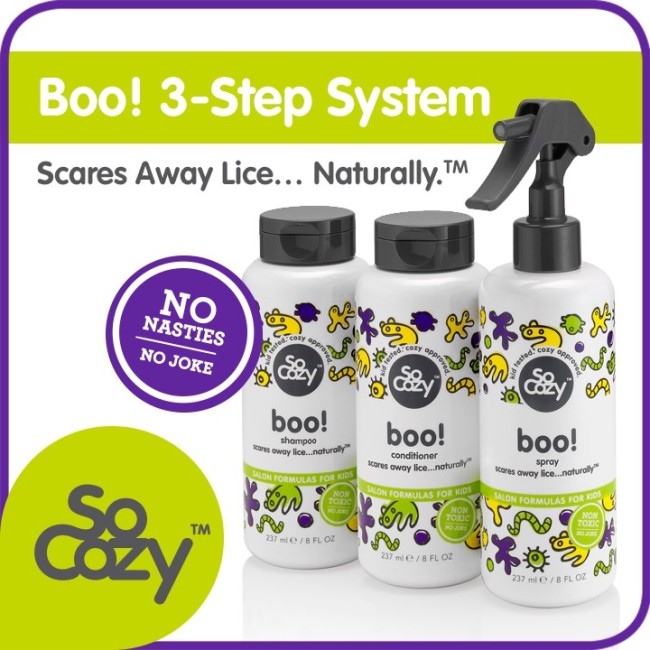 More tips to prevent lice:
Do not wash hair every day. Natural oils that build up in the hair make it hard for lice to attach to the hair shaft.
Do not share hats, scarves or blankets.
Do regular checks on your child's hair.
Keep hair in braids or ponytails to prevent touching other's hair.
Were you under the impression that natural hair kids could not get lice?  Have you  had to deal with this issue?  You can pick up the SoCozy's Boo! 3-Step System at Target and online at SoCozy.com.
*This post is sponsored by SoCozy.  Thoughts and opinions are my own.