Figuring out what to feed your family every single day, three times a day, plus snacks can be stressful.  When I don't meal plan properly I usually end up at someones drive through and stuffing my face with french fries. As much as I love me some fries, I can't feed that to my kids every day. It also doesn't help with my waistline.  Since my Walmart video dropped (HERE), I've received a lot of questions regarding meal planning and budgets.  Keep reading for my meal planning tips that help me save time, money and my sanity.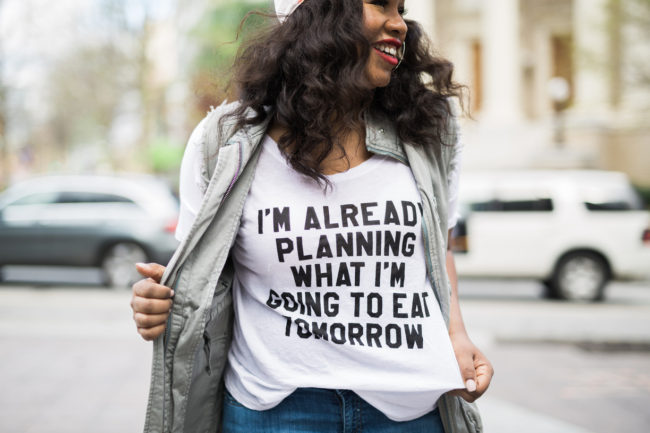 I spend an average of $125 a week on groceries.  This includes items for Peyton's lunch for school.  I also try to shop at one store, like Walmart, to get everything in one place.  I typically cook 4-5 meals a week with the most labor intensive meals on Sunday and Tuesday.  Those are the days when I don't have to rush and take Peyton to gymnastics practice.  Below are more detailed tips that help me to feed my family healthier meals.
Make a master list of meals.  I tend to cook a lot of the same meals but it's good to keep a list to help you switch it up. Also, make sure you ask your family what's their favorite dish.  Keep it in a safe place so you can refer to it weekly
Clean out your fridge and take inventory weekly.  My husband is notorious for leaving empty containers and old leftovers in the fridge.  Cleaning my refrigerator helps me to know what essentials I need to restock instead of guessing. It only takes me a few minutes to clean out my fridge and wipe it down.  It also makes it easier to put food away when you come home from the store.
Block out a time to plan your meals.  I write out the days of the week on a paper and what activities I have for the week.  I make a few drafts before I settle on a plan.
Don't shop without a list.  If I go to the store without a list, I feel like a lost puppy.  Because I tend to forget my list, I snap a picture of it with my phone as a backup.
Eat before you shop.  Going to the store hungry will have you wanting all the things.  To avoid that I try to go after a meal.
Plan for on the go.  Check your calendar for events if you're not going to be home. If I have an event to attend, there is no point in planning a meal for that day because I won't be home.  I try to make sure my family has leftovers or something easy for my husband to make.
Train your family to eat leftovers.  I struggled with this at first because I wasn't a big leftover eater.  Since I've been trying to eat right and lose weight I started to eat more leftovers.  I started offering my girls leftovers of their favorite meals and they ate it with no problems.   If they're hungry, they'll eat.
Organize storage containers.  Having containers together in one place with the lids make it easy to store leftovers.  Make sure you have both big and small containers.  You'll save time and money by storing it properly.
Prep leftovers for lunch.  When I go to store our dinner from the night before I put my lunch in a separate container so it's easy for me to pop in the microwave and eat quickly.  I even bought plastic forks so I can eat on the go.
Add meals to your calendar.  I add my meals to my planner and digital calendar.  It reminds me the night before so if I need to thaw something out I'll be reminded.
That's what I do to plan my meals and stay on budget.  It may sound like a lot of work but once you start it will become second nature.  Before I started planning, I would notice I was letting food go bad because I wasn't buying it with a purpose.  I don't buy salmon if I don't intend to make salmon that week.  I've saved so much money with planning.  My family definitely eats healthier meals since I started planning.
Do you meal plan?  If you have any meal planning tips, please share in the comments.