As a first time mom of to a little girl, the struggle is real when it comes to doing her hair.  When Peyton was born there were no hair care products for kids.  I'm so excited that one of my favorite brands, EDEN Bodyworks , has launched EDEN Kids!  I'm currently preparing to head to the Mom 2.o conference so I have to make sure Peyton has a style that looks good and is easy to mange while I'm away.  I'm going to show you how I get Peyton's curls popping using EDEN Kids new collection with a flat twist out.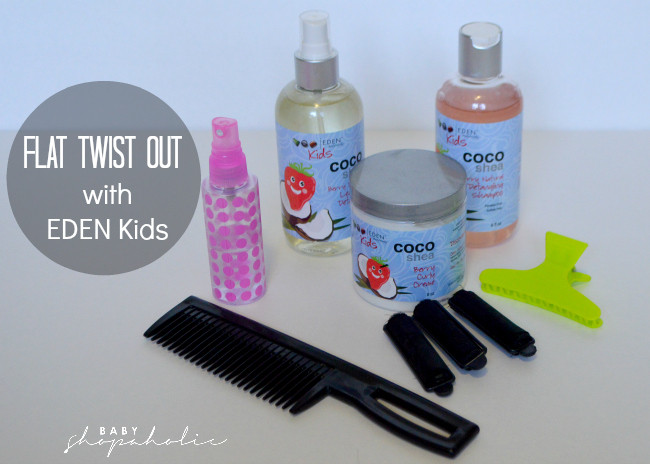 1.     Wash your child's hair using EDEN Kids Coco Berry Detangling shampoo. The shampoo smells good enough to eat (but don't) plus it doesn't leave your child's hair feeling dry. I use about a quarter size of shampoo for Peyton.
2.     Rinse shampoo completely out of the hair and squeeze excess water out of the hair with your hands. You can use a towel to pat out excess water but don't over do it. You want the hair to be damp for styling.
3.     Spray EDEN Kids Coco Berry Leave-in Detangler. Using big hair clips, section the hair for detangling. I've very generous using the Coco Berry Leave-in Detangler. Use a wide toothcomb and start at the ends to detangle.
Once you are done detangling your child's hair you are ready to start your flat twists. Flat twists are like a one sided corn row. Flat twists do not add any stress to the hair and are not tight. Flat twist help to elongate the natural curl pattern of the child's hair.  Steps continued below.

4.   Start flat twist by sectioning the hair in half at the crown of your child's head. I start with the flat twist on the top half going towards Peyton's face. I go from right to left with each flat twist about a ½ inch wide.
5.  For each flat twist, start by adding the EDEN Kids Coco Berry Curly Crème at the root of the hair and work the product down to the ends.
6.  Make sure each section is a little damp before you get started with each twist. Use a spray bottle to dampen the hair (found in the travel sections).
7.  After each flat twist is complete, I like to seal it with EDEN Coconut Shea Oil.
8.  Once each flat twist is done, add a satin wrapped roller to each twist (available at Sally). The satin rollers helps to prevent breakage and are more comfortable for kids than perm rods. This gives the flat twist a more finished curl at the ends.
9.  Place a satin bonnet or scarf on your child's head so the hair can air dry over night.
10.  Make sure the flat twists are completely dry before undoing. Rub a little EDEN Coconut Shea Oil on your finger tips before undoing the twist.
11.  Undo each twist gently with your fingers. Once all the flat twists are undone, you can go back to pull them a part to create a full look on the hair.  You're done!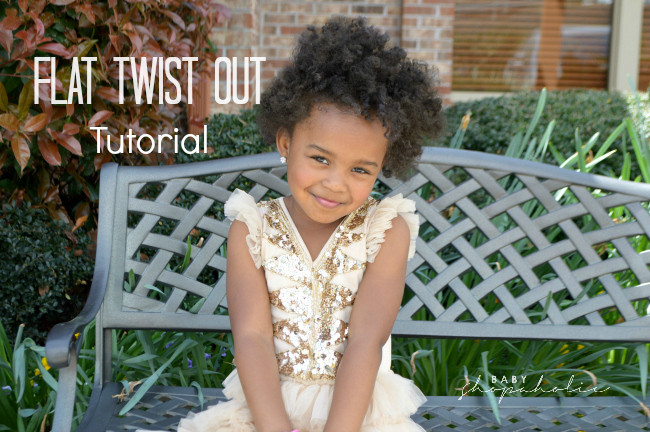 This flat twist out should last 2 to 3 days with out re-twisting. To re-twist, use your spray bottle of water and start at step 5.
It took me years to perfect Peyton's curly style.  It's all about trial and error.  Do be afraid to try something new.  Having the right products like the EDEN Kids Collection makes a big difference when it comes to styling.  The EDEN Kids collection can be purchased online at www.edenbodyworks.com or at Sally Beauty Supply.  Lucky for you, EDEN Kids will be buy 2 get 1 free through the month of May at participating Sally stores.  You can get all the products in one trip!  Follow EDEN Bodyworks on Instagram(@edenbodyworks) where they are hosting  a special #TBT until Mother's Day.
*This post is sponsored by EDEN Bodyworks.  Thoughts and opinions are my own.