This summer is flying by!  Because of my crazy Dr. Miracle's Tour schedule, I only have Mon-Thursday to get everything done.  Peyton is still in gymnastics and Harper started a dance class, so we're pretty busy.  We're doing our best to enjoy the few days a week that we're not ripping and running.  We finally had time to take these "old school" pics that give me Summertime Chi vibes.  Links to everything below. Hope you enjoy them!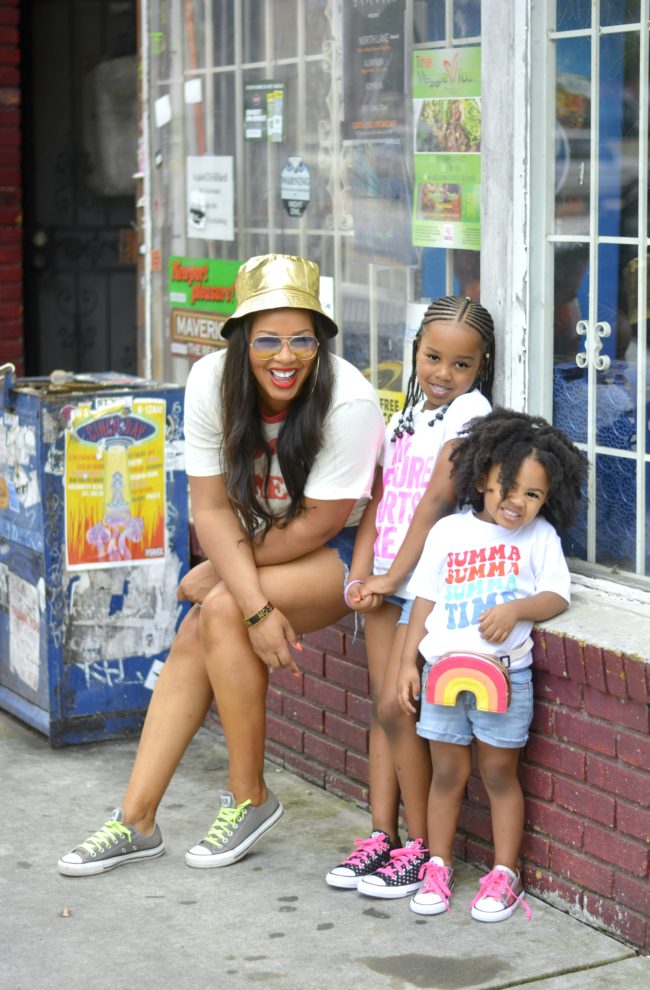 Peyton: T-shirt, J Crew | Shorts, Gap Kids | Shoes, Converse
Harper: T-shirt, Nordstrom Rack (similar) | Shorts, Target | Fanny pack, Target | Shoes, Converse
Trina: T-shirt, Target | Shorts, similar | Hat, similar | Shoes, Converse | Sunglasses, Sunglass Spot
These pictures are taking me back to my summertime Chi days as a kid.  When I was little, we would scrap up our change and run to the neighboorhood convenient store to get some penny candy.  I'm happy this old school look came together.
Speaking of the Chi!  I will be heading to Chicago this week with Dr. Miracle's at Walmart on 2500 W 95th St, Evergreen Park, IL from 11-2pm,  Saturday, June 23! Hope to see all my Chicago friends there!
What's your favorite summertime memory as a kid?