I like to consider myself somewhat of an eye cream connoisseur.  I've been using eye creams consistently since my mid 20's.  I didn't start using them to fight the war against wrinkles, but to hydrate my eye area.  I had a few makeup artists tell me the skin around my eye area was extremely dry.  I've been hoarding eye creams ever since.  I don't think it's a coincidence that I barely have fine lines or wrinkles in my eye area… well outside of the idea that "black don't crack".  Since eye creams can get on the pricey side, I thought I would share some of my favorites that you should try before making that commitment.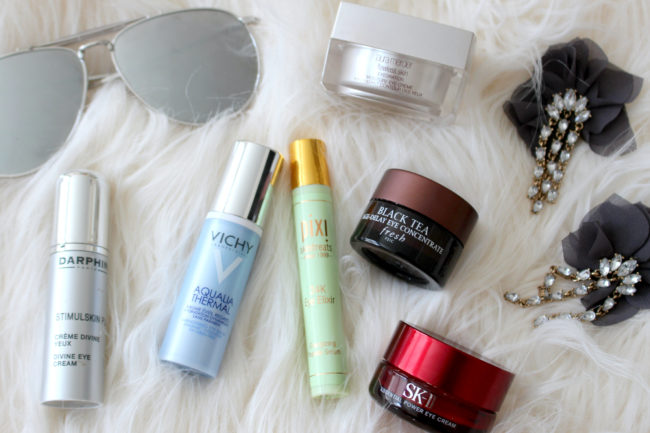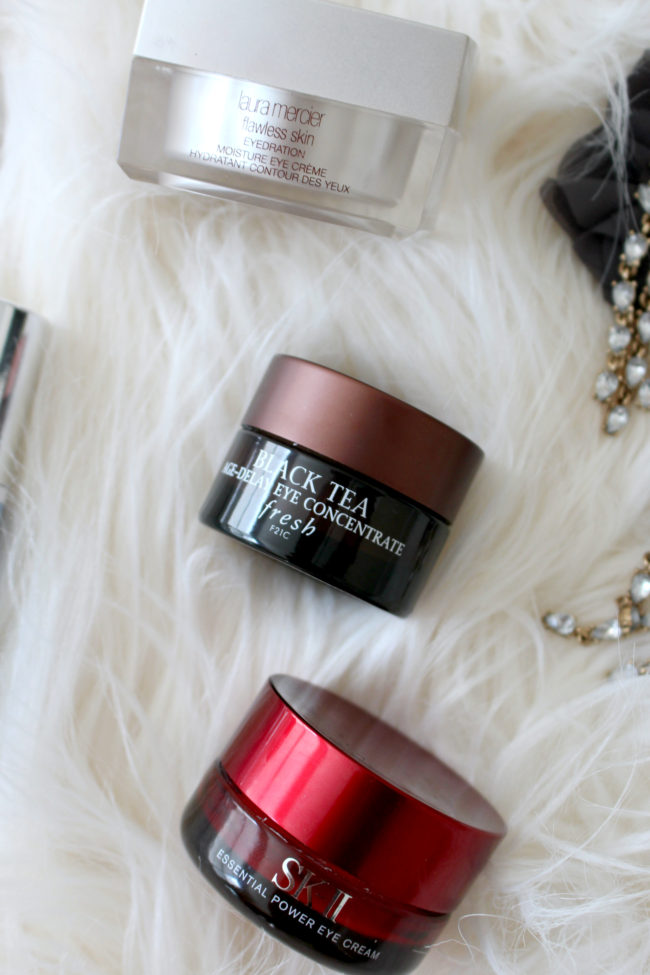 Laura Mercier Flawless Skin Eyedration:  This is an oldie but goodie for me.  A little goes a long way.  I will say that I don't care for how it's packaged.  It's solid in the jar kind of like lip balm so I have to rub my finger around it.  I still like the way it feels and makes my skin look.  I've had this one for a while so the one I linked looks like a new formula. Great for day or night.
Fresh Black Tea Age-Delay Eye Concentrate:  Not only does this hydrate my under eyes but it helps with my puffiness.  Just like other Fresh products, it's like you can feel the ingredients penetrating your skin.  I like to use this at night.
SKII Essential Power Eye Cream:  If you don't want to play any games and go straight to the top, this is your cream.  It provides great moisture while firming up the eye area.  This eye cream is so hydrating, there is no way a wrinkle can get past it. I like to use this cream at night or before applying makeup.
Darphin Divine Eye Cream:  This eye cream is packed with moisture.  If I neglect my under eyes for a few days, I use this for instant hydration.  I like to use this cream at night.
Vichy Awakening Eye Balm: First this is not a balm unless the definition of balm has changed.  It's actually a gel in a little pump.  I've used this product on and off for years.  If you're just getting into the eye cream game, I would suggest starting with this one because it's around $30 (plus 25% off during current sale) and really hydrates your under eye area.  Great for mornings or night.
Pixi 24K Eye Elixir:  I love this product because it helps with puffiness.  It packaged like a cool pen that you can whip out and roll on some eye serum.  You can also refrigerate it to help even more with puffiness.  I haven't done that yet because I would probably forget about it.  I like to use this in the mornings.  You can find this at Target.
I know what you're thinking, there is no way she uses all those eye creams and gels.  Yes, I do!  I use creams at night and sometimes in the morning.  Basically, after everytime I wash my face.  That's a lot of eye cream applications so I like to try different ones.
Here's a tip to try eye creams for FREE!  Ask for samples!  Hit up Nordstrom or Neiman Marcus and ask if they have any samples.  If you get someone good (and buy something) they'll even scoop some out and out in a little container for you.  Don't be rude and walk in there and be like gimme.  Maybe wait until you have some products you need to re-up and when you do that, ask about products you're interested in trying.  Use each one for a least 3 days and make a decision.
If I had to pick my top 3 it would be SKII Essential Power Eye Cream, Fresh Black Tea Age-Delay Eye Concentrate, and Vichy Awakening Eye Balm.  Have you tried any of these eye creams?  What's eye cream do you use?