We love seeing cute pictures of little girls.  I've come across a few that after further inspection I notice the child may or may not be wearing extensions. If you're like me, you may go comment creepin' to only see folks ripping the mother apart for adding hair in this baby's head. That got me to thinking…how young is too young for extensions?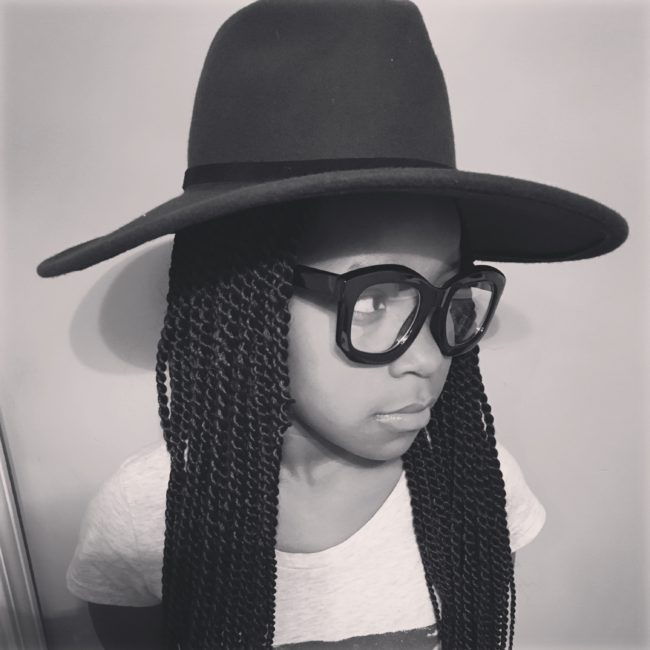 9 year old McKenzie looking fabulous in her twists via The ATL Go to Girl
Truth be told, I've had every chemical and hairstyle done to my head before I was in kindergarten. I had a "Jerri" curl in my kindergarten school pictures. I pray those photos never resurface. I think I had my first relaxer by the age of 3. Back then, the creamy "crack" was running rampant in these streets. Being natural was unheard of. There were no natural hair shows and meet-ups.
If you weren't getting a relaxer, you were getting braids. Not just plain braids but with Kanekalon hair and beads. I couldn't wait to get my hair braided with extensions. I loved the feel of the beads hanging down my back. You couldn't tell me nothing!
Peyton sees me changing up my hair all the time. She doesn't think too much of it. One time she did say she wanted her hair in a style that I had. I told her she had to wait till she goes to college. Ha! But in real life, I'm sure I will let her get extension sooner than that.
I see a lot of negative comments towards parents that choose to put extension in their child's hair. Are they wrong? Would you let your child wear extensions if they asked for them? What age would you allow your child to wear extensions? Do you feel there is a difference between wearing braids with extensions versus a weave? Do you see extensions as a protective style for kids just as much as adults? I would love to hear what you think in the comments below.