It's not even Thanksgiving yet and I already have some major Christmas spirit.  For the record, I did do a fall porch (here), I just forgot to share on the blog.  I'm excited to decorate get my home ready for Christmas.  Previous years, we were the family that would pick up a Christmas tree the weekend before and spend $10 on a real tree. I really want my girls to experience all the joy they possibly can during the holiday season.  After rolling up on the Dollar Spot at Target, they had so many cute holiday items I was convinced that I could pull off a holiday table on a budget.  My dining room is still a blank canvas but I have a beautiful big table just waiting for some holiday love.  With items from Dollar Tree, Dollar Spot (Target) and Hobby Lobby, I put together this beautiful table.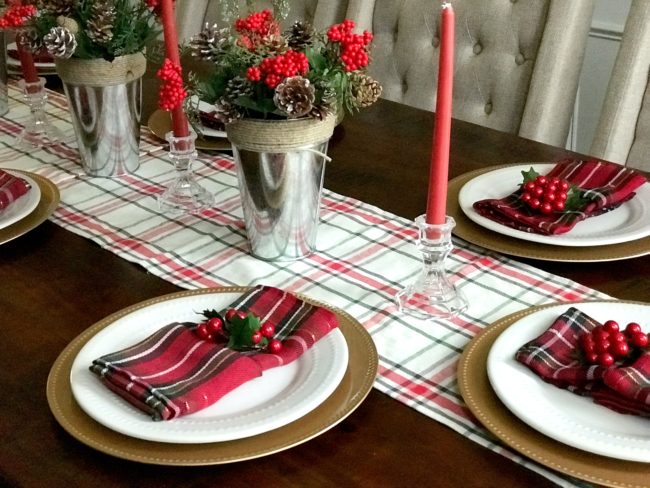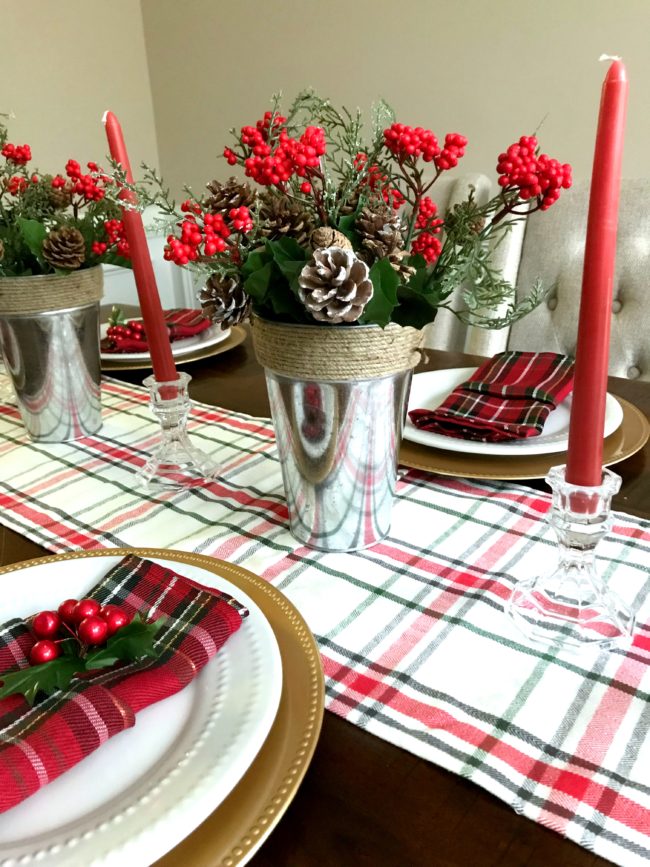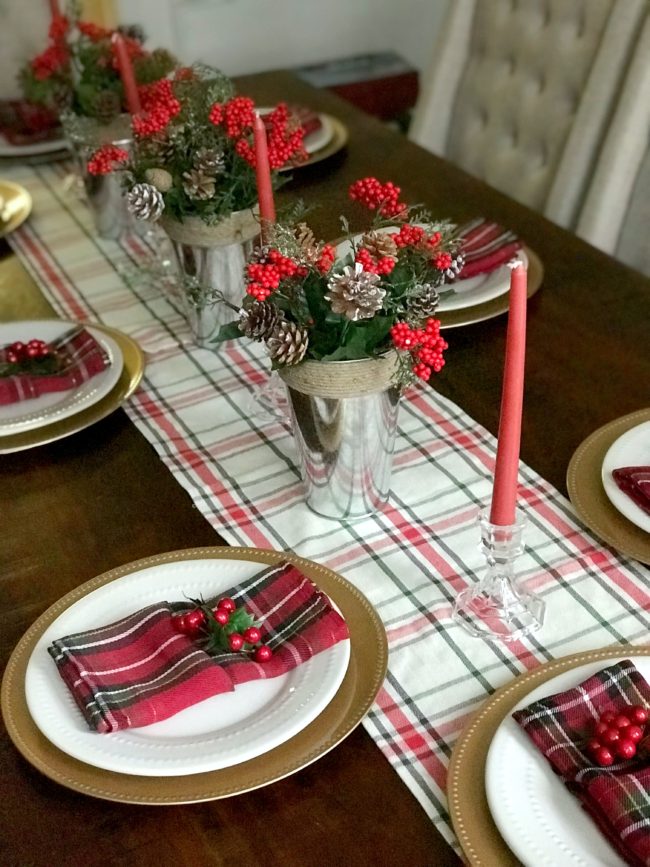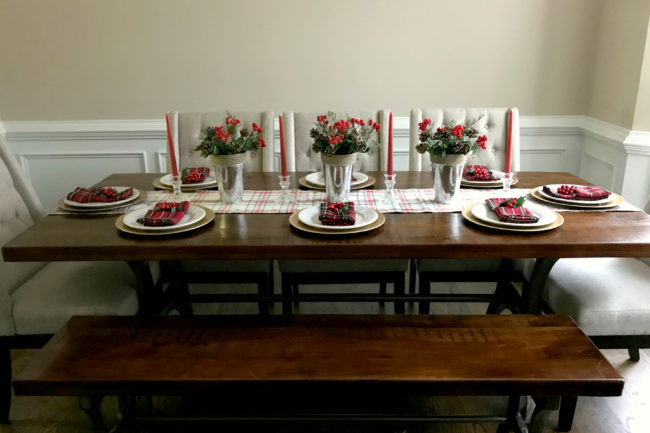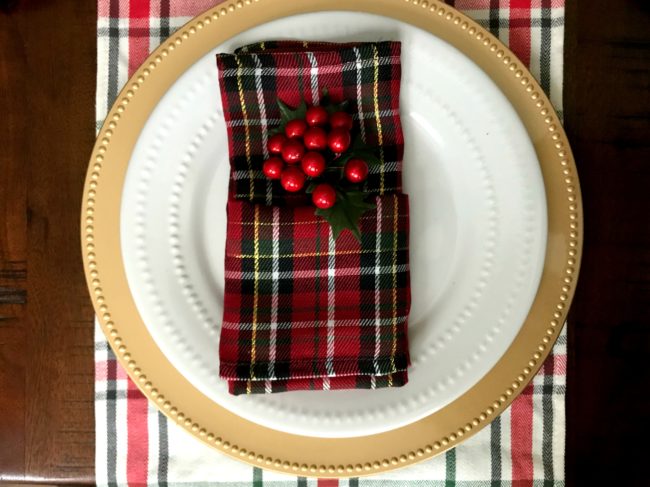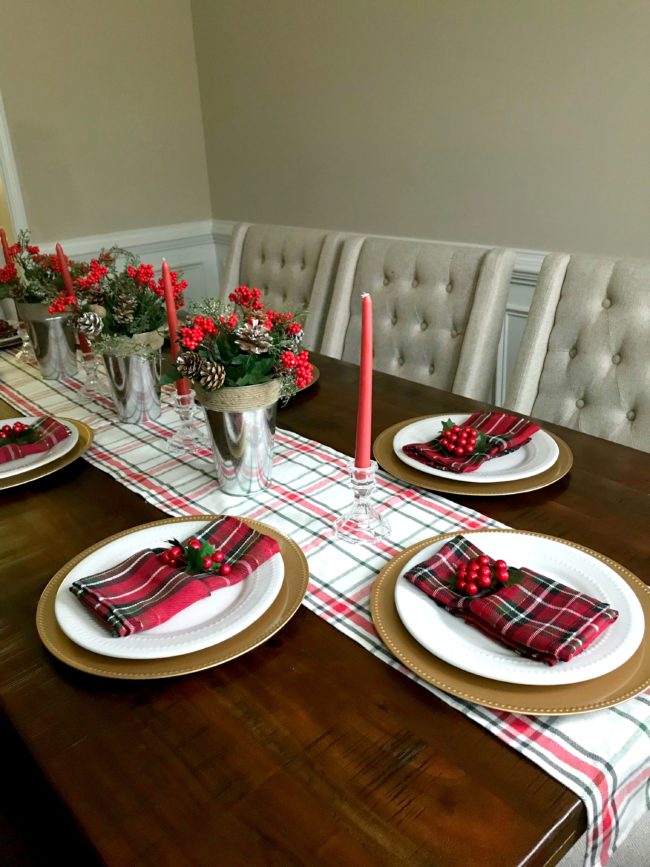 Dollar Tree: Florals, Plates, Chargers, Candles, and Flower pots | Hobby Lobby: Dinner napkins ($7 pack of 4) and mistletoe ($0.75) | Target Dollar Spot: Table runner ($3)
I started with two table runners from the Dollar Spot ($3) because my table is 100 inches long.  Table runners for this size table usually run about $30 on the low end so doing it this way was a steal.  All my dinner plates are from Dollar Tree.  After checking out white plates at several stores I settled on these white ones and bought a case of them.  My table seats 8 so it can get expensive buying placemats and chargers.  I found these nice gold ones at Dollar Tree.  I believe they also come in red and green.
For the flowers, I used 4 stems.  I definitely could use one or two more in each pot but I got all the stems in this style that they had.  I was planning on using clear mason jars as vases to save money but I came across these cute metal pots at the Dollar Tree.  The candles came two in a pack and I put them in the glass candle holders.
The dinner napkins are the most expensive thing on my table.  I needed 8 so I had to buy two packs of 4.  Luckily, it was 50% off of $15.  You could easily do this with nice decorative napkins.  I used this tutorial on how to fold dinner napkins.
All together I spent $66.  That sounds like a lot but that includes 8 plates and chargers.  So if you have these items at home, you can save a lot of money. Like I mentioned earlier, a table runner would run you $30 on the low end.  You really could get by with just the florals and candles and call it a day.  I hope this helps you to get into the holiday spirit like it has helped me.