This is my first year celebrating Father's Day with my own father.  I've shared with you guys several times that I've never had a relationship with my father.  This year, for the first time in my life, I sent him a Father's Day card.  Before I get into the details, I want to say Happy Father's Day to my husband, aka Mister.  I truly believe God blessed me with such an amazing husband that happens to be an even more amazing father.  I fall in love with him with more and more every day watching his interaction with Peyton.  We even fight over Peyton to spend quality time with her on the weekend when we both have different activities we want to do.  I don't know if Peyton realizes how blessed she is to have such a wonderful dad.  I just pray she can find this type of man to marry and have children with when she gets older (much older).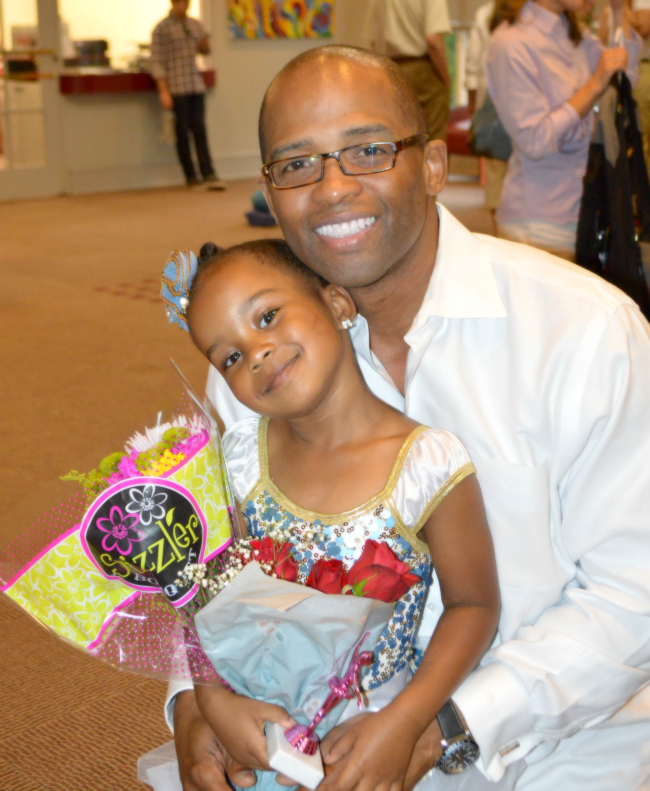 My mother and father were never a couple.  So there was no divorce or split-up to speak of.  I just never knew him.  Period.  I wasn't until I started watching the Cosby Show that I realized that kids had dads.  I always wondered why I didn't have one.  There were no occasional visits, trips to the park or to get ice cream.  Nothing.  In my twenties, he tried to reach out to me.  I felt that I had made it this far without him, why start now.  Every few years, I would answer the phone when he called.  I even met his kids once (much older than me).  But when Father's Day rolled around, I never thought to send him a card or give him a call.  It wasn't to be spiteful, I just never even thought about it.
Just this past April, he reached out to me while I was in Chicago for my niece's wedding and said he wanted to see me.  His wife just passed, so I offered my condolences and paid my respects.  Before meeting with him, God spoke to me and told me I could do better.  No matter what he didn't do for me, I could be a better daughter to him.  I wanted to fight with God, but I said ok.  My father asked to meet with me so I agreed.  I had Peyton with me.  This was his first time seeing Peyton, his granddaughter.  Of course she was confused, but she rolled with it.  To my surprised during this meeting, he offered up apologies for not being there.  Not being there for birthdays, graduations, weddings, and Peyton.  I was not expecting to hear that.  I had waited all my life for this.  It was a huge release for me.  Even though I thought I dealt with this situation very well, I feel like I'm able to move forward and actually pursue a relationship.
This year, I purchased a card and put it in the mail (kinda late).  That was huge for me.  I know I'm not the only person in this situation.  I'm sharing my story because if it wasn't for God telling me to let go, I would not have been able to be at complete peace with the situation.  Yes, it took almost 37 years, but it happened.  It's never to late for anyone to make a change as long as they are still breathing.  Happy Father's Day to all the amazing fathers!