For the last few years getting my nails started to feel more like punishment than self-care. With a limited window of being kid free to escape to the salon had me wondering into any salon that was open and could take me right away. I would still experience poor service, high prices and unpleasant atmospheres. I know it would be easier to just wear my natural nails but have you seen my nails? They are short, stubby and brittle. With my demanding blogging engagements, I'm not going out like that.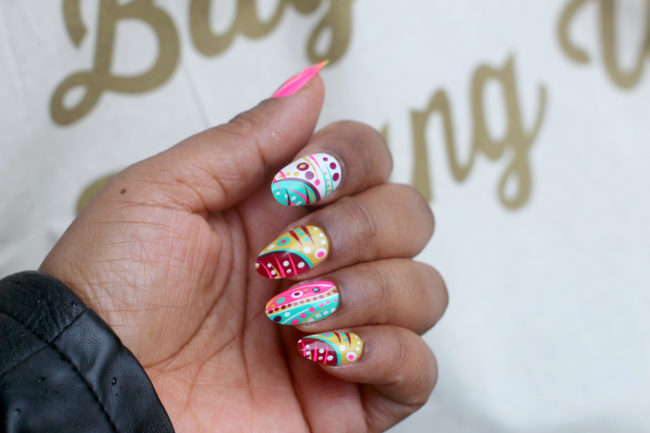 Kiss GoldFinger Queen (similar)
I posted about my nail drama on my Instagram stories and received a ton of referrals. I found a few that I wanted to try but setting up a time for available appointments coupled with a 30-45 minute drive to get there was just not manageable. Then my friend Kristin on IG told me she dealt with the same issues and started wearing press-on nails. Eureka (I always wanted to say that)! I had some nails that I kept for emergencies but why couldn't this be a thing.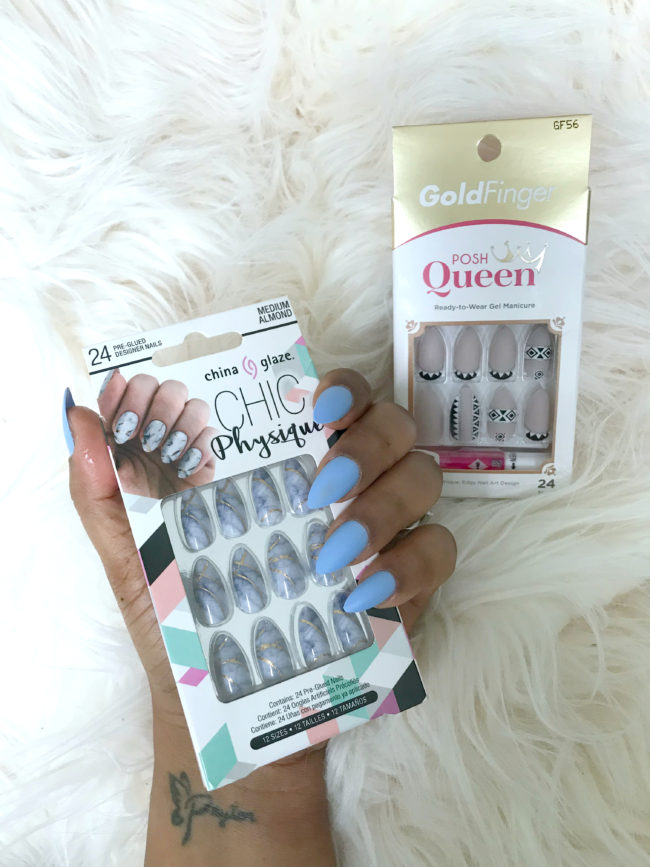 Blue nails | Marble (similar) | Tribal
You can't tell me nothing now! I went to the beauty supply store a few weeks ago and have been wearing them ever since. Press-on nails have come a long way. Now I can switch my nails out as often as I want in 10 minutes for less than $10! My nails have been lasting for at least a week without losing any. Most packs come with 24 nails so you'll have a few extras in case you lose one. The key is to make sure your natural nail is clean and rubbed with polish remover.
Below are some more cute nails that I found online.

                
                


                    
                    
                


            
There is a style for everyone. I've been wearing a medium length with no problems. The only issue is pushing the button to release Harper's buckle on her car seat. I pushed it with my nail once, it didn't come off but I thought I was about to lose one. The same issue is to be said for acrylic nails. I also have been giving myself manicures in between the sets.
I'm seriously enjoying the time (and money) I'm saving on my nails. Gel nails with designs can run you $60-$80 each weeks. I'm not trying to put no one out of busy, but the way my life is set up, I can't keep that up.