There's something about putting your vision right in front of your face that makes you work harder to achieve it.  For the last three new years, I've created a vision board.  After each year, I look back and I can see how vision has come to life.  This year I made it a family affair and invited everyone over to my home for a New Year dinner and vision board party.  I posted on social media that I was doing a vision board and received several questions on how to make one.  Vision boards are powerful but super easy to make.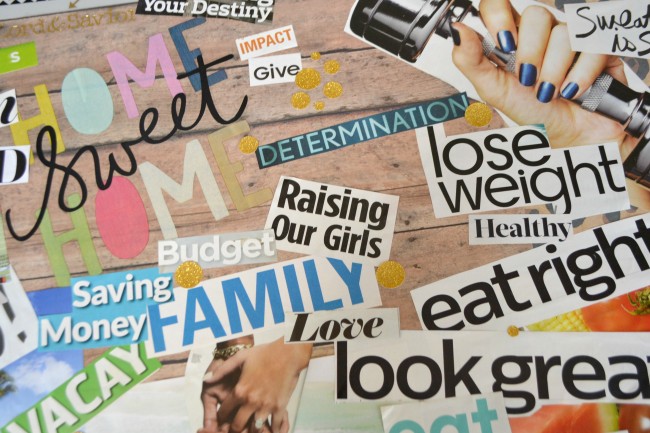 My vision this year is focused on fitness, health, family, home saving and business.  As you can see health and fitness took up almost half my board.  I'm on a mission!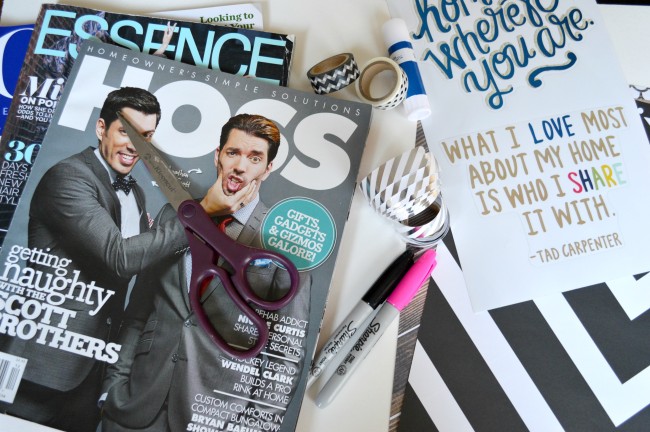 To make a vision board you will need the following items:
Poster board (I cut mine in half)
Magazines
Scissors
Glue stick
Markers
Stickers/Washi tape
Scrapbook paper
Start with writing down what your vision is.  It can be several things or just one.  Flip through old magazines and tear out pictures and words that best describe your vision.  If you can't find a specific word you can cut out letters to spell the word or write it using a marker.  After you have collected your words start cutting them out.  I keep all the words and pictures together for each vision.
After you hall all you words together you can "style" your board with scrapbook paper (I went to Hobby Lobby).  Use a glue stick to adhere the paper as a background or a frame.  On my vision board you can see I used a wood designed paper.  Proceed to glue the words and pictures you collected.  I like to over lap my words.  Some people like to have the words with space around it.  It's your board so do what makes you feel good.
When you're done gluing the words and pictures you can add some flare.  I used washi tape to make a frame around my entire board (sorry, not pictured).  I also added gold sparkle stickers all over my board.  Oh, and the "Home Sweet Home" is a sticker as well.
That's all it takes!  Start at the Dollar Tree to buy your supplies.  They have boards, scrap paper, glue, scissors and more.  I love Hobby Lobby for their paper and sticker selection.  You can get as creative as you want with your board.  There were about 15 people at my house and everyone's board looked different but they all were beautiful.  Even Peyton did a board (3 actually).
Have you ever made a vision board?  Did you achieve your vision and goals?  I hope all your visions come to life this year!