Now that I'm home with my kids full-time, one item high on my priority list was making sure my kids eat healthy. I make sure the kids drink plenty of water too . We recently purchased a water ionizer after consulting Water Filter Way. Our water quality has improved so much ever since. I've been making Harper's baby food since she was 6 months and meals for the family at least 4 nights a week. As a former anti-cooker, I think I've been doing a pretty good job. There's room for improvement but I know that healthy eating habits start young. Not every mom is able to make baby food or cook healthy meals every night. What's a mom to do? Yummy Spoonfuls founder, Agatha Achindu and co-founder, Camila Alves McConaughey have some great healthy eating tips to keep your kids on the healthy track. I recently participated in a Hangout with Agatha and Camila and here is a summary of some of the tips shared.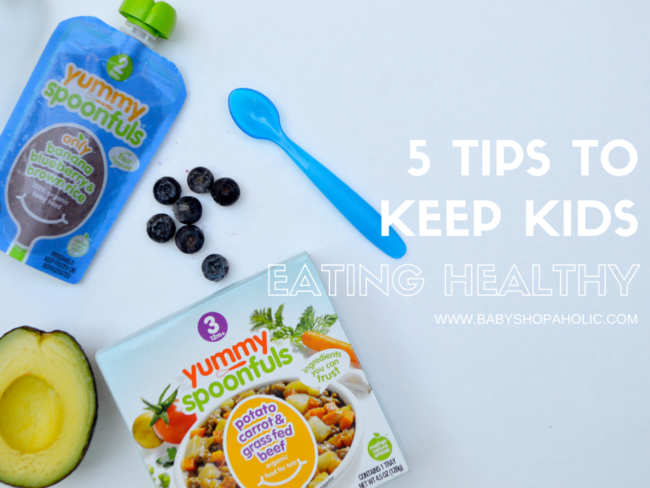 Stay consistent. Try to keep fresh fruit and veggies available for each meal. Your child will get used to them being a part of their meal versus, what's that on my plate.
Lead by example. Make sure you're eating right too. Kids are watching and the last thing you need them to say they don't want to eat vegetables because you don't. So take one for the team.

Don't stock junk food. This works with number 2. If they don't see it, they won't ask for it. If you want to scarf down a candy bar, do it when they're not around.
Hide the veggies. When I say hide, I mean sneak them in. Make fruit smoothes and add some kale or spinach. They'll never know. It's also easy to add to sauce based meals like spaghetti.

Stock up on Yummy Spoonfuls. Made with all organic, non-GMO ingredients, Yummy Spoonfuls provides baby and toddler food just like you would make at home. Perfect for working moms or moms on the go (aren't we all on the go).
Harper recently tested out Yummy Spoonfuls and she loves it. Her current fave is the banana, blueberry and brown rice. I'm looking forward to try the stage three meals when she turns 12 months. Yummy Spoonfuls meals are perfect when I don't have time to make Harper's meals or leave her with a babysitter.
I love that Yummy Spoonfuls doesn't add anything extra. No sugar, no juice, no additives and no GMOs. Yummy Spoonfuls can now be found in the frozen section at Target stores. I frequent Target a few times a week, so this is very convenient for me. You can learn more about Yummy Spoonfuls HERE. How do you make sure your kids are eating healthy?
*This post is sponsored by Target for Yummy Spoonfuls. Thoughts and opinions are my own.