I'm excited for the direction that beauty products are heading.  Scientist, along with dermatologist are finding new ways to keep us ladies looking youthful in the privacy of our own home.  When a new beauty gadget hits the scene, I'm always excited to try them out to see if they work.  My beauty goal is to be mistaken for Beyonce (or her second cousin).  Until then, I'll keep trying new beauty gadget.  Here are my 10 favorite beauty gadgets that I own and use on the regular that are worth a try.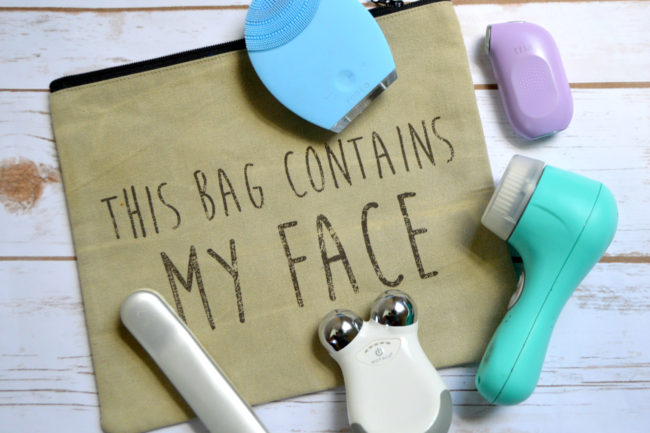 Makeup bag | Unlikely Market
Click on the item in the photo below for retail information.
1.  Baby Quasar Pure Rayz.  If you're acne prone this powerful gadget is for you.  Once side reduces inflammation and the other side kills bacteria that causes acne.
2.  Foreo Luna. This easy to clean beauty gadget provides a gental cleaning experience using T-sonic pulsations to remove dead skin, dirt and makeup and unclog pores.
3.  Illuminage My Touch.  Permanently remove hair from your body or face at home with Illuminage My Touch.  Unlike other hair removal devices, My Touch works great on brown skin beauties.
4.  Clarisonic Pedi Foot Brush.  Connect this brush to your Clarisonic Smart Profile or Pedi device to recharge tired feet.
5. Tria Eye Wrinkle Correcting Laser.  Get rid of unwanted eye wrinkles with continued use of this tiny but powerful gadget.  You can see my results with this device HERE.
6.  Tweezerman Facial Hair Remover.  This easy on your wallet tool will help you to get rid of those unwanted facial hairs fast. Small enough to take on the road.
7. JeNu Ultrasonic Infuser.  With pulses of ultrasound energy, Jenu helps to push anti-aging ingredients into the skin, allowing your favorite products to work faster and more efficiently. Great for dry and cracked lips. See my full review HERE.
8. Nuface Mini.  Nicknamed the 5 Minute Facelift, Nuface technology helps to increase proteins like collagen and elastin.  The results are tighter skin.
9.  Clarisonic Mia 2.  This is the go to device for squeaky clean skin on a daily bases.
10.  Tweezerman 15X Magnifying Mirror.  If you like to get up close and personal with your pores, bumps and hairs, you'll want this in your bathroom.  It conveniently sticks to your bathroom mirror.
I know it's hard to decide which gadget to invest in.  I've personally used all these gadgets with noticeable results.  Have you tried any of these gadgets?  What's your favorite beauty gadget or tool?