In high school and undergrad I could whip up some mean finger waves and french rolls, but I could not braid for the life of me. As much as I loved to comb my dolls hair when I was a little kid you would think I would know how to cornrow.  I can flat twist but no cornrows.  Now that I have two girls, I had no choice but to learn.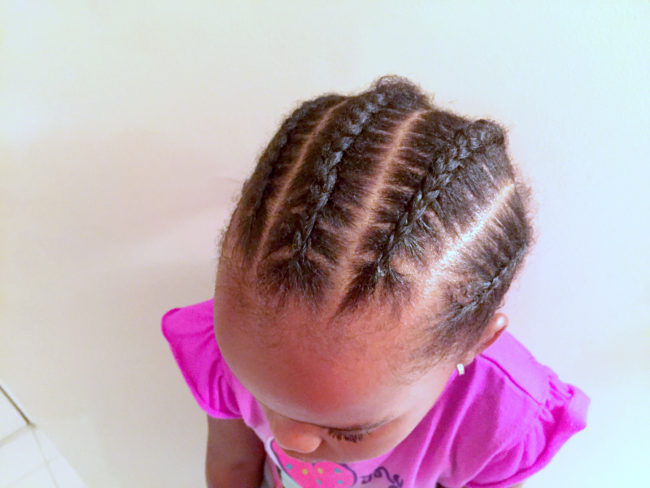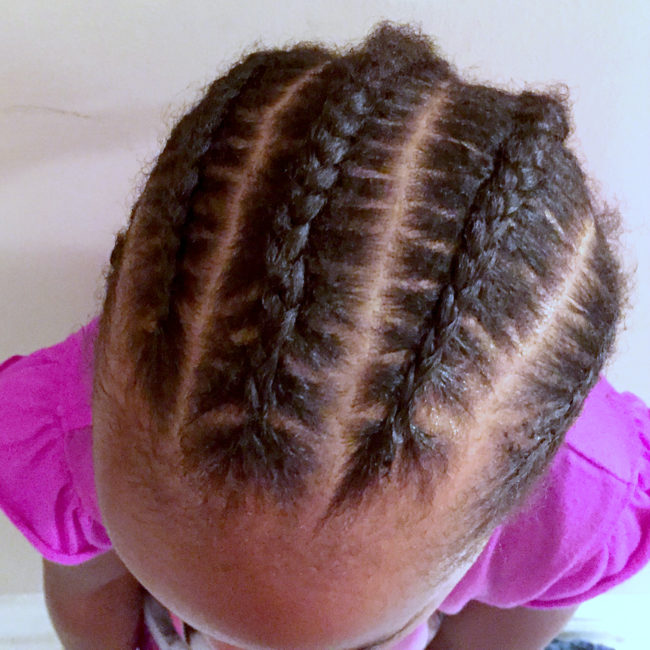 Here's how I learned how to cornrow.  I watched this YouTube video, Cornrows for Beginners, like 5 times.  I broke the video down and practiced in steps.  I used Peyton's big doll head to practice on because I knew Peyton wouldn't have the patience for me to keep practicing.
First, I did like the lady in the video said and practiced a basic box braid on the doll head.  I thought I had the single braid down but I quickly learned I was going the wrong direction.  I had to train my fingers to go the correct way.  I did that for a while until it felt natural.
Next, I attempted my first cornrow.  It was a bloody mess.  Peyton doll head was so tangled it made it difficult to grab the hair.  If you are using a doll head to practice, I would suggest picking up a new one from Walmart, should be less than $15.  I detangled the head the best I could.  I kept going through the motions of the cornrow to get a rhythm going.
After about 45 minutes of using the doll head, I graduated to Peyton's head.  Like the video, I started on the back of her head, rather than the edges.  My first cornrow came out pretty decent.
One of the best tips that the video gave me was to always pull the side your working on under the middle of the three pieces of hair.  When you cornrow, it's easy to lose track of where you are in the process.  I remind my self of where I am by looking at the middle strand.  I know that I have to go under the middle to make each "row" complete.
I'm not great but I'm good enough to throw Peyton's hair in a style like this to give her hair a rest and not pull on it everyday.  Peyton's hair is soft and fine like mine so it can get damaged easily.  I hope this helps other moms to just get out there and try to braid.  If you're a cornrow beginner, I definitely recommend getting a doll head.
How did you learn how to braid and cornrow?