These school menus can look a little suspect and can be costly.  I decided I was going to make Peyton's lunch for kindergarten every day.  What a task that is.  Some mornings I feel like I'm on the Amazing Race trying to get the lunch together before the bus arrives.  Now that I've got almost 2 weeks of lunch packing experience under my belt, I thought I would share some helpful tips.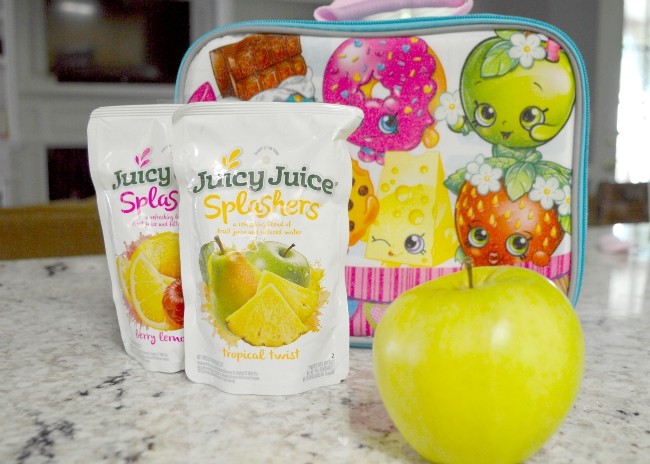 Make a menu.  Peyton is a borderline picky eater so I just wrote down all the things I know should would eat to make a menu.
 Make sandwiches the night before.  Making sandwiches take the longest time in the morning. I started making them the night before and putting them in the fridge.
Try out new items on the weekend during lunch or snack time.  Instead of blind siding Peyton with something new at lunch time, I let her try it on the weekend.
Something good to drink.  I was excited to learn that Juicy Juice has a new drink that is all around better for kids, Juicy Juice Splashers.
Keep containers and baggies in the same location.  Running around looking for baggies, containers and lids will have you missing the bus.  Keeping them in a large container works for me.
Bag up dry snacks on the weekend.  Instead of bagging chips and crackers daily, I make 5 bags of each snack on Sundays.  Saves a ton of time.
Clean out old lunch immediately.  Don't open the lunch box at 6am to find that old sandwich or fruit has marinated overnight.  I dump Peyton's lunch box out as soon as she gets home.  It also lets me know how much she is eating during the day.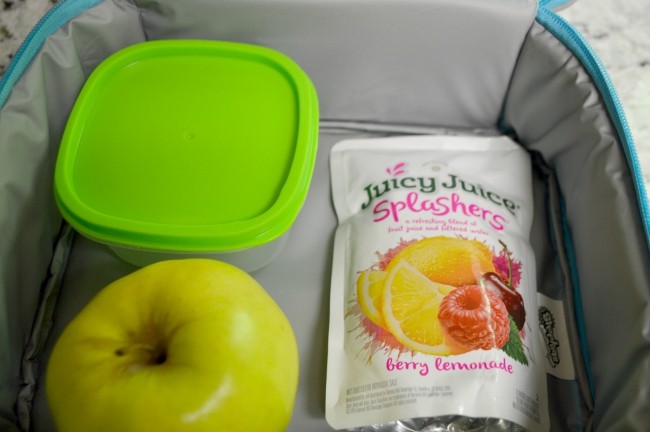 It's hard enough finding lunch friendly items you know your child will eat, let alone a healthier items.  Juicy Juice Splashers are on the scene just in time for back to school.  These new juice pouches are a blend of natural juice and water.  Half the sugar of most juice packs and no artificial sugar.  The number one seller for me is there is no high fructose corn syrup.  We are on a major kick in our home to rid the kitchen of high fructose items.  Make sure you check out Juicy Juice Splashers when your lunch box shopping.
What are you lunch box packing tips?
I received a sample of Juicy Juice Splashers for review purposes.  Thoughts and opinions are my own.