I'm slowly checking things off my home bucket list before the new baby arrives.  Peyton's room (here) and closet (here), my home office (here) and living room are pretty much done.  Well, as done as they are gonna get for now.  My kitchen is close to being complete (update here).  One room that is very important to me is my closet. I was determined to get my closet functioning before baby comes.  We had our closet designed using Elfa from The Container Store.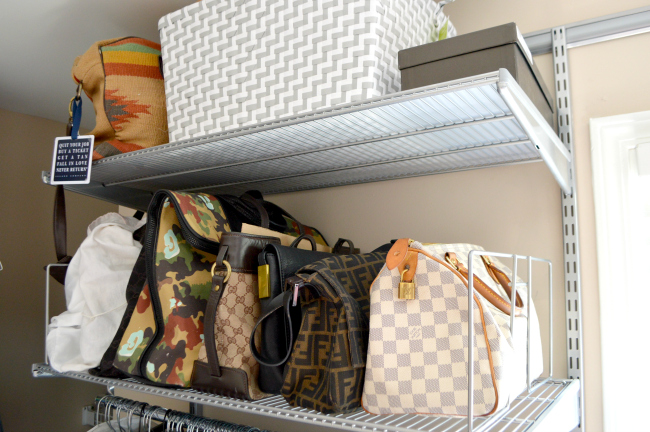 I decided to "display" some of my bags on a shelf using dividers from Elfa at The Container Store.  I left the handbags that I use the most out of their dust bags.  I left my leather handbags in the dust bags.  I also put my smaller bags in the large basket on the top shelf.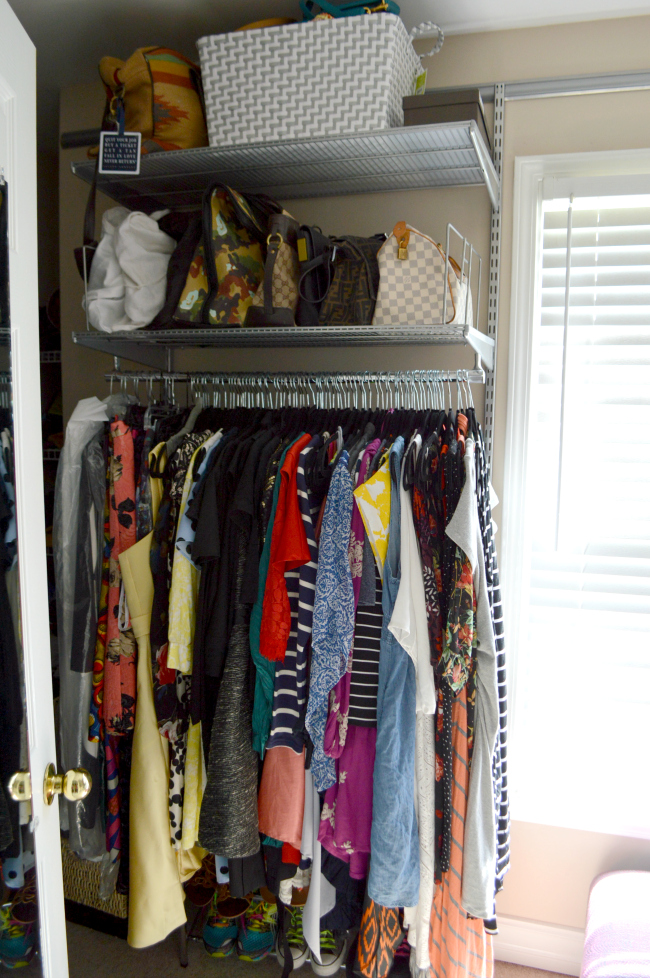 This is my section for dresses and pants.  I thought it would be plenty of room, but as you can see, I've managed to pack it to the gills.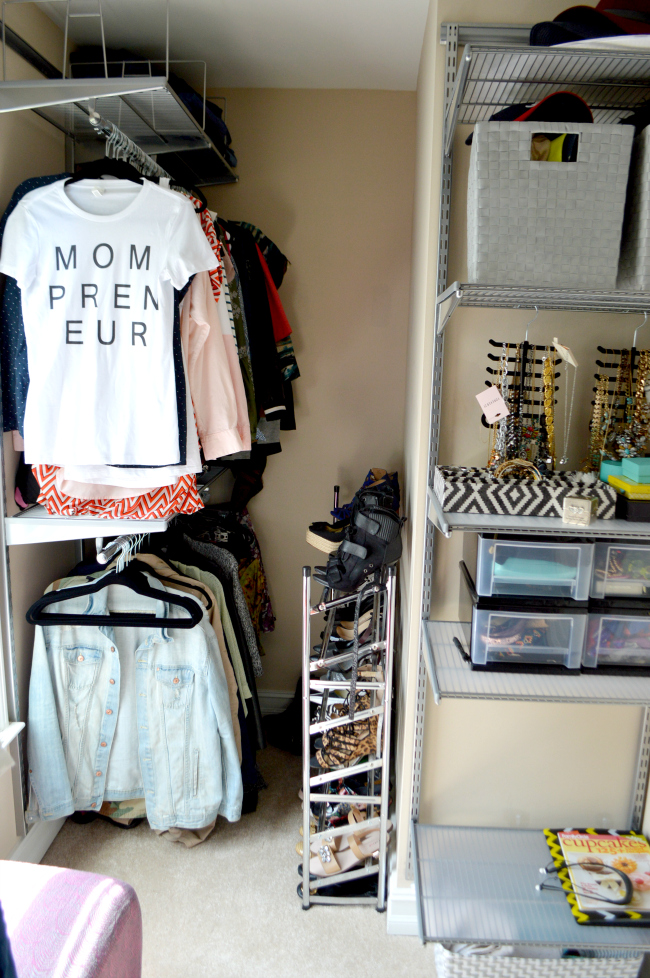 On the right side of my closet, I have my double hanging racks for tops and jackets.  I folded my jeans (that I pray I can fit again) at the top and used dividers to keep them neat.  Because that space is tight, I used my old shoe racks (HERE).  I stacked three on top of each other.  To the right of this picture is my accessories wall.  The baskets are filled with hats and scarves.  The drawers have belts, scarves, sunglasses and more jewelry.  I plan on adding some Elfa drawers in the empty space.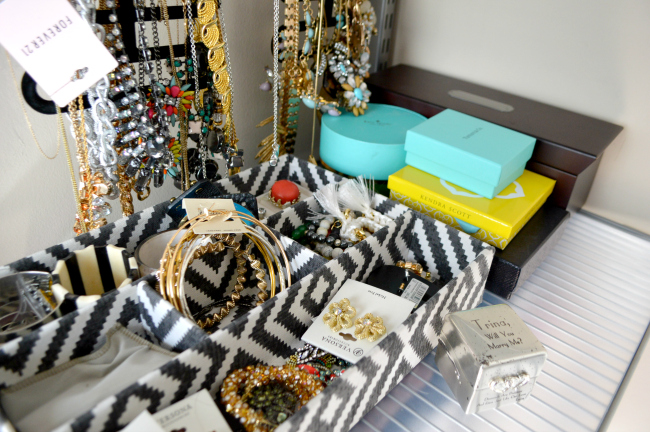 I wanted my accessories where I could see them.  I decided to put my necklaces and earrings at eye level so I pull pieces easily.  I used tie/scarf hangers to hang the necklaces.  I may change this out in the future, but I'm sticking with it for now.  I also left out the box that Mister gave me when he proposed.  That's my boo!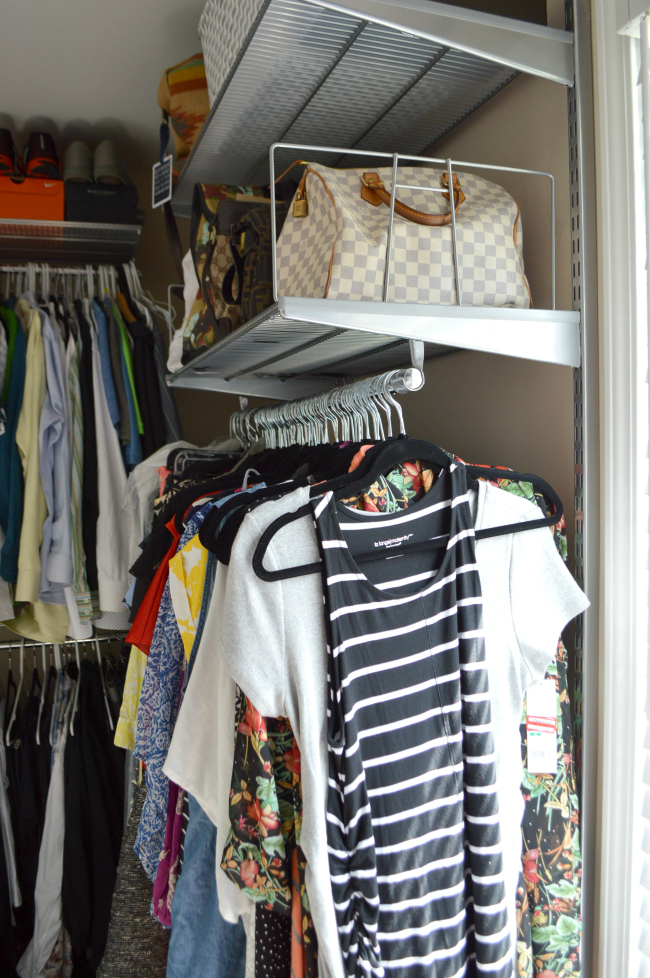 If you squint really hard, you can see Mister's section behind mine.  We've shared a closet for several years.  I was sure that sharing a closet would break us up but he stays on his side and we stay happily married.  His side is not as cute as mine.  I thought about fixing up his side for Father's Day or his upcoming birthday.  Since Father's Day is this weekend, more like his birthday in July.
So that's our closet.  Nothing spectacular but it's organized and clean (for now). It's more wide than it is deep, so the space needed some design help.  I believe in a good foundation for your closet to maximize the space.  High and low hanging racks will instantly double your space.  Using velvet hangers saves you so much space and makes your closet look super neat.  I also switch out my closet from spring/summer to fall/winter.  It saves so much space and I don't have to search through sweaters looking for tanks.  Let me know what you think.  Do you have a custom closet system?  What are your closet organizing tips?