I was so nervous about breastfeeding before I had Peyton.  I was concerned that I wouldn't get any milk, she wouldn't take the breast and it would hurt.  I had a few friends that weren't able to breastfeed because they didn't get enough milk or none at all.  Everyones struggle is different.  I was blessed to have an oversupply of milk come in at the hospital.  Because my oversupply supply, I ended up exclusively pump to keep up.  I'm preparing for the same scenario this time around using my new Lansinoh® SignaturePro™ double pump.
Everyones breastfeeding experience and views on breast feeding are different.  To celebrate National Breastfeeding Month, Lansinoh released their 2015 infographics summarizing their survey of over 13,000 women across the globe on their breastfeeding views and experience.  Check out the info to measure where you stand on breastfeeding.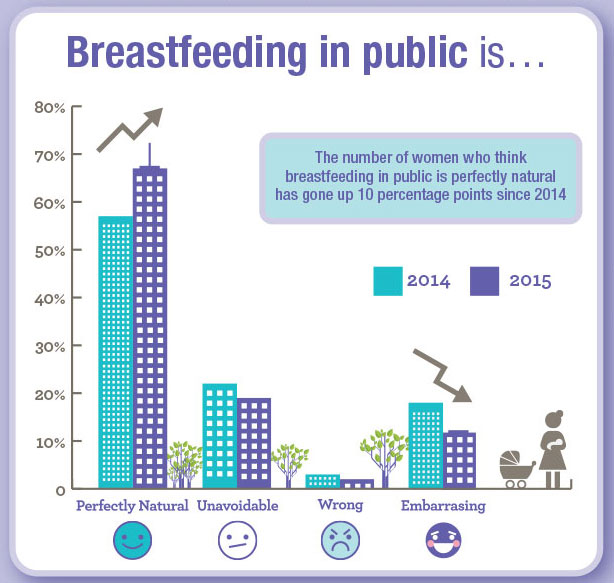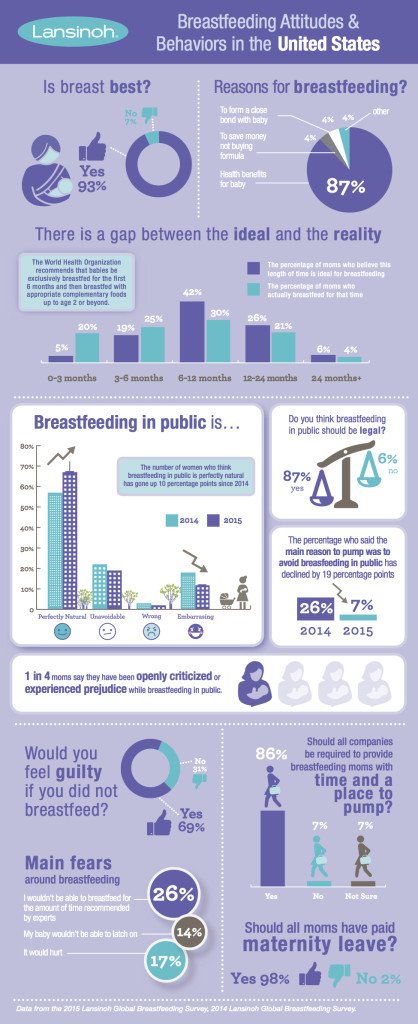 Ninety-six percent of women worldwide agree that breastfeeding is the best way to feed their children but many still struggle to breastfeed for what they believe to be the ideal amount of time
Sixty-seven percent of moms and moms-to-be in the United States believe that breastfeeding in public is perfectly natural
Twenty-five percent of women in the United States say they have been openly criticized or experienced prejudice while breastfeeding in public
Check out how the US behaviors compare to other breastfeeding moms around the world.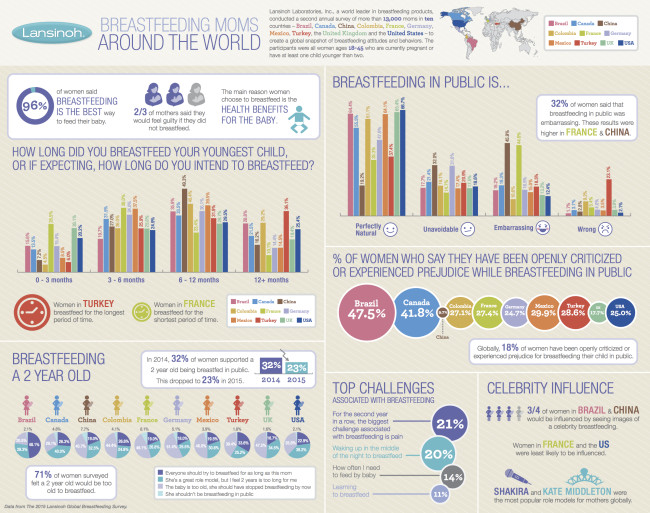 Click HERE to download the infographics.
I was pretty surprised at these results and how my thoughts differ from others.  I for one am terrified to breastfeed in public.  I know it's cool and everything, but I will avoid it at all costs, even with a cover.  I also plan to breastfeed for 6-12 months.  I can tell you I will NOT be breastfeeding after 12 months.  Again, thats my preference.  It's ok for all moms to have their own breastfeeding opinions.  If you breastfeed your child to 18 years old, good for you.  This is just information to increase awareness.
I would love to here your views and experience on breastfeeding.  Do they differ from the results of this survey?  Please remember, this is a judgment free zone : ).