In Atlanta, our kids start school in just a few weeks.  Summer has flown by.  Unfortunately I didn't do all the things that I planned to do.  I kind of flew by the seat of my pants while managing two humans full time.  Since my summer wasn't as organized I wanted it to be, I'm making sure I start the school year off right.  I thought I would share my tips for getting your child's closet and drawers ready for back to school.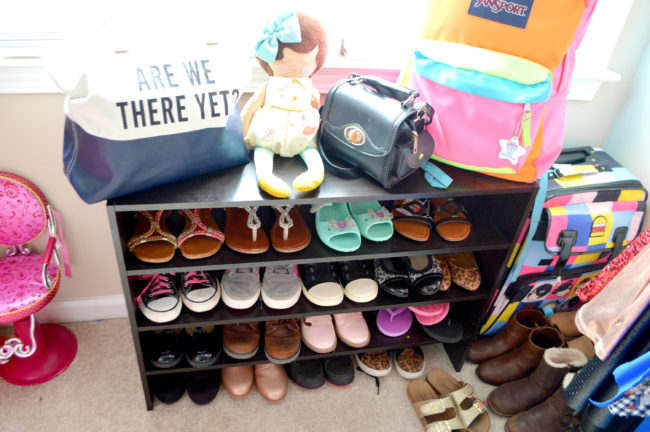 Buy hampers and containers. Hit up the Dollar Tree to grab a few baskets and containers to help you sort through the mess.
Clean up.  Like for real cleaning up.  No holds barred type of cleaning.  I even threw away a few Shopkins while Peyton's back was turned.  Once you clean up the clutter, you'll see what you're working with.

Once your closet is clean, start going through old clothes.  Have your child try on old jeans, dresses, shoes and jackets.  Use your dollar store baskets to sort clothes you are going to keep, donate or sale.
Organize the clothes.  Hang all jackets together, all tops together, etc. That will make it easier to find items.
Use all the same hangers.  It' just makes the closet look cleaner.  I love the velvet non-slip hangers.  I picked them up from Walmart.  They only cost $3 for a pack of ten.
Try on shoes.  Toss, donate or sale what they can't fit.

Organize drawers.  I use little baskets inside Peyton's underwear/sock drawer.  This helps keep her socks, underwear and undershirts organized.  It will be easy for your child to know where their items are versus digging through a bunch of stuff looking for socks.
Take inventory.  Once everything is clean and organized, now you can take inventory.  This is the ultimate goal because it will save you a ton of money when shopping for back to school.
Make a list of what your child needs.  I didn't realize Peyton had so many socks.  I can check that off my list.
Learn what your child's style is.  I'm so happy that Peyton and I are on the same page with her style.  I know some kids insist on wearing the same thing every day.  Save money and time by focusing on what your child will actually wear.
Cleaning out Peyton's closet has taken a huge weight off my shoulders.  My stress levels would have been through the roof if we started 1st grade with a messy closet.  I was also thinking about all the money I will be saving (spending on something else) since I've taken inventory.  I discovered that Peyton had 17 pairs of leggings.  We good!  Then I found a few packs of brand new socks.  Also to my surprise she can fit several of her boots from last year.  Now I know where I need to spend my dollars.
I hope this post helps you get your child ready for back to school.  It's a lot of work but I knocked it out pretty quickly.  Have the kids get involved.  Maybe they'll think twice before destroying it again.  I'll be sharing back to school fashion trends over the next few weeks so make sure you're subscribed!