I hope you guys had a great weekend! Days like this I wish I had a Government job! I could use the day off! Peyton has been having these coughing fits that take place mostly at night (of course). Doctor said it may be allergies because she has been seeing a lot of kids with allergies already. Let me know if you have experienced the same thing.
I had a busy Saturday which means I was dead tired on Sunday. I decided to let Peyton pick her pieces this weekend. She was too cute laying pieces on her bed and saying "This match Mommy". I must say she did better than I thought. Even though she put together her outfit, she wasn't in the mood to take pictures.
Shirt, Baby Gap/ Faux Fur Vest, Children's Place/ Leggings, Nordstrom Rack/ Leopard Loafers, JCP
I wish I could say I did those braids in the back but I didn't!
I picked up these leather looking leggings at Nordstrom rack in the fall and she never wore them. I pulled these out for Peyton to build her outfit around. She picked out the Gap turtle neck, good choice because it was long enough to cover her little booty. She picked out the fur vest to wear over and leopard shoes. I thought she did a decent job. She didn't like the pants after she got them on so we changed them after I took the pictures. That may be why she wasn't in the mood. I think the pants are so cute! I hope she lets me put a look together with them this Spring.
At what age did your kids start telling you what they want to wear or picking out their own outfits? I am sure I have some fun times ahead!
Linking up with Table for Three for Trendy Tot Tuesday!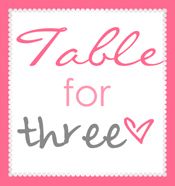 XO