I cared for my skin from the inside out with Aveeno® as part of a sponsored post for Socialstars #Aveeno
Harper is 3 months old already!  Besides being hooked to a pump most of the day, I'm finally feeling human again.  Now I'm ready to get a little bit of "me" back so  I've been finding ways to steal a little Mommy time.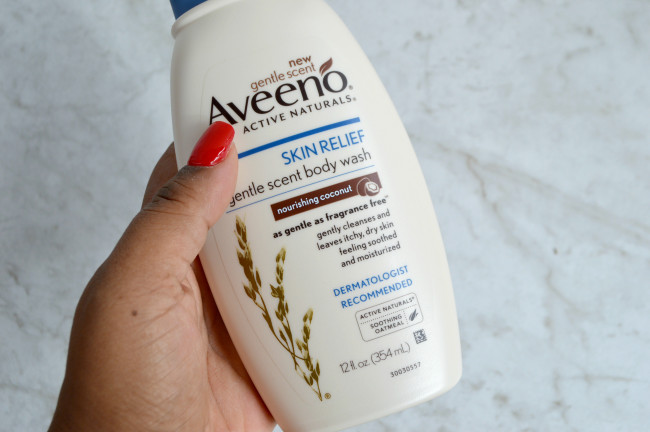 Get some sleep.  We all use that time when baby sleeps to run around the house trying to get things done like we're on a game show.  I learned my lesson with Peyton for not sleeping when she slept.  I try to make sure to take at least one nap with Harper during the day.
Take a shower at night with a great body wash.  If you love coconut, your going to love 

Aveeno

® new Skin Relief Gentle Scents Wash Nourishing Coconut.  It's lightly scented with coconut but just as gentle as Aveeno® fragrance free products.  I take my showers when Mister is home so if baby wakes up, he can tend to her.  A shower works wonders for a new mom's soul, especially when you come out smelling like fresh coconut.

Go to the grocery store alone.  Instead of dragging two kids to do my weekly grocery shopping, I leave them at home with Mister who is more than likely planted on the couch watching football.
Schedule a weekly beauty routine.  Whether it's getting my brows or nails, I try to make sure I do something for me.  I usually take care of this while I'm out grocery shopping *wink*.
Get up early.  I know what you're thinking, who wants go get up early after being up all night with a baby.   You're probably up anyway.  I steal a few hours in the morning to do things like blog and answer emails.  It's the only time I can get anything done without interruption during the day.
These five tips help me stay sane while adjusting to our new addition.  If you're a fan of coconuts, make sure you check out Aveeno® Skin Relief Gentle Scents Wash Nourishing Coconut.  I love all my Aveeno® products but this is by far my favorite.  You can learn more about Skin Relief Gentle Scents Wash HERE.
How do you get in your "mommy" time?