For Valentine's Day I thought we would celebrate love. You only hear about couples breaking up, not couples that are still madly in love. Mister and I have been married for over 7 seven years now and we are still madly in love. Even though we are in love, that doesn't make a marriage easy. Yes, there are times when I wish he would step on a pile of Legos in the dark when going to the bathroom in the middle of the night. But normally, we love hanging out with each other and doing what folks in love do. Around the time of our 7th anniversary this past October, I posted a few of my marriage tips on Instagram and asked other women to share theirs. I thought this was a good time to go over those tips from ladies that are newlyweds to over 15 years of marriage.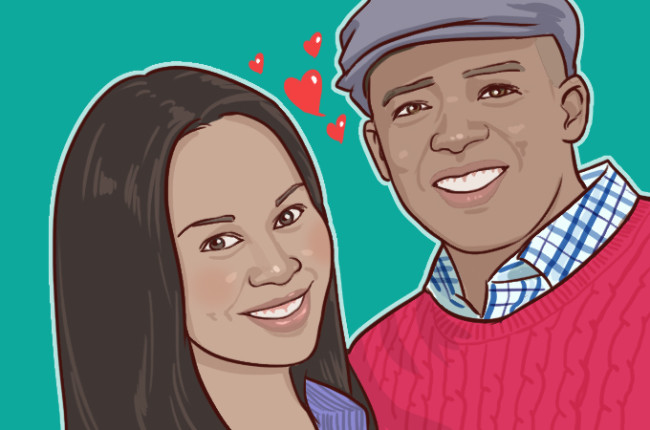 Picture Mister had made for me for Valentine's day last year. So cute!
Laugh together. Nothing better than having belly laughs together.
Keep folks out of your business. I tell my besties everything so I need to work on this one. But they all love Mister and sometime they side with him. *side eye*
Keep a separate bank account. As @queenlewie calls it, "hush" money.
Have sex often. You take that off the table, you will have even bigger issues, maybe even involve some adult films from sites like https://www.hdpornvideo.xxx/?hl=it or similar, you'll be surprised at what it can do.
Pray together.
Schedule date nights. Because of our busy schedules, this has been a hard one for us. I think we had 3 total last year.
Indulge in each others interest. Mister supports this blog and it means so much to me. Only right that I find a way to reciprocate.
Be your husbands biggest cheerleader. This was one of my original tips. If you don't some random 304 will.
Think about ways you can make your husband happy instead of ways they don't make you happy. This one is from @mycandishoppe. I totally get it. Just like we want our men to make us happy, we need to try and do the same. They didn't marry you because you were a selfish B…right?
Don't sweat minor stuff. If you do you will be fighting all day.
Keep Quiet. This is an interesting one by @ladykandice in her 10th year of marriage. I think she meant what is the point of nagging and bringing up the issue. They heard us the 1st 10x. Sometimes we have to let go and let God. They usually come around *wink*.
Have more sex. Sex isn't a big part of marriage until it's taken off the table. Then it become major. Keep knocking the boots!
I've said it before, I'm no marriage expert or trying to be. I just think we all should celebrate love more. Not to brag, but encourage others that it's possible to have a loving and happy relationship. I didn't grow up with any examples of loving husband and wife. This is a first for me and I'm learning as I go. It's so awesome to be in love. My prayer is that everyone can experience it.
Do you agree with these tips? If you have any marriage tips, please share them in the comments.